LeBron James may have captured his first NBA championship with the Cleveland Cavaliers, but he's not the current basketball player on top of the sneaker world right now. That title would belong to the man he defeated the other night, Steph Curry, and the footwear brand he's put on his back, Under Armour. It's surprising to many that Under Armour has been able to catapult itself into the spotlight, and it's not just because the brand only started making footwear—first with football cleats —10 years ago. It's rather that the company has been under so much scrutiny lately, mainly on the Internet, because of how its shoes look.
When its "Chef" Curry 2, an all-white low-top basketball sneaker, was revealed by New York sneaker store Renarts, all of the online jokesters came out and had something to say about the shoes. The criticism mainly focused around them looking like they were made for nerdy dads, which Curry is. Under Armour simply could have been labeled as "uncool" and let itself become the mockery of the footwear industry, but they fought back.
Curry was asked during a postgame interview about his sneakers getting roasted online, and he said that they were "fire." He even went as far as to put a flame emoji on his shoes during a practice. Curry, however, wasn't the only one from his Under Armour camp to support his shoes, and it wasn't just the brand's PR camp, either.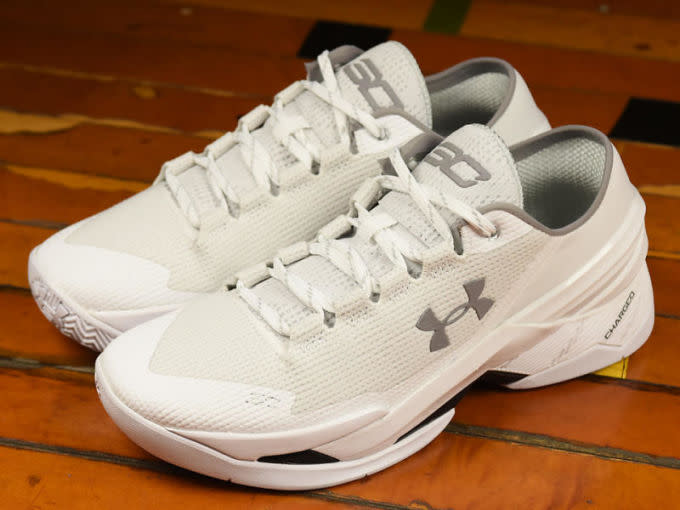 Tom Brady, who's sponsored by Under Armour, decided to watch Game 6 of the NBA Finals with the "Chef" Currys on his feet, which he shared on Facebook. He didn't just put the shoes on and call it a day, though: He even put the same "Straight Fire" drawing that Curry used, too.
This was followed up by Under Armour-sponsored golfer Jordan Spieth posting the aforementioned shoes on Instagram, saying, "Michael [Greller] and I brought the straight *flame emoji* to the course today."
Bill Simmons, who has no affiliation to Under Armour (that we're aware of at least), decided to wear these shoes on Jimmy Kimmel's show. Even though Kimmel made fun of the shoes -- saying they cost $60, sometimes $70 -- it didn't make Under Armour sweat. The brand kept winning.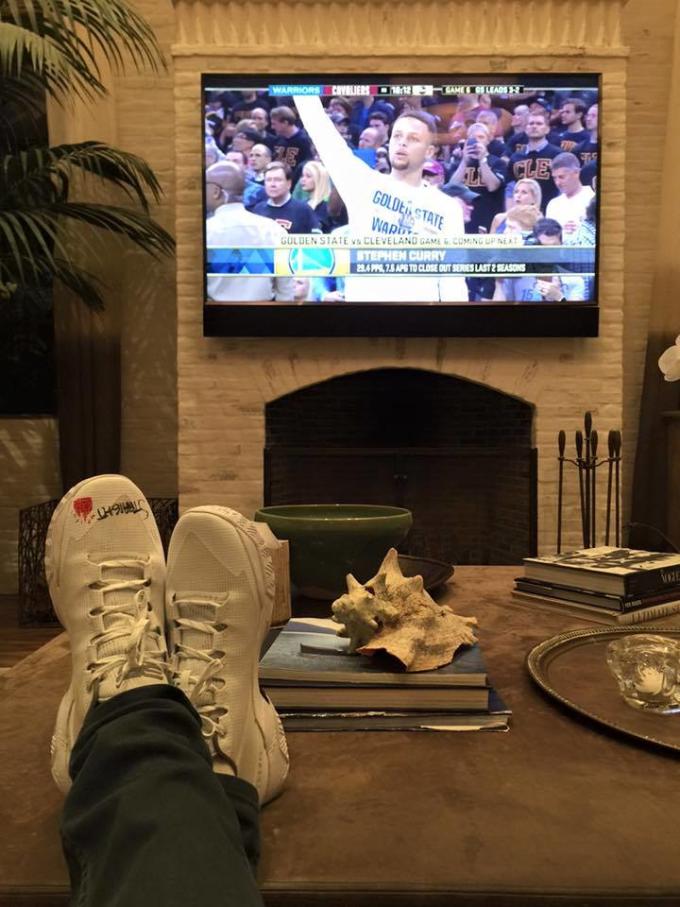 When I worked in sneaker stores, Under Armour shoes were never a hot seller. They'd routinely go on sale, usually for around $50, and then they'd be purchased by dads who needed a workout sneaker—exactly the people that everyone had in mind when they threw their litany of jokes at the "Chef" Currys.
Look, Under Armour has never attempted to be the coolest brand, even though the brand keeps signing the right people to endorse its products. It focuses on making performance shoes and apparel, with little attention to trends. Yet it's proving that sportswear companies that are worn by winners can make a lot of money, which it's doing right now.
Curry may have failed in his attempt to win back-to-back NBA Finals, but he has the most talked about shoes in the league at this moment. The brand is capitalizing when Nike appears to be on the down trend. If Nike can't sell LeBron James' or Kevin Durant's $200 sneakers, then it opens up a space in the market. That's exactly where Under Armour slid in. Kids want to be like Steph Curry and their parents can afford his shoes, so they're buying them. That's not a difficult concept to understand.
This is also why Nike has seen success with Kyrie Irving's line. His shoes are affordable, they're easy to wear, and kids like him. He's pretty good on the basketball court, too.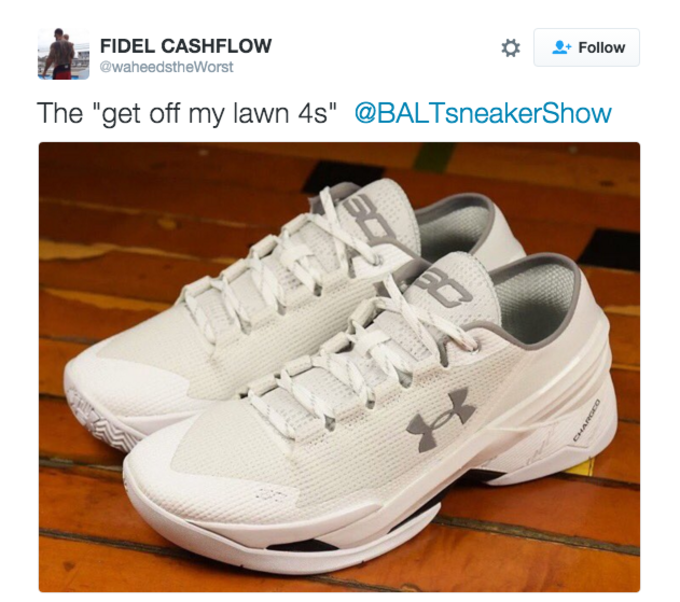 It's funny that the Internet making jokes about Curry's shoes would help Under Armour's sales. According to Brandon Edler, who works at Finish Line as a creative strategist, "Contrary to Internet trolls, the "Chef" Curry is doing really well."
Although the shoe hasn't sold out on Finish Line's website, it's viewed as a "Top Trending" product. That's no surprise, considering Under Armour's Basketball sales were up 754 percent thanks to Curry's shoes.
Edler's not the only person who sees this fiasco as an upside for Under Armour. According to Forbes, "The heartbreaking losses [of the NBA Finals and the Super Bowl] aren't denting the Under Armour brand, at least not on the stock market. Shares actually are trading up on Monday, increasing about 3 percent on a day when the broader stock market is also rising. Rival Nike's shares are also up, albeit just 2 percent despite the fact that Cavaliers star James is a Nike-backed athlete."
So make all the memes you want. Fire all the jokes your heart desires. (We know you do them just to get RTs, anyway.) But Under Armour isn't taking a hit because you made its sneakers the center of attention. It's eating off of all of this. Plus, when did you ever hear of an all-white sneaker not selling well?