Few footwear brands have been able to turn themselves around like adidas has done over the past couple of years, thanks to collaborations with the likes of Kanye West, creating a new approach to lifestyle product, and the wildly popular success of its Boost technology. But adidas is an older sportswear brand, too — being founded in 1949 by adi Dassler in Germany — and it has an extensive history and means different things to various people and subcultures. One of them is Gary Aspden.
Aspden — who used to work for the brand doing entertainment marketing — has a vast knowledge and collection of adidas trainers and sportswear, and he's used his history to create a sub-brand called Spezial. The line centers around adidas and Aspden's collective past, where football supporters in the north of England would wear high-end sportswear labels and hard-to-find sneakers they'd obtain on their journeys abroad in Europe, following their teams from match to match.
This passion for sport and style would form "terrace culture" in the UK, where fans would try and one-up rival supporters with their gear. Labels such as Stone Island, adidas, and Burberry were adopted by these folks as they'd cheer on their teams and square off with like-minded crews from other clubs. The collection has resonated in this scene, although Aspden says he never set out to make a "terrace" line.
For Spring/Summer 2016, Aspden has taken his Spezial range — which consists of tracksuits, a handful of sneakers, outerwear, and more — to the coast of France and channeled the European sports luxury that people originally wanted from adidas. With a lot of people looking towards the future of the brand, Aspden is able to dig into the company's extensive archives and recreate vintage sneakers and clothing for a modern audience. It's a nod to adidas' history while giving consumers something that's relevant in 2016. With Supreme's collaboration with Stone Island and Palace becoming one of the most popular streetwear brands in the U.S., it was only right to talk to Aspden about his Spezial collection and help introduce people Stateside to the next European sportswear line that they need to pay attention to.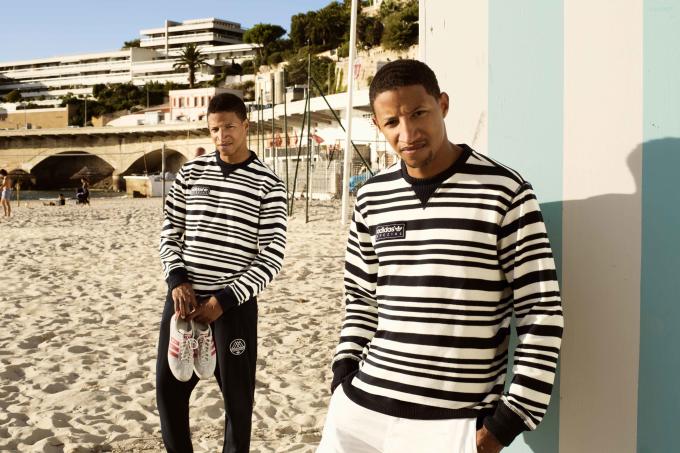 Why did you choose the French Riviera to inspire this collection?
I looked to France for inspiration as I am a big fan of localized subcultures and, in some way, try to celebrate them with this collection. I don't like the idea that culture globally is becoming increasingly more and more homogenized. I am definitely not into the idea of people from different countries becoming virtually indistinguishable from one another in the way they look. When I visit another country, I look to try and experience those aspects of it that are different from what I am accustomed to back home in the UK.
With SpeziaI we set out to create something that has a very strong adidas brand identity. I believe the foundations of identity come from our roots and background, and for adidas those roots are essentially European. For the first couple of seasons all my reference points centered around Germany and Austria, but for this season I wanted to go beyond that. I wanted acknowledge the fact that France also played a key role in the formulation of the adidas aesthetic. For the look book and film, we wanted to present the idea of French style and aspiration alongside the reality of life on the southern coast of France. All the people in it were street cast in Marseille, and we found a selection of characters who each had their individual talents. We wanted to reflect how the French rappers in the film take a U.S. culture like hip-hop and put their own European spin on it. The guys in the film were clearly fans of American rap music but were taking that energy and adopting it to their own style and culture rather than trying to emulate something American in an overt way.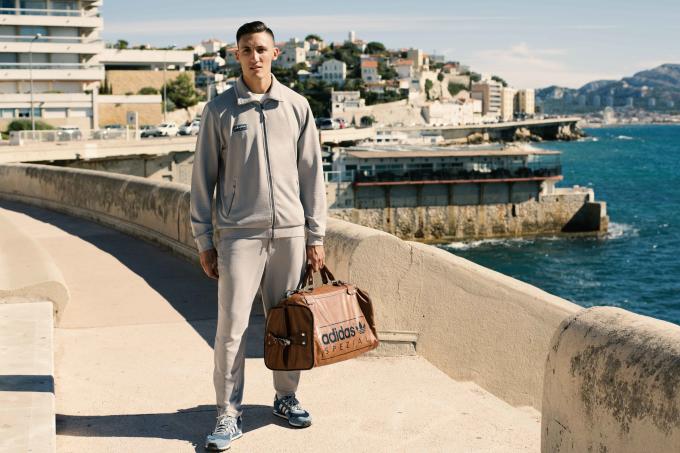 How did you make the choices for the footwear this time around?
I have a pretty extensive personal collection of vintage adidas footwear and apparel (check out the content of the  Spezial gallery exhibitions) and a lot of vintage catalogs. These are always the starting point for every adidas Spezial line. We always aim to cater for various tastes in what is essentially a small capsule collection: one court shoe, one running shoe, one leisure shoe, etc. We try to put together a group of shoes that I feel complement each other. We will always do a couple of 1:1 reissues to give context to the hybrid shoes we create. While the past inspires Spezial, we want to try create something modern from that. On the apparel, we use archive pieces as the starting point but use modern fabrics and tweak the cuts. With the footwear, we try to build shoes whose look is essentially timeless. I believe that a shoe like the Hochelaga SPZL (it's essentially a reproduction of the vintage adidas Montreal) has a classic aesthetic that will still have validity in twenty years time — just like a desert boot or a brogue will. We also come up with new hybrids in shoes, like the Lacombe SPZL, where we have created a court shoe that borrows elements from some of adidas's lesser known archive tennis shoes, like the adidas Newcombe, to come up with a new silhouette. I am a big fan of the design language of '70s and '80s adidas footwear, so I aim to create new styles that would sit seamlessly in a catalog from that era.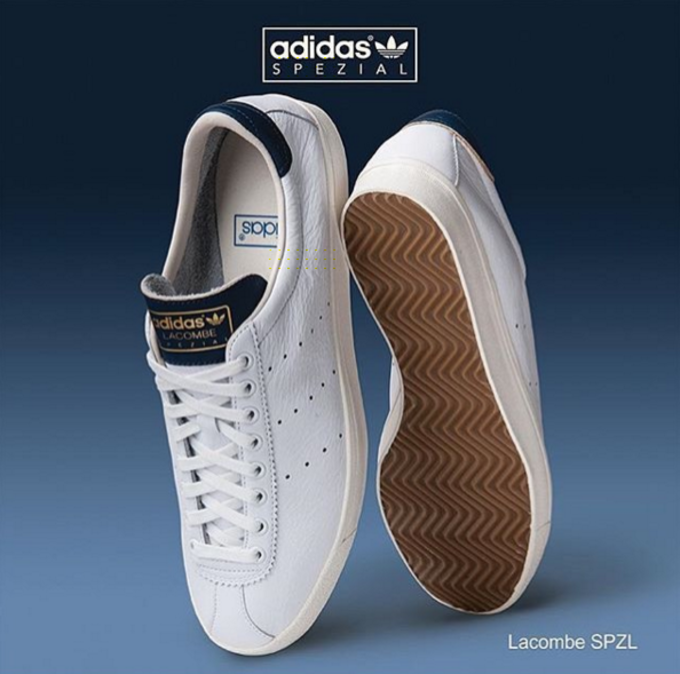 Were there any big challenges in recreating these sneakers to make them look accurate?
Always. We try to work with the toolings that currently exist to keep down our overheads as we try to keep the quantities and distribution on the adidas Spezial range very tight. The next challenge is finding the correct lasts for the uppers. The specification of the uppers are crucial — an adjustment of a few millimeters on the length of an eye stay and depth of a toe box can make a massive difference to how a shoe looks overall. We pay attention to the inside of the shoes, too, including patches and stamped codes to further give that authentic adidas feel to them.
Football culture is growing in the States, but it's still very niche. Are you ever worried that terrace clothes and footwear are going to go over that consumer's head?
I don't think about it too much. With adidas Spezial we never set out to create a "terrace" range that targets well dressed football fans although with my personal history and upbringing in the north west of England that was always going to have some bearing on the taste and ideas that go into the product creation. It definitely has a cult following in the UK and some parts of Northern Europe and every time we launch it crashes the websites of a number of its stockists here. If I tried to figure out and second guess what I believe American customers want then I would drive myself mad. I get tons of Inquiries to my personal Instagram from people in America that are fans of the Spezial range, but adidas U.S. currently only sell it into a handful of stores there. I can only take inspiration and reference from what I know and hope that others appreciate that rather than second guessing what customers with different references to me might want or trying to follow trends. adidas Spezial has always been brand led and not consumer led. If you had asked a guy who was listening to soft rock in 1975 whether he wanted aggressive, noisy music like punk he would not have known. It's only when he actually heard and saw the Sex Pistols and The Clash that he knew that.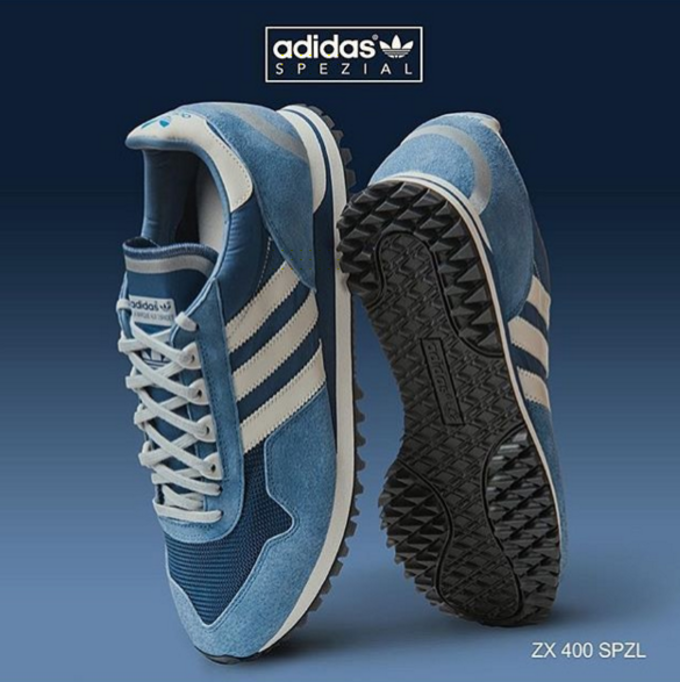 In the late '90s, I once asked Ken Swift from the original Rock Steady Crew why adidas and Puma were so popular with the early b-boys and graffiti writers. He answered that, as a kid growing up in the Bronx, the appeal of those brands was the fact that they were European. He said that to him and his peers  there was something sophisticated and exotic about that. We create a collection that has a very authentic adidas aesthetic, which I guess gives it appeal to that football audience who have really picked up on it. One of the things I love about that football audience is that they are not easily swayed and their is a consistency in their style.
On the other hand, you see supporters bringing out Spezial banners to football matches in the UK. Did you ever imagine that when you first launched the range?
Never could have anticipated that, it's a phenomenon. The banners are one of the highest compliments that fans of the collection could ever pay it. It shows their devotion to Spezial and what it represents to them. I could never have anticipated that response, but I love the fact that they do it and that it is organic and honest. A group of traveling Liverpool fans created the first Spezial banner as far as I'm aware, and they used a graphic — the Mod Trefoil — which we used on some of the first season's apparel pieces. Since then, it has snowballed with fans from other clubs adopting that graphic and also creating their own banners for their respective clubs. I have had football fans in Russia and Indonesia send me photos of Spezial banners.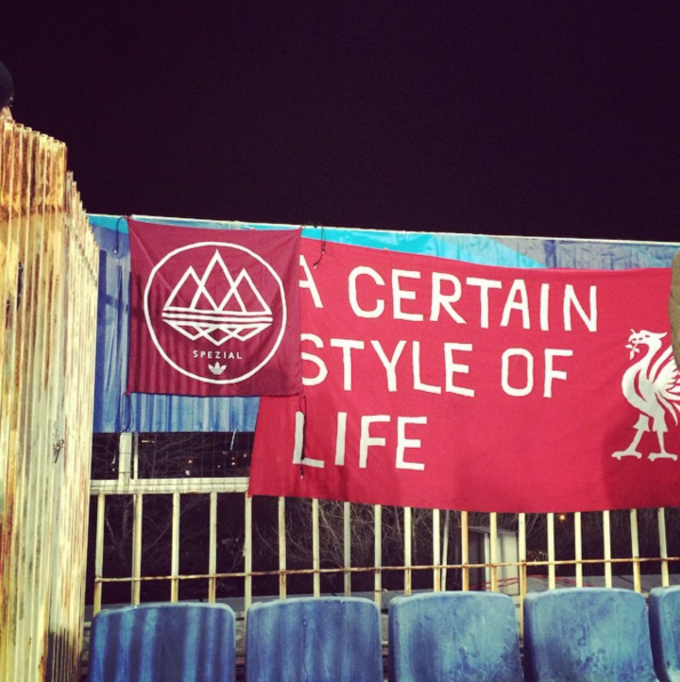 How do you feel about fashion turning subcultures into trends?
I have recently seen a few articles where "Terrace'" and "Nu lad," a label I am not particularly fond of, are being cited as a trends in the fashion media. It's like describing "skate" as a trend. There will always be kids who want to take on that look without even wanting to attempt to skate, but that's a very different proposition to the kids who break bones and get injured from actually getting themselves a skateboard and participating in it. "Terrace" is a subculture that is without doubt currently influencing a wider movement in men's fashion, whether that be Supreme teaming up with Stone Island or Palace referencing that very British look in their collections. At its core, terrace culture is far more than a trend. As a subculture it is very underground and insular, those who are into it tend to be suspicious of hype and brand marketing and for many of them it is a way of life.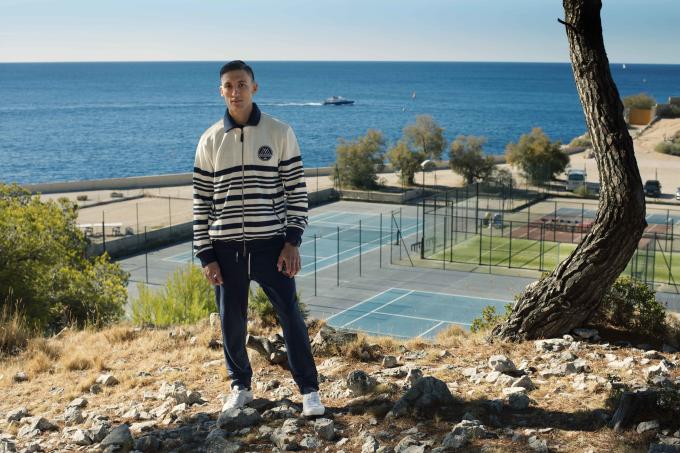 Some of adidas products like the "City" series shoes or the ZX runners, along with ST rain jackets and Lendl track tops, are intrinsic to that subculture in the same way that an adidas Superstar or A15 leather tracksuit were a part of '80s hip-hop culture. Unlike hip-hop, culture this is not musically driven and is far more understated in its sensibility. The terrace culture started out purely a UK thing in the '80s, but through the rise of the Internet it has now spread to a number of other countries in Europe and beyond. It is not an easy thing to explain to those outside of it - for me the phrase that best explains it is, "For those who are involved no explanation is necessary, for those who aren't involved no explanation is possible." I once heard someone call it "a mass produced secret," and, in some ways, I feel that sums up how many currently regard the adidas Spezial range.