If you follow me on social media, you probably know that my two passions outside of music are sneakers and professional wrestling. But, y'all, how insane is it how closely linked sneakers and wrestling have become?
When I was watching Wrestlemania as a kid, wearing the all-red Deions, I never thought I'd see the day where some of my favorite wresters were wearing some of the dopest kicks on the planet. Like, I'm talking about the O.G. Hulk Hogan. He's 62 years old, and he knows what's up in the sneaker game. Then, of course, you have cats like Enzo Amore, Nikki Bella, Batista, and even the boss's son, Shane McMahon, wearing sneakers in the ring. I marked out so hard the first time Shane came out to wrestle in those Air Jordans.
Sneaker culture is definitely impacting professional wrestling in a major way, and I love it. But, to me, the wrestler with the one of the illest sneaker games is Kofi Kingston. Kingston has worn the "Christmas" Nike KD III and pairs from the adidas and Jeremy Scott collection. After attending WWE Smackdown, I decided it was finally time to sit down and chop it up with the Ghana-born superstar about his collection.
Wale: What are those shoes you wore in your match against Dolph Ziggler back at Night of Champions 2010? 
Kofi Kingston: Oh! My Zoom Hustles.
I remember you rocking the "Tiger" Nike Hyperflights. They're super light, but the creases are so crazy. How long have you been wearing kicks in the ring? 
Yeah, man. They crease, and the design fades real quickly, too. I've always worn sneakers in the ring. I feel too constricted wearing wrestling boots. I started off wearing amateur wrestling shoes, but they're so thin, I'd spike my heel if I didn't bump flat, and it would extremely painful. So I switched to sneakers.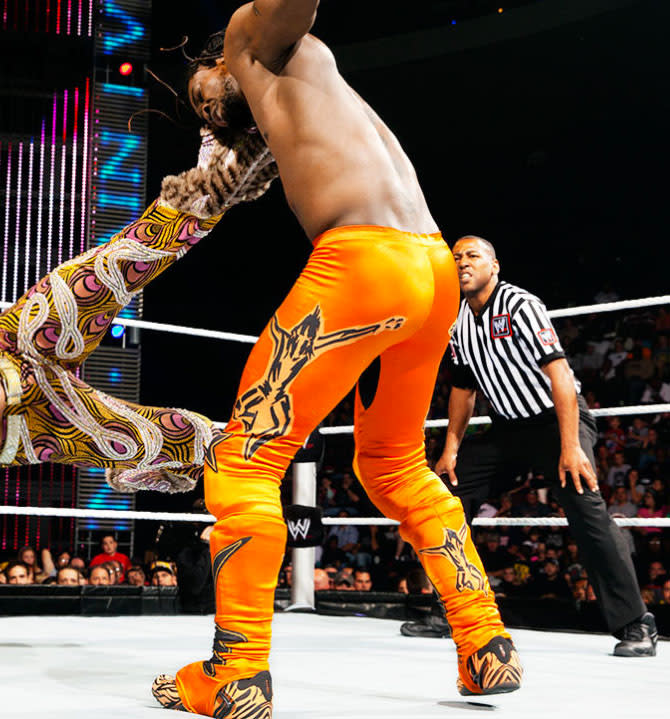 Top 5 favorite sneakers you've ever worn to the ring based solely on style (not comfort)?
Jeremy Scott x adidas Wings 3.0 (Gold), Jeremy Scott x adidas "Shark," LeBron 13 EXT "Tennis Ball," Nike LeBron 9 "Miami Hurricanes," and Nike Zoom Hyperflight "Tigers." Currently I'm wearing blue-and-white customized Nike Shox to match the Stay Puft Marshmallow Man gear.
Customizing sneakers have been growing the last few years. Since you customize to match your ring gear do you have a favorite customizer? I like JBF and Mache. 
I don't even know customizers by name like that. I still consider myself still very new to the shoe game — getting my feet wet (see what I did there?) in a lot of ways, those stay Stay Puft customs I had made were done on NIKEiD, nothing near the level of a Mache or anything. I was just really pleased with the way the entire ensemble came out, because I worked hard on the fusion of the Marshmallow Man with my logo. Over time, I started getting flashier kicks, which are brighter and more extravagant. Then I started messing with NIKEiD for a year or so.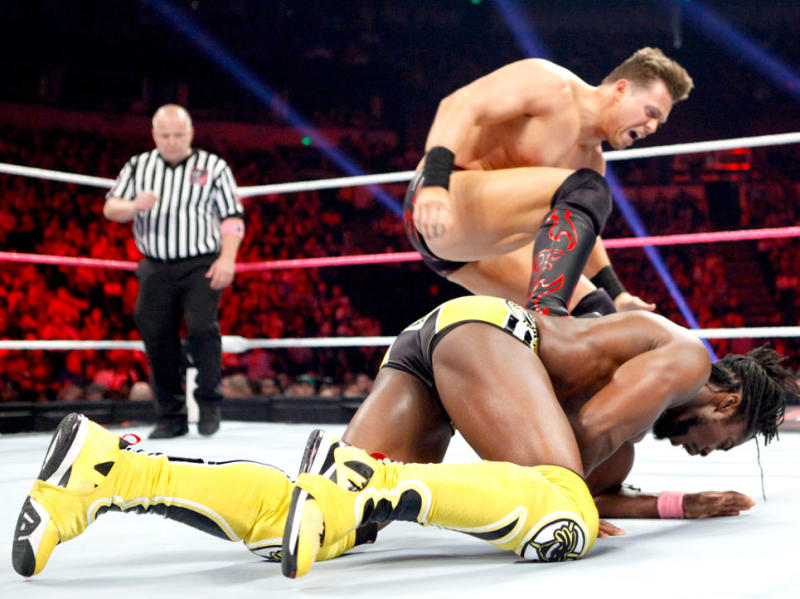 Are the sneakers you wear outside the ring as flashy as the ones in the ring? 
It depends. I've recently become obsessed with Converse. The Chuck Taylor look is so classic and timeless. I prefer the All-Star Streets, though, because they're way more padded than traditional Chucks, and they're designed with elastic on the tongue so they slide on and off without tying the laces. I also tend to wear DC high-tops, too. They're super comfy and come in a ton of different colorways.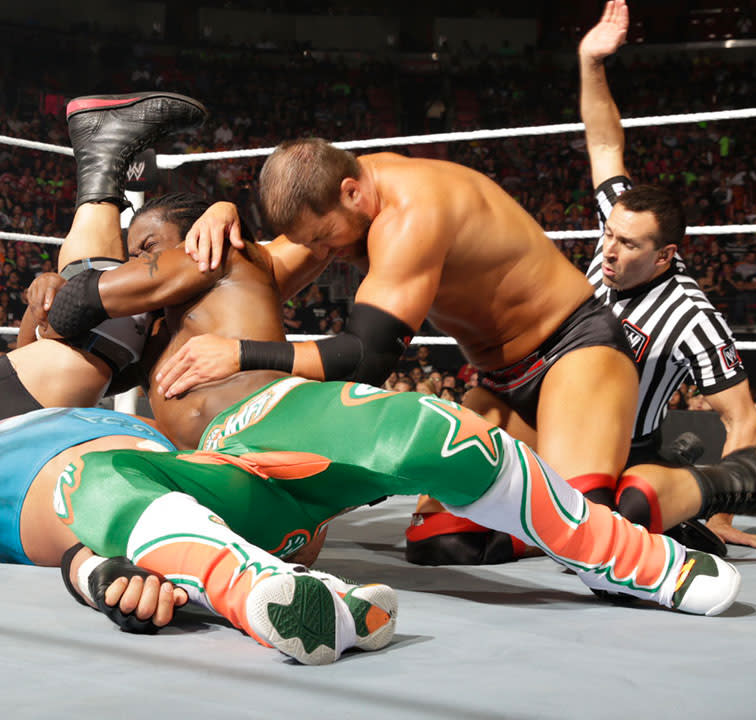 What were your favorite sneakers as a kid?
My parents never really bought me expensive things, especially footwear. So I was always relegated to shoes from Payless. I remember when my mom bought me a pair of imitation Larry Johnsons. I showed up at school and everyone was complimenting my new shoes. But by lunchtime, people began to look closely at them. I was laughed at for like a week for wearing Bobos. Then I discovered that you could get Nikes from Marshalls. My first pair of name-brand shoes were Nike Forces. They had "FORCE" in all-caps on the tongue. I never stuck to just one brand of shoes, because I was just happy to have some name-brand kicks on my feet.
Who else in WWE do you think has a dope shoe game?
Rusev is a big sneakerhead, which is funny because there was a period where he didn't wear shoes at all on TV. He likes a lot of throwback stuff. The Usos' shoe game is always on point, too.