Things such as sneakers tend to get put on the back burner when someone is battling something as serious as colon cancer, but they were something that's helped aide Steve "Scuba" Johnson's fight.
Johnson, who grew up loving Nike sneakers in the '90s and later became a huge Kanye West fan, ended up getting two pair of adidas Yeezy Boost 350s, the shoes designed by Kanye West, and they helped save his feet during his radiation treatments. "I was unable to walk because my feet were all blistered up from chemo, so I wore my adidas Yeezy 350 Boost, which I credit to saving my feet," Johnson told Kiel Colon Cancer Foundation, a charitable organization started by Nice Kicks Editor-in-Chief George Kiel III.
Johnson was accustomed to wearing sandals in recent years, as he made his living selling T-shirts at festivals. "Standing on wood floor felt like hell, and the diamond-patterned chaco sandals I wear and have worn since 2003, destroyed my feet," he said. "I told him that I'm a huge Yeezy fan, and I bought the 'Pirate Black' and 'Turtle Dove' adidas Yeezy 350s to put away and keep deadstock for awhile and he said, 'Dude, are you worried about money or comfort right now?' I ended up wearing the Turtle Doves, and even though I was bleeding all over the insides of them, I felt like a new man. The Boost soles felt like clouds on my feet. I was instantly able to move better and walk into treatments unlike before."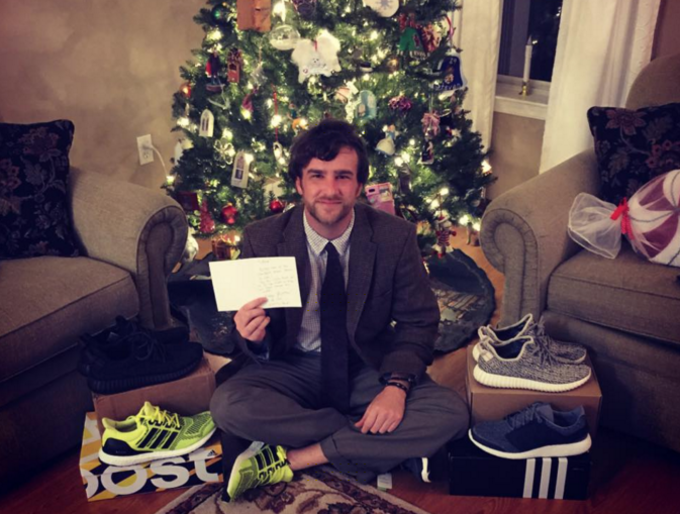 Johnson has plans for the footwear industry after he beats cancer. "My dream is to make the world's best flip flop. Hopefully one day, I will be able to find a manufacturer to get this design out of my head and onto the feet of many around the world as soon as possible," he says.
Click here to read the rest of his story.