ComplexCon returns to Long Beach Nov. 6 - 7 with hosts J. Balvin and Kristen Noel Crawley, performances by A$AP Rocky and Turnstile, and more shopping and drops.
Secure your spot while tickets last!
Kanye West isn't the only G.O.O.D. Music artist working on sneakers with adidas. The label's newly appointed president, Pusha T, has designed his second sneaker with the brand, and it's everything fans would expect from the Virginia rapper who made his name from rhymes that chronicle his past.
The first sneaker was a thinly veiled reference to the streets that helped build Pusha's reputation, and the second sneaker, the "Black Market" version of the "King Push" adidas EQT Running Guidance '93, is in the same vein. The original collaboration — fashioned in a "Chalk White" colorway with details such as cracked Italian leather, fishscale texture on the shoe's heel, and Pyrex measuring lines on the midsole — let people know that adidas and Pusha weren't playing. The response to the project was equally as strong, with pairs reselling for as much as $700. Don't think that Pusha is above supporting the aftermarket for his own footwear, either, as he told us at his album listening party last night.
The "Black Market" EQT will release on Black Friday, November 27, for $200, but what's going on with Pusha and adidas behind the scenes? Let the man tell the story himself.
The response on your first shoe was crazy. They're reselling for over $600. Are people hitting you up for pairs. Do you have any left?
The honest to God truth: I have two 7s and two 11s. That's it. And I wear a 10. Any extras I need, I buy off of eBay. I'll pay $550-$600. My girl will pay that much, too. But it's the game, so I don't feel for people who don't have them. I've got to buy them off eBay, too, and that's what it is.
What's bigger to you, being the president of G.O.O.D. Music or your adidas deal?
I think they're synonymous. Everything is about this team to me. G.O.O.D. Music is the family, and adidas is the first family. We work a lot together. On the walls right now is my album artwork. It's not just about my shoe. It's about everything together. I love them both.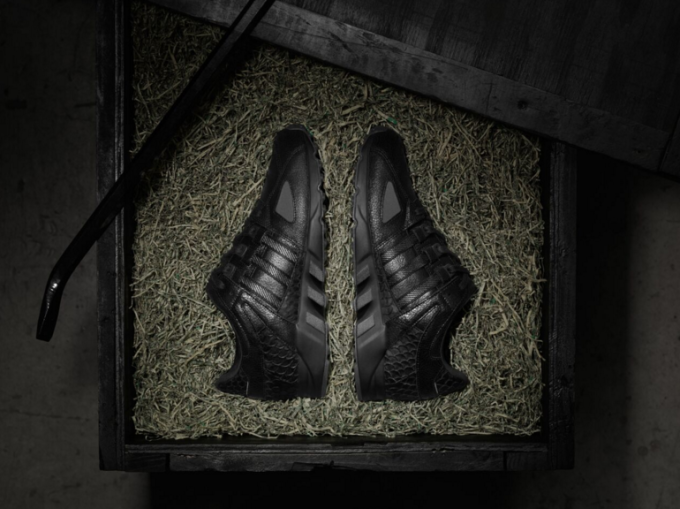 Awhile back, you put up an Instagram that said, "Fuck you waiting on Jordans for?" Do you condone people camping out for the "King Push"?
Hey man, listen, if you're into it that much, you gotta do what you gotta do to get what you want. I've never bought a shoe off eBay until this year, and it was mine. I didn't even know how to work eBay until the "King Push" EQT came out.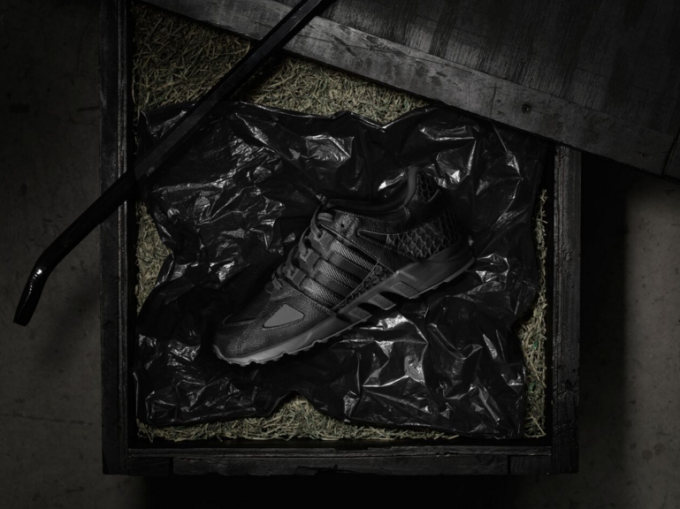 A lot of people were surprised that adidas let you put all the details and references in your sneaker. How did it get approved?
Between my team, [Jon] Wexler, and Emily Rose, they made everything as seamless as possible. I wasn't too big on doing sneakers. It wasn't my wheelhouse. The only way I could do it and have it make sense is if I could add those specific details and nuances and people would know this is my sneaker. So many people do collaborations and they just stamp their name on it. You can't really associate it without them there. I think my shoes stand alone.
On your new track, "Untouchable," you said adidas gave you a million. Is that true?
I can't get into the specifics of my business with adidas, but they treat me so well. We have a true partnership, a true bond. We've been working hand in hand for some time now.
Can we expect more Pusha T x adidas sneakers?
This is shoe number two, I feel like we can keep it going. Anything we do has to be as synonymous as what we're doing now.