The idea of coming across a pile of old, hard-to-find sneakers seems like a thing of the past to many footwear enthusiasts. It's something people heard happened in the '80s and '90s — maybe even in the early 2000s —but not in today's digital era where every sneaker sells out just minutes after it's released. That's why it was major when adidas, led by brand historian and former employee Gary Aspden, found a store in Argentina with a stockroom full of sneakers that had long been forgotten about for decades.
The man behind the store was Carlos Ruiz. And Aspden — along with a few folks who shared the same passion: collectors Robert Brooks and Ian Brown of The Stone Roses, photographer Neil Bedford, filmmaker Greg Bond, and Mike Chetcuti of adidas— took a trip from England to Argentina to take a look at the shop. Their minds' were blown, and the excursion resulted in a short film being made. It also gave a back story for Aspden's Spezial line with adidas, a range that's focused on footwear and apparel that resonates with those who have a love of tracksuits, trainers, and sportswear of yesteryear.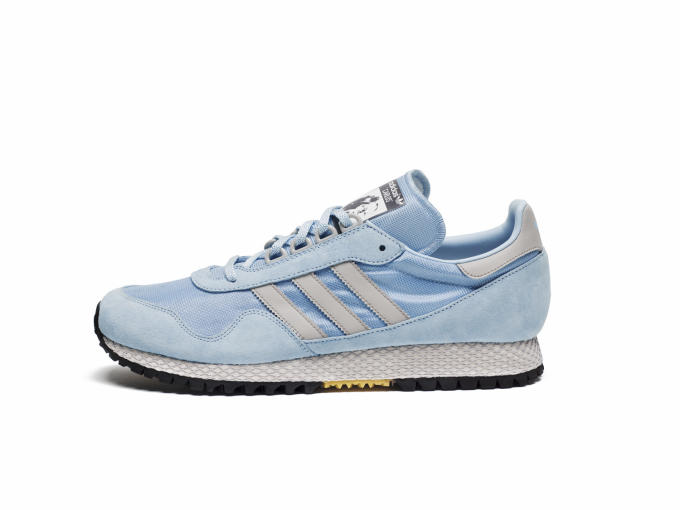 The film and Ruiz's story both received a lot of attention, and it prompted Aspden and crew to make a return to the South American shop and present Ruiz with a special thank you. Their way of showing appreciation was creating a pair of the adidas New York done up in Argentina Blue with Ruiz's name and face on the tongue. This time around, there's another video to accompany the trip, but we also got the chance to speak with Aspden about everything that occurred since his first visit to Ruiz's store.
The New York sneakers, along with an O.G. colorway and two T-shirts, will release on November 30. Find out what Aspden had to say about the sneakers and experience below.
Did you know from the start that you wanted to give Carlos his own shoe?
I knew that we/adidas should do something for Carlos, but I wasn't sure exactly what, and that sentiment was echoed in some of the YouTube comments about the film. We knew the film would excite adidas fans but none of us had anticipated that its appeal would be way broader than that. A lot of people who have little interest in sportswear seemed to connect with that story.
There were a few happy coincidences in the way the New York SPZL project came together which brought about the decision to create a "collectors edition" signature shoe for Carlos. After we got back from the first trip to see Carlos in 2014, I was on a visit to adidas' head office in Herzogenaurach, Germany, where I discovered that they had begun developing a New York re-issue (the version that many people call the European version). The guy who was leading that had just gone to work for another company so the project was left unfinished and I asked if we could pick it back up for a potential future Spezial release. There had been a previous New York re-issue that wasn't very accurate and I could see that this one had the potential to be way, way better. Whilst the guy leading this had moved on much of the hard work in development had been done. I proposed that we bring out two versions. One in the original grey colourway with a Spezial footbed, swing tag and box alongside a 'collectors edition' in Argentina blue dedicated to our friend Carlos Ruiz the now legendary shop keeper. We had picked up a few pairs of light blue(ish) New Yorks in Argentina so I liked the idea of marrying the European New York silhouette with a South American inspired colourway. It felt like a mix that fitted with the story and the adidas Originals x Spezial ranges uses a lot of European references. We tweaked the light blue that was used on the South American made pairs we had found over there (which has a hint of lilac in it) for a blue that is closer to the one in the Argentinean flag.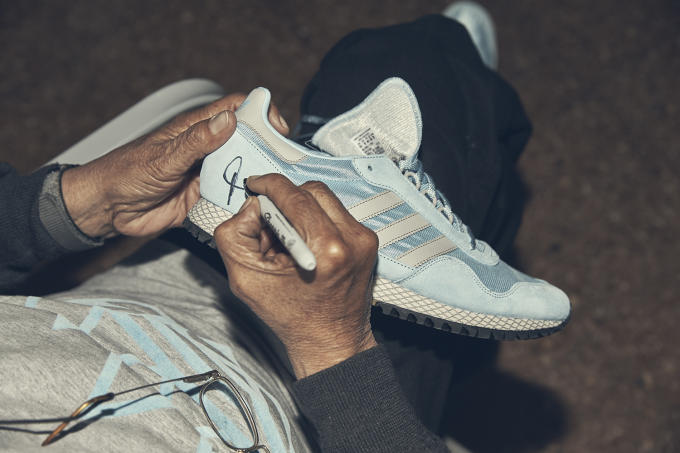 We produced a quantity of the New York SPZL 'Carlos' shoes in specific sizes for his friends and family as well as gifting him a quantity of them to sell in his store. It seemed like a fitting way to acknowledge him and repay his goodwill. As the people who have traveled to his shop since seeing the film have discovered he is reluctant to sell his shoes. I believe he invited us in because he knew from seeing images of the London Spezial exhibition that we were passionate like he is. I think he realized that those products were going to get a second lease of life with us exhibiting them in Spezial exhibitions and using them as a resource for future adidas Originals x Spezial collections.
How did you decide on the New York?
Of the shoes we purchased from Carlos there were a few pairs of Argentinean-made New Yorks. The New York was a popular shoe in Argentina back when adidas was being produced under license in Argentina by a company called Gatic. Gatic lost the adidas license after they went under during Argentina's economic crash. There were adidas shoes in their range made under license back then that you couldn't get anywhere else in the world. Around 2000, when I used to work for the adidas entertainment team, I used to swap New Yorks and Questars from a South American guy that I had met in Herzogenaurach, who worked for the licensee over in Argentina. There was no system internally to purchase products from him so he would send me a few pairs in exchange for signed music memorabilia. He loved British music and like many Argentineans was obsessed by bands from Manchester. Rock and roll seems to be far more popular than rap music in Argentina.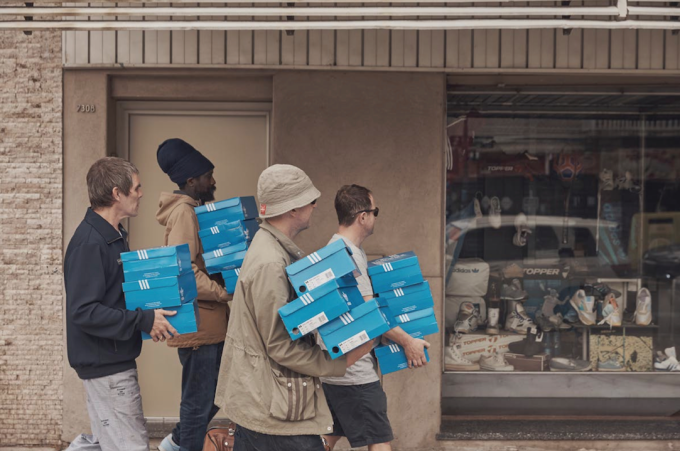 What was the most unexpected thing you saw in his shop?
The amount of press clippings he had stored under his counter! That film has changed Carlos's life - he has been in every major Argentinean newspaper as well as on TV and radio over there. He gets visitors from all over the world on a daily basis now. The day we were filming "Sole Searching in South America 2" some American adidas fanatics happened to stop by who had seen the first film. They had a half day to kill in Buenos Aires on their way to Bolivia so they had tracked down the store. They were pretty shocked to find us all in there filming and loading up Carlos with his latest stock.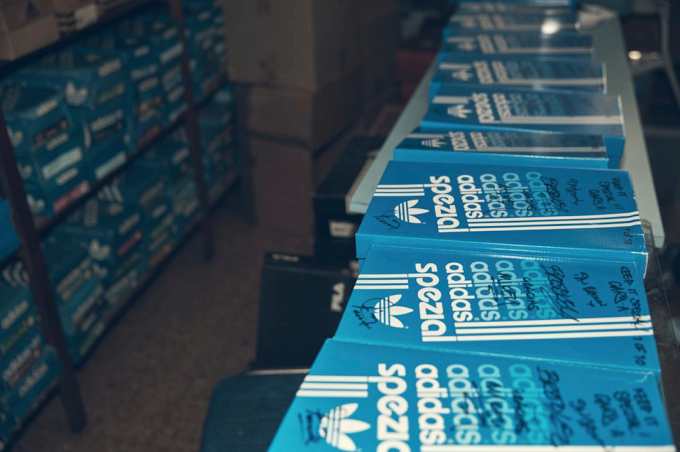 Do you think there are more treasure troves like this waiting to be discovered?
There has to be somewhere although the Golden Age of digging for vintage shoes was the '90s, back when store owners had no idea of the desirability of classic designs. Nowadays the sportswear companies are far more aware of the demand for these styles. Finding stockrooms full of cheap deadstock now is pretty unheard of as most people are aware of the value of these things. I have been into trainers since the late '70s early '80s so I went through that whole chasing "deadstock" era. I guess that was one of my main motivations in documenting the first trip to see Carlos was to try and convey to people who are younger and relatively new to this the excitement of discovering a "find."