Our perception of the future officially is the past now. 
This week, the Nike MAG broke ground by doing the predictable — answering its 26 years of self-imposed destiny, plus a 2011 pledge from Mark Parker and Tinker Hatfield (which they almost certainly regretted for a moment) to make it happen. Now everybody's got what they wanted — a cranky but reassuring whirr, the animated GIF and a happy Michael J. Fox. That's it now, right? All we have to do in the meantime is trap, get that meme loot, sell our worldly possessions…whatever it takes to win a charity auction. Before all that, let's use this as an opportunity to look beyond the laces and bright lights, at what else the MAG pioneered in the field of shoe design. 
You can turn your nose up at the nostalgia machine Buzzfeeding on years gone by and lose your mind, Elaine Benes-style, at a "Happy Back to the Future day!" greeting all you like, but this was the definitive concept car of the sneaker world. Hatfield, Parker and Tiffany Beers can probably attest to the fact that making one shoe, with a Hollywood budget , model makers and a special effects team is one thing, whereas actually making the thing is something completely different. That mass-manufacturing of the MAG in 2015 is still a heavy challenge speaks volumes. 
The initial sketches with retractable wheels (aka Heelys before Heelys) might have been less of a challenge to make nowadays, but they looked pretty terrible compared to the final thing. In the 1980s (bearing in mind that operation MAG dates back to 1987) the smallest details in manufacture could prove a no-go. Hell, the now-simple idea of a more open toe on Hatfield's Air Trainer 1 was nixed before the shoe debuted. That made the MAG seem even more unworldly. 
Seeing as innovation is at the core of their product and marketing, Nike has a long history of creating curious concept projects rooted in unlimited thought that stay in-house. From some of them, we get breakthroughs. The recent Archive '75 shoe from Nike Sportswear was a solid example — there's not a great deal of difference between that 2014 design and a shoe that the original neoprene invention that Nike innovator Bill Bowerman created in 1975, which would bear fruits at the close of the following decade. That Hatfield seemed to take the MAG brief very seriously made it far more influential on subsequent decades than any giant shoe with LED lights should do. 
Height played a major role on that cinema screen. Seeing as Hatfield had just come off projects like the Air Revolution (and those lights on the sole of the 2011 reissue evoke the backlighting that highlighted the Air Max 1's visible air on its introduction) before embarking on a conceptual time travel, it's interesting to see how the visibility and ankle strap seem to be present on the MAG. Seeing as the Revolution is a direct descendent of the Blazer and Marty McFly's Bruin, its lineage makes sense. Credit must be given to Nike's then blood rivals Reebok for their double-strapped 1985 Alien Fighter concept shoe (later released as mid-cut silhouette worn by Lance Henriksen as the Alien Stomper) for another seminal sci-fi sequel, James Cameron's Aliens, that made a similar assumption that sneakers of the future would go way, way above the ankle. 
In the years that followed, we got the colossal looks of the failed but interesting Air Pressure shoe with its pump air collar and MAG-like fancy plastic packaging, giant shoes like the Ascension, Command Force and STS. Thanks to Kanye West's influential 2007 to present-day obsession with big shoes, we can see that the MAG spawned a movement. Just as Kobe (who rocked up in a DeLorean to launched a special edition MAG-inspired Hyperdunk) put big shoes to bed with the low-cut IV, he dramatically resurrected it with a MAG-height post surgery Flyknit favorite in late 2013.
That Hatfield created something with such a different color palette to the audacity of the era it was created in is key to the shoe's long term appeal — lights replaced neons and the grey and blue was surprisingly muted for a movie moment. Lighting in a shoe might be one of the few predictions in Hatfield's design that fell into the late 1980s notion of where footwear would go, but it needed to make for a memorable scene in a blockbuster, so total restraint wasn't the aim of the game. That said, the MAG colorway, as added to a variety of Nike shoes, doesn't seem anachronistic in the era of all-Apple-everything, murdered out attire and neutral tones.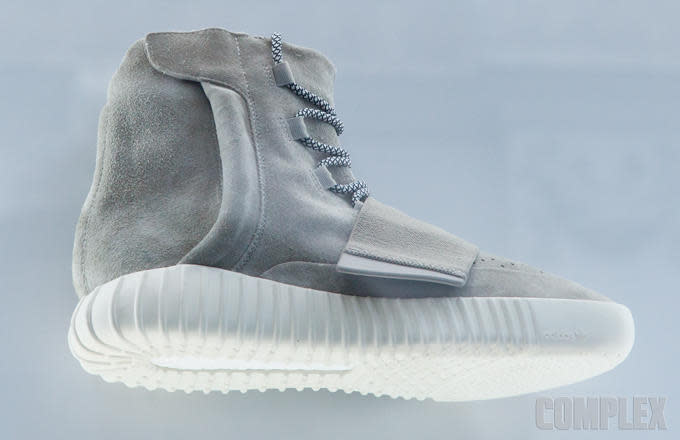 Elements of the MAG found their way into the shoes that defined a new decade—that partial clear sole was present on the Jordan V and Flight Lite, setting the wheels in motion for the "ice bottom" that was commonplace in the late 1990s. The cutaway at the ankle is reminiscent of the Eric Avar's Flight Huarache (and Hatfield's Huarache Trainer)—and, lest we forget, the impact of that shoe on court and street style was colossal. The Huarache 2K4 update felt equally in thrall to the MAG aesthetic and after a dry spell on the non-signature side of things, Avar's 2008 Hyperdunk design ignited a new wave of memorable Nike Basketball designs. Avar and the team made no secret of the MAG's influence on that shoe and Flywire would birth a technology called Magwire.
The future was set to be seamless. Away from hoops, a skate shoe like the overlooked Zoom TRE owed a little to Hatfield's predictions. In fact, the plain toe and one-piece looking construction—an impossibility in 1989 – pre-empted what came next. Jordan would push Hatfield for a clean toe on his shoes, starting with the VI in 1991 and reaching that MAG-like uninterrupted sense of flow in 1994 with the tenth iteration (after some heated words regarding a short-lived toe panel).
Nobody mentions the mysterious Nike Air Drill that was MAG-esque and capped with a newly angled swoosh that had a smooth forefoot before it was scrapped before its 1994 release. By the mid-2000s, environmental concerns would lead to reductionism as part of Nike's Considered program—by 2012, it was best practice, leading to no-sew builds or single piece uppers on the Flyknit releases. Now, even a swoosh is regularly built into the upper or sealed on instead of stitched on—that white branding on the MAG looks like an early attempt at that mode of application.
For decades, shoes were leather—the introduction of new synthetic suedes and materials like Durabuck seemed to creep into the industry during the late 1980s. Post-Foamposite and Mercurial, we've seen leather phased out in several categories, with synthetics dominating performance product. The upper of the MAG, with its Spandex like feel was correct in anticipating the elimination of traditional natural applications. 
Beyond the Jedis like Hatfield and Avar, the younger generation of footwear designers across brands came up as children of the 1980s and 1990s, assuming that 2015's shoes were giant, grey, speckled and self-fastening. Consumers expected the same, to the point where they lobbied for the shoe's release, feeling that they have the right to own the MAG on the allotted date this year. Can we look behind it? Despite never seeing them on store shelves, we've been living in a post-MAG world for quarter of a century, but what do we get next? 
Seeing as technologies continue to slim down, maybe it's the MAG "air" that follows—all the benefits in a minimized form. That's when this goes beyond tedious talk of past glories and becomes the thing that pushes functional footwear into new terrains. The lacing idea is in its infancy: seeing it on a sleeker shoe, in a triathlon, as a smooth transition from bench to court during a game, or as the answer to less able bodied wearers' accessibility issues would be true to Nike's mission statements. Jaws 19 might not be arriving any time soon, but self-lacing Jordan 32s and Air Max 2019s don't sound too far-fetched in the sequel stakes.
The MAG is a shoe that instigates a lot of 'what if'? scenarios. Just as Robert Zemeckis' trilogy examined the consequences of tinkering (pun intended) with time, what would have happened if Nike never took that call, if Hatfield was too busy that month, or if the auto-lace scene hit the cutting room floor? Would that have altered the course of footwear design? Would Jordan and Nike Basketball designs look totally different? Would they look better? Has it held shoe design back or pushed it ahead?  
It's definitely more than just a film prop — more like a self-fulfilling prophecy.