Thanks to a series of thoughtful collaborations with European retailers last year, Saucony made an emergence in the lifestyle running sector. One of the shops that gave the brand a boost was London's Offspring, working on two pairs of the Shadow 6000, the chunky-soled runner that's become a favorite amongst those who have explored Saucony's archives. 
The result was Offspring using premium suede with pop colors such as pink and turquoise, and both pairs promptly disappeared off shelves soon after their release. It's a year later, and Offspring and Saucony are working on another pair of the Shadow 6000, but this time they've decided to go under the radar, naming the sneaker the "Stealth."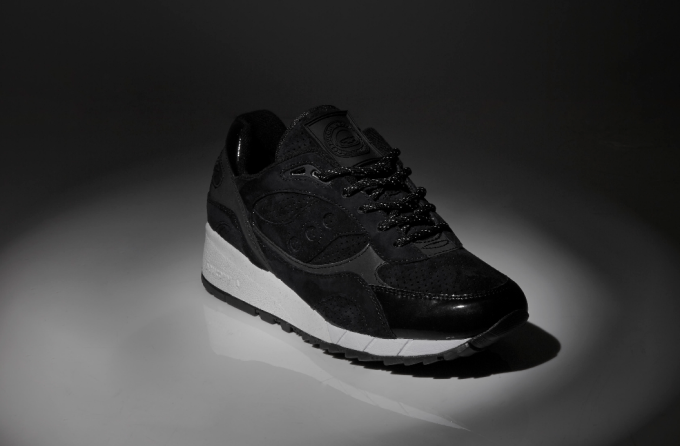 The "Stealth" is an all-black design that stands out through its usage of 3M and patent leather. "We wanted to go understated, cleaner and sleeker than the last. "We wanted to go understated, cleaner and sleeker than the last. The stealth bomber came to mind, as it is not only sleek in design but its main purpose is to be undetected and minimalist," Offspring Buyer and SMU/Collab Developer Aman Tak says. "We tried to carry these characteristics through by using a mixture of textures in black from 3M, suede, rubber, and of course the infamous patent toe."
The patent is the stand out element of this collaboration, and it might seem out of place to some people: Not many runners portray this look. But Offspring had a reason behind what they were doing. "It's a material that is under-used in the sneaker world. Some may say for good reason but we like the fact it divides opinion," Tak says. "You look at brands like Lanvin where their classic toe cap sneaker is their most iconic silhouette. It's a basic tennis shoe. However, the patent lifts it and gives it an instant premium feel."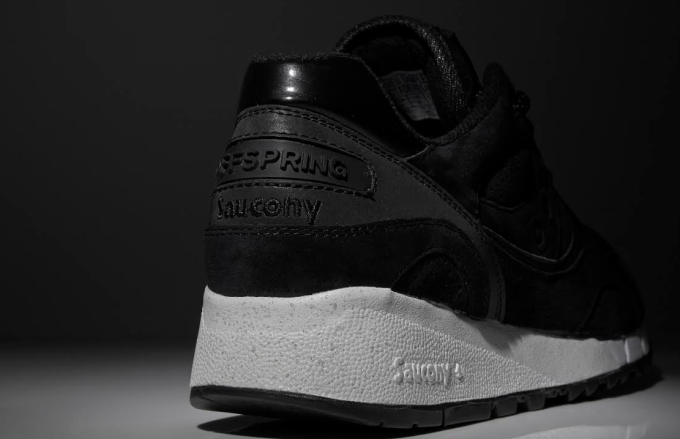 It only took one sample to get this collaboration correct, as Tak notes that the Saucony Originals team is good at "bringing design to reality." He also explained why Offspring has been so keen on using the Shadow 6000 for multiple projects. "We like the aggressive nature of the silhouette and the fact that there are quite a few panels to play with, which means it can take material and color very well," he says.
Those looking to get something more low key can purchase their "Stealth" Shadow 6000s on Saturday, August 15, on Offspring's website. The retail price will be roughly $172.