By now, you've heard that adidas has offered Houston's James Harden a whopping $200M over 13 years to jump ship from his current endorser, Nike. While Nike has until next week to submit a counter-offer, Bloomberg is helping us make sense of the numbers behind the deal. Is Harden worth the massive check? According to the numbers from the 2014-15 NBA season, he just might be. Below, you'll see how each of the major sneaker brand's endorsees stack up against each other.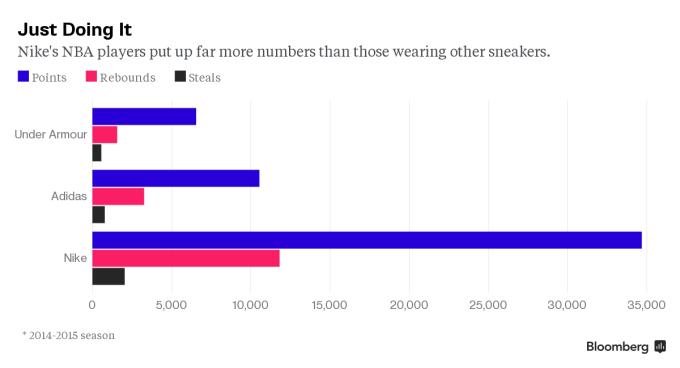 It's clear that Nike is the far-and-away winner when it comes to total points, rebounds, and steals put up by its endorsers. However, it's important to note that Nike also comes in with a huge advantage — it controls 90 percent of the hoops sneaker market. Bloomberg notes that Nike currently has as many as 40 star-level players under its umbrella, which is huge compared to Under Armour's nine and just eight from adidas.
<span></span>
Things become more interesting when shifting from an overall perspective to a per-player basis. As you can see, Nike is still ahead of adidas, but not by much. A big reason for this is that some of Nike's top names, including Kevin Durant, Carmelo Anthony, and Paul George all had less-than-stellar seasons due to injuries and other setbacks. Next, we take a look at how much adidas' numbers would improve with James Harden on board.
<span></span>
Surprised? Post-Harden, adidas would see an increase in every stat category, topping Nike in per-player points scored, rebounds, and steals. While $200 mil over 13 years is still a mind-blowing amount of cash, this could very well be the sort of thing adidas needs to become a top contender in the long run. Only time will tell.