Adidas recently made James Harden an offer he couldn't refuse at a price point Nike was unwilling to match. With the rise of Steph Curry's brand on and off the court, the German sneaker maker fell to No. 3 in the basketball power rankings behind Under Armour and Nike, respectively. Adidas had to make a drastic move, so they decided to sign "The Beard" to a 13-year, $200 million contract. With the three biggest names in the basketball already on Nike's roster—​LeBron James, Kobe Bryant, and Kevin Durant—​the Swoosh determined the Houston Rockets shooting guard wasn't worth the bread. Nike also has Kyrie Irving and Anthony Davis under contract.
Just last summer, KD flirted with Under Armour which resulted in him receiving an even richer deal with Nike. ​This time around, Nike wasn't willing to counter adidas for Harden's services. With Nike, Harden would've gotten less money than KD and King James, and no signature shoe. It's safe to assume adidas will be making him his own sneaker; they wouldn't be paying that much for him if that weren't in their plans. Both Nike and adidas made the right choices. Nike doesn't need Harden, adidas does. But, are the Three Stripes overpaying for Harden? Absolutely. What choice did they have, though? Scared money, don't make money, as they say.​
Harden is one of the best five players in the NBA.
Once upon a time adidas threatened to become the No. 1 destination for the NBA's top talent. After Kobe dipped in favor of rival Nike, they were able to sustain that punch in the gut with a roster that included Tim Duncan, Kevin Garnett, Tracy McGrady, Chauncey Billups, and Gilbert Arenas. There were hiccups along the way, like the unfortunate signings of McGrady and Billups to lifetime deals. In hindsight, those weren't the smartest things to do. T-Mac couldn't stay healthy, and Billups was never that marketable to begin with.
Adidas rebounded when they signed Derrick Rose to a 13-year, $185 million deal in 2012, but unfortunately he couldn't stay healthy. Either way, his kicks aren't flying off the shelves. They gave Damian Lillard his own signature also, which aren't selling like hotcakes either. So, the burning question is: Can James Harden sell sneakers? It might be a little too early to call it but let's speculate a bit. 
Harden is one of the best five players in the NBA. That doesn't matter, though. Steph Curry's Under Armour shoe sells because of performance and Curry's popularity, but it's not the prettiest sneaker. Rose and Lillard's signatures aren't that appealing style-wise, either. Adidas needs to take advantage of Harden's fashion appeal, and make a shoe that people want to wear on and off the court.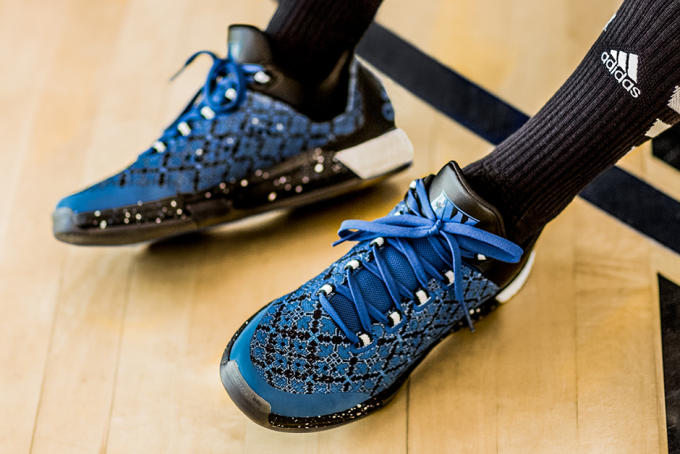 Style is just as important as substance. It's why Michael Jordan is still reintroducing sneakers in 2015. adidas is taking a step in the right direction with the Crazylight Boost. They're comfortable and kinda fly. Still they can be better. LeBron, Kobe, and KD all have sneakers you can casually wear without looking like a fool. They should take inspiration from the Yeezy and Ultra Boost silhouettes and use that cachet to build a Harden signature that people would actually clamor for. After all, Boost technology has revitalized the brand, making it cool again in the States especially.
The signing of James Harden is the first step in adidas' road to regaining lost ground in basketball. He's a workhorse that stays relatively healthy, a budding star in his prime, finished in the top 10 in MVP votes the last three seasons, has a nickname, and a beef with the most prevalent Internet rapper. Harden isn't well-liked, as his beef with Lil B proved. He flops, he's a choke artist, and people hate how he dresses. To make matters worse—depending on how much you love/hate the Kardashians—he's been rumored to be dating Khloe. Some of those reasons can be used to his advantage, though.
Embrace the villain role.
If adidas can find a way to make a dope-looking sneaker for Harden, this will be looked at as one of the biggest coups in the company's recent history.