The Nike Air Presto is in the middle of a powerful resurgence, partly in thanks to the recent reissue of two of the sneaker's original colorways. To Leon Witherow — who works for Nike Europe and runs the popular @prestology Instagram account — his love for the Presto has never changed.
People might remember Witherow from a previous piece we ran on how it took him seven years to track down Eric Clapton's limited version of the Presto, produced in 2001. He recently caught up with the folks at size? for the Air Presto exhibit at Niketown London to speak about his favorite sneaker and how he got into it. "It was actually pure chance that I discovered the Presto," Witherow said. "Normally I'm an Air Max head."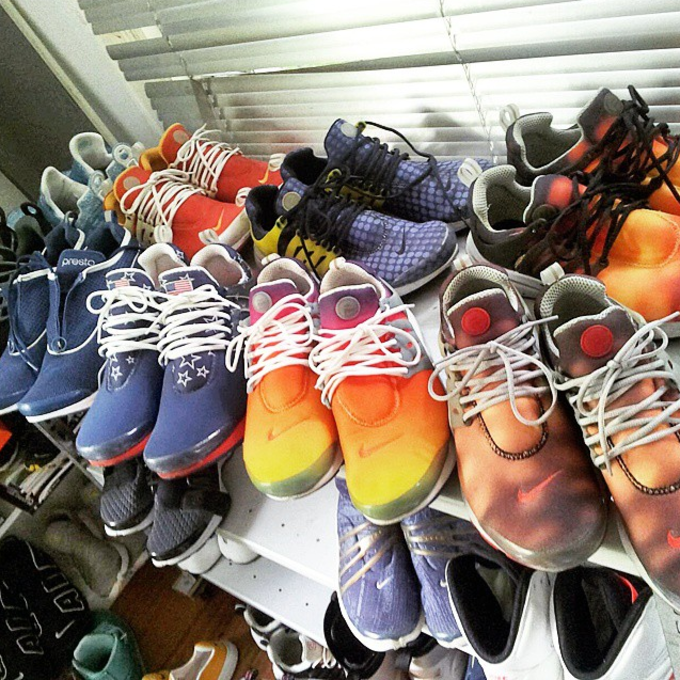 From that point he was hooked, amassing roughly 200 pairs. Witherow calls the Presto the perfect sneaker, and he says, "It's the timeless shape of it. It's the simplicity of it. It's the philosophy behind the design, the way it was conceived by some of Nikes greatest creative minds, the comfort, the way it is connected to art and street culture, the unique way it was marketed and distributed and, finally, the way it ushered in a whole new generation of footwear innovation."
The one pair that has eluded Witherow is an unreleased collaboration between fragment design and Hello Kitty. He said, "They are insanely rare and those that own them are not exactly willing to let them go. Just last week I found out that I missed an opportunity to buy the set from the original designer, and it was one of the most heartbreaking moments I have ever experienced in my life."
The rest of the interview can be read here.