There's one determining factor that can sway people's opinions when the hype, design, or comfort isn't there. It's something that can make an OK-looking sneaker turn into a must-cop, and can also elicit a reaction of, "I think I'll pass," on some of the year's best releases. It hits us where it hurts most, in the wallet. It's price, and it's a very sensitive subject in the sneaker industry.
There's long been a discussion if sneakers are too expensive and what's really a fair price, and a great regulator of those concerns is the fact that things go on sale. These promotions allow retailers to move product that's sitting on shelves, and their customers get a financial break. It's a win-win situation, but it's much more complicated than it seems on the surface. And while we tried to contact larger retailers like Finish Line and Foot Locker on how these kinds of markdowns work, none were able to provide official comment​.​
The shops will contact us directly if the brands aren't happy about the sales we advertise.
"I really hate when things go on sale because it seems like they are devaluing the brand," Jason Faustino, co-owner of New York boutique Extra Butter, says. "It totally makes things less special."
Faustino isn't the only one who tries to sell his merchandise at full price. It makes stores more capital, and it usually means that items are selling quicker. But sometimes other retailers force other outlets to lower prices, even if unintentionally. "The goal is always to sell sneakers at full price. I try to not knock down anything before 90 days of having it," Derek Curry, founder and owner of Sneaker Politics, a small chain of boutiques in Louisiana, says. "Sometimes other stores will force me to knock [the price] down quicker. I just watch the Internet and follow suit."
One of the main facilitators of these sales is Kicks Deals, a website that balances between being an exclusive source of one-off promo codes and provider of editorial content. With its nearly 160,000 Twitter followers, the site's deals spread quickly amongst the sneaker community, alerting would-be purchases of slashed prices. Although this system is in place, certain products sees bigger reactions from the site's audience. "Nike and Jordan product get the largest response," Ian Hofler, Editor-in-Chief of Kicks, says. "A lot of people like the ASICS deals because they're already affordably priced."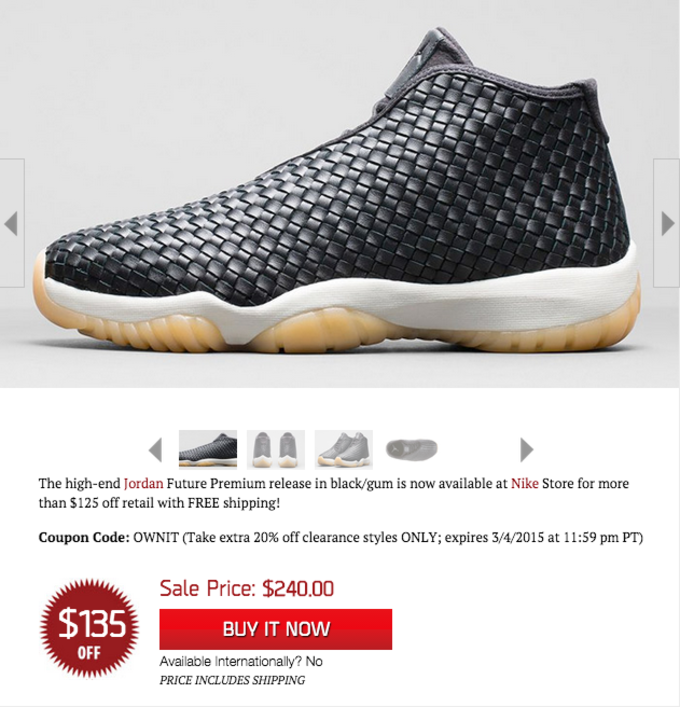 Even with an environment that breeds a necessity to have deals, there are still bigger issues lurking. The shops want to give great promotions and move their sneakers, but there can be non-financial barriers that they have to get over. The brands, at times, aren't happy if certain sneakers get put on sale. "The shops will contact us directly if the brands aren't happy about the sales we advertise," Hofler says. "We'll have to adjust them or take the deal down all together."
There are other items that never hit the sales racks, and it's due to circumstances unseen by the consumer. The relationship between sneakers and retailers can become personal, and shops will hate to see certain models receive a discount. "I'll hold on to stuff and never put it on sale, like Air Max 1s or Air Force 1s for example, because they're classics," Curry says. "Unless the shoe is totally awful, I'll hold onto it for a year."
Other sneakers are more difficult to mark down. Over the past decade or so, boutiques have built their reputations and livelihoods off of the collaborations they've produced with a wide range of brands. These special makeups aren't huge money makers for shops, due to their limited production runs, but they still hold a sacred place within sneaker culture. This makes them a moral decision to discount, especially when other shops' names are on the line, but sometimes it has to be done.
"When [collabs] hit the shelves and eventually on sale, it does a lot more damage than people realize," Faustino says.
He's not the only person who feels this way, either. "I hate putting collaborations on sale, but now there's so many," Curry says. "Everyone else [puts them on sale], so I just jump on board."
But there's still a profit when moving stock at a discount, especially if plenty of customers come calling. "I've sent things to Kicks Deals and the minute it hits, we'll see sales come in or people come into the store," Faustino says.
It can often feel like the majority of sales happen online, and a lot of markdowns don't matter unless they can be accessed globally. But there are still price reductions that happen the old-fashioned way: in-store only. Curry admits that his shop can put on must-cop events with deals that are too good for customers to pass up. "We do in-store sales sales that can get pretty crazy," he says. "There will be $40, $50, $70 sections, and we'll do that once a year, if that."
Hosting sales is a strange proposition, companies never want to see their product advertised for lower than suggested manufacturer retail prices, and retailers want to make optimal profit for everything that they put in their stock rooms. It's the nature of the business —​ a steady flow of new merchandise coming in and items that sit stagnantly —​ that forces this process. It's also facilitated by a spend-conscious public who doesn't always want to part with their top dollar for something that's going to fetch a lower amount.
As Hofler says, "There are a lot of people into sneakers, and people try to help each other out to get sneakers for less." And this cycle will lead to those wanting sales, stores offering them, and brands getting frustrated in the process.
Matt Welty is a staff writer at Complex. You can follow him on Twitter here.