Last year wasn't the first time that Commonwealth, a sneaker boutique founded in 2004 with locations in Virginia and Washington, D.C., did a sneaker collaboration, but its "Gemini" ASICS Gel-Lyte V made the store's presence known on an international scale. The two-toned navy runners, which had a reverse effect on the left and right sneakers, were viewed as one of the best collaborations of the year and instantly made the shop's name a buzz word in the global scene. Six months have passed now since the "Gemini" was released, and now Commonwealth is looking to follow up its success with another pair of Gel-Lyte Vs, this time taking inspiration from something ancient, too — Leonadro da Vinci.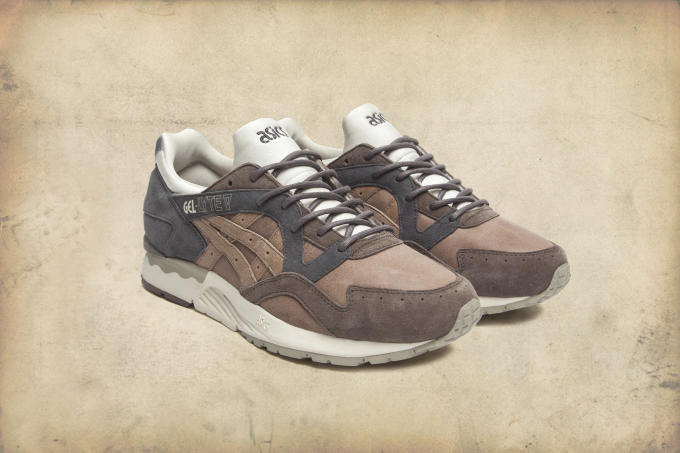 Viewed as a true Renaissance man, da Vinci's life wasn't unlike many of today's youth who try to tackle multiple pursuits. A lot of people wear multiple hats — even if they're not changing the world with everything they do — just like the Italian painter, inventor, and engineer. "[The sneaker] started off with the observation of today's youth and young professionals," Omar Quiambao, co-founder of Commonwealth, says. "How everyone has diverse interests and are able to excel at different types of jobs/positions at once, i.e. designer/DJ/photgrapher/waiter. Basically modern day 'Renaissance' people, hence using da Vinci as the inspiration."
The old world of da Vinci's sketches and work is channeled through multiple panels that use earth tones such as brown, tan, and charcoal, and it translates to a similar vibe of the "Gemini," in part thanks to a leather toe box that's balanced with suede accents. For everyone who dug the previous release, the "da Vinci" is the follow up they've been waiting for, and working with ASICS has been able to push Commonwealth forward. "We've always had great collaborative product releases, so [there's no] external pressure at all [to follow up the "Gemini]," Quiambao says. "After the 'Gemini' release, we learned that our customer base is open to pushing the envelope. Ultimately we try to create product we're happy with that connects with the independent mindset of our fan base."
At first, however, there might have been some resistance to Commonwealth taking risks on its first collaboration. The shop wasn't the first to mix-match the colorblocking on right and left sneakers, but it's still seen as jarring every time it's executed. That's why it's important that if this technique is done, that it's done tastefully and the right way. And Commonwealth was able to accomplish that on the "Gemini." "Some consumers thought the "Gemini" project was a little weird because of the materials being flip flopped, but they ended up really liking it on foot," Quiambao says. "After our first project with ASICS, we seem to be on the radar with a lot of new consumers and brands who may have not been aware of our 10-year history as a premier boutique retailer."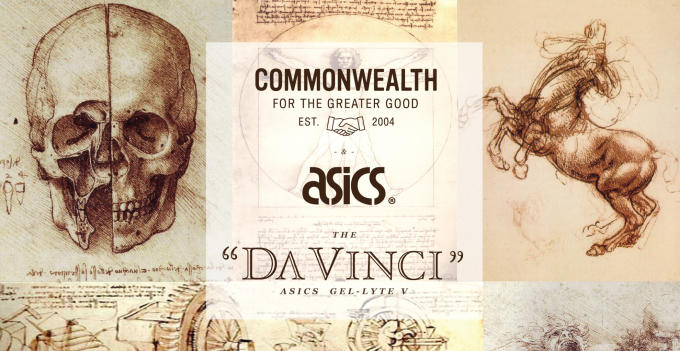 Now that Commonwealth has helped itself cultivate a larger audience through its prior collab, the "Da Vinci" won't be slept on by those who are unfamiliar with the shop. And it has something special planned to coincide with this project, something that Quiambao hopes will be part of this collaboration. "Since the colors were inspired by the sepia tones in Da Vinci's sketches, we developed a custom sketchpad to help strengthen that theme," he says. "Hopefully we receive them in time to package them inside the shoe boxes."
The wait for the "Da Vinci" shouldn't be too long, either, as it's slated to drop on Saturday, March 21, at Commonwealth with a retail price of $170.