Kanye West's upcoming adidas collaboration might just be easy to get your hands on, and you can thank a simple app for that.
adidas officially announced today that it launched a new app called Confirmed, which allows shoppers to reserve limited sneakers without the headache of camping out or dealing with bots. adidas Confirmed will alert you when a sneaker is available for reservation and give you the opportunity to reserve your size from a nearby store. With a reservation, shoppers will be able to swing by the store, make payment, and pick up their sneakers.
The app comes at a perfect time where the sneaker landscape has been overrun with issues stemming from bots, flawed releases, and sneaker violence.
"A lot of people believe the system is rigged," adidas VP of Brand Activation Simon Atkins told Forbes. "Because of a live re-sale industry, a lot of people [are] trying to game the system. We've tried to be the first in the industry to cut through all of that."
The new app will also serve as the platform to launch Kanye West's adidas collaboration. While an exact release date has not yet been revealed, Atkins acknowledged that "the app is associated with Kanye West."
You can download the app now through iTunes and Google Play.
Update: adidas has confirmed that the first sneaker release on the app will be exclusive to New York City. However, future sneaker launches will be available through additional cities. The NYC-only debut of the app only fuels the speculation that the Kanye West x adidas collaboration will launch next week during New York Fashion Week. This morning, a screenshot of an invitation to a show from Kanye and adidas also surfaced.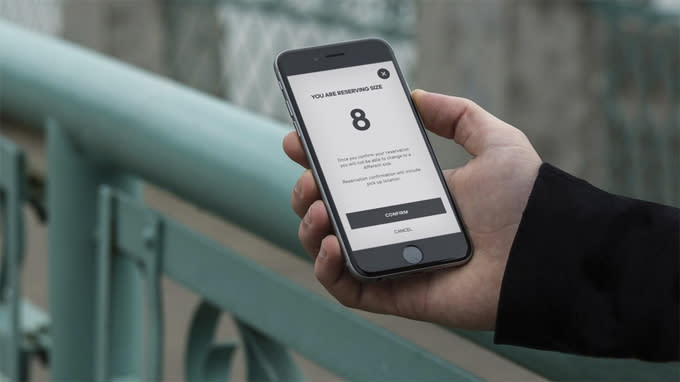 [via adidas]