February 8, 2014. The day will live forever in the hearts and minds of sneakerheads—and not because it was the end of innocence, the last day before Nike surprise-released the much-hyped, much-anticipated "Red October" version of the Air Yeezy II on a Sunday afternoon. There is that, sure, but the date is significant because it's when Nike SB, the skateboard-focused subsidiary Nike launched in 2002, released a "retro" of one of its most popular sneakers for the first time in the brand's history.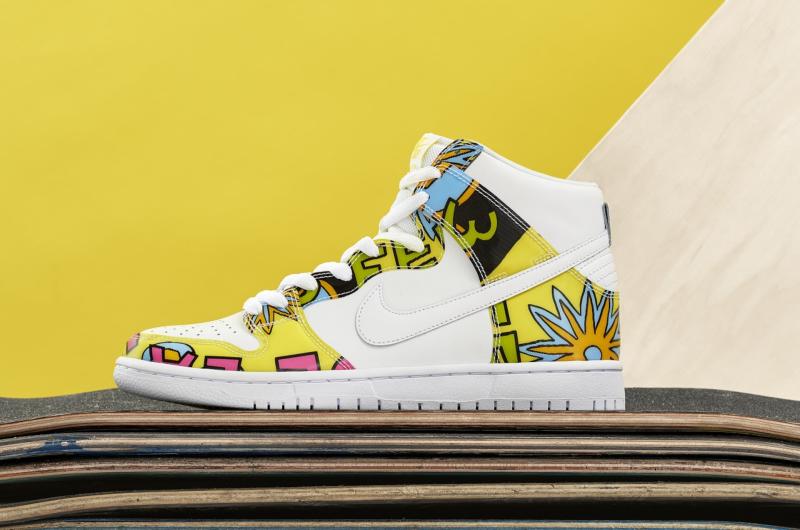 That reissued shoe was the Nick Tershay-designed "Diamond" Dunk SB, a 2005 release that built the brand's legacy by connecting themes from skateboarding and hip-hop, with a laundry list of cultural cues that string the two worlds together. Technically, it wasn't a true retro because the new rendition was a high-top and its predecessor was a low-top, but the shoe flew off of digital and physical shelves, showing that consumers were willing to shell out for that highly revered colorway. It also proved that there was a nostalgia market for the brand's creations that were now decade-old relics, and functioned as a catalyst for what Nike SB has in store for this year's NBA All-Star Weekend in New York City: the re-release of the De La Soul-themed Dunks that first dropped in October 2005.
The idea of making high-top and low-top sneakers inspired by 3 Feet High and Rising, alt-rap trio De La Soul's 1989 debut album, came about through an informal meeting in 2004. "We had a show in San Diego and we were invited by LRG to come to the ASR [Action Sports Retailer] convention, which happened the same day as our show," says De La group member Kelvin "Posdnuos" Mercer. "We came across the Nike SB booth, where we met the brand's reps. We invited them to our show later that night, and after that they asked if we wanted to do a Dunk. We were immediately interested."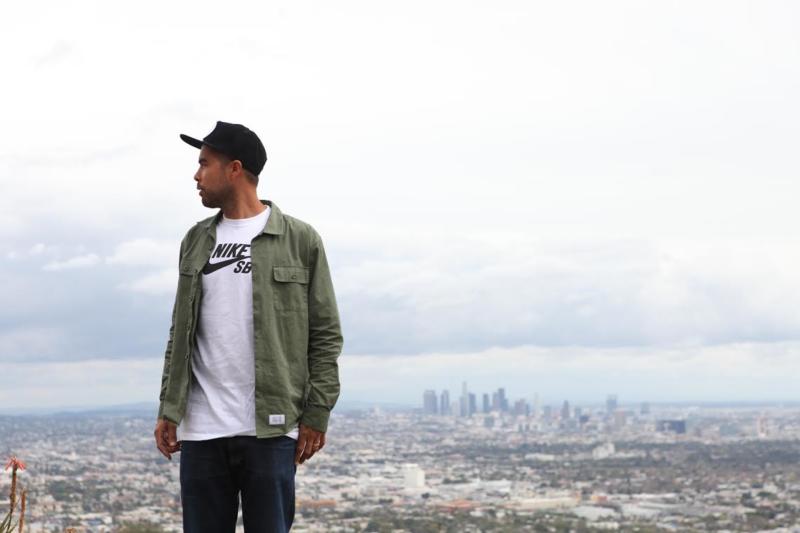 At that point, Nike SB had worked with streetwear brands, graffiti writers, and its own team riders, but it hadn't put out any sneakers with hip-hop artists. It was fitting that De La Soul was the first. Free thinking and unconventional, Long Island friends Pos, David Jude "Trugoy the Dove" Jolicoeur, and Vincent "P.A. Pacemaster Mase" Mason came out wearing bohemian flower prints and afrocentric medallions and spitting positive, playful rhymes at a time when gritty gangsta rap was exploding. Their non-conformity had a significant impact upon early '90s skateboarding, when skate culture ditched its long hair and thrash metal in favor of backpack rap and baggy jeans.
"They were a huge influence to not only myself and the Girl and Chocolate crew, but tons of skaters in the early '90s," says Eric Koston, who currently rides for Nike SB and is one of skateboarding's biggest sneaker collectors. "Look at the [skate] videos: We used their music and we were rocking Girbaud Jeans, Polo shirts, and rugby shirts."
"We always felt the need to express ourselves freely from any creative restraint, to allow our minds, words, and actions to go beyond the B-boy parameter," says Posdnuos. "I would like to think that the people involved in skate culture fell in sync with our music and allowed it to be their theme music, as well as allowing it to push them further along their journey."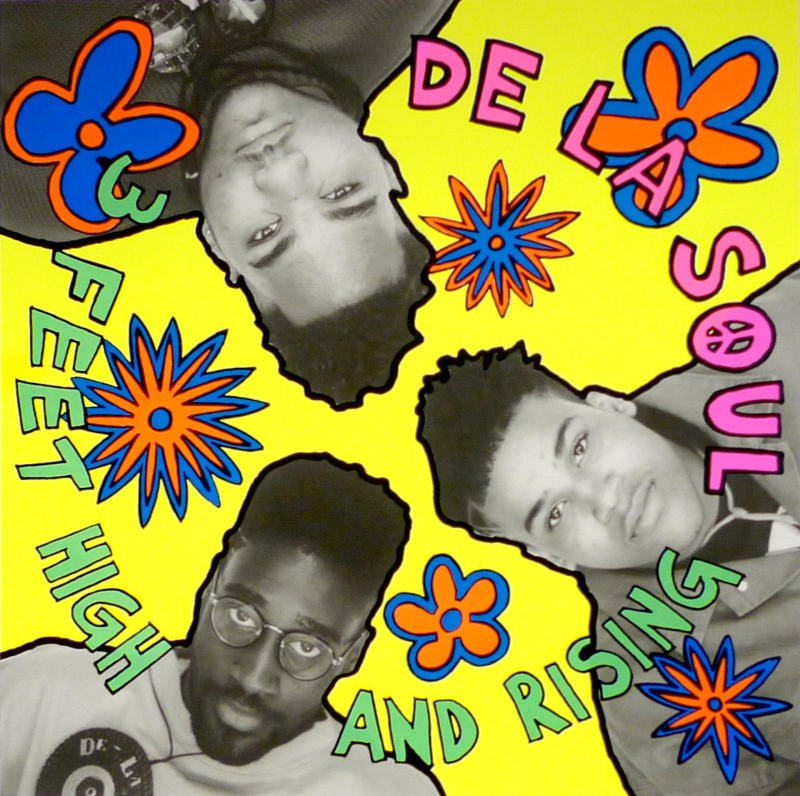 The group's underground-but-mainstream reputation aligned itself perfectly with how Nike SB was operating in late 2005. At the time, the brand's sneakers only sold at core skate shops, where the presence of the über mainstream Swoosh was divisive. One of many Dunks that SB pumped out that year, the "De La Souls" helped introduce the brand in a skater-friendly fashion and validate it as a skate company. The earth-toned high-top had Elephant Print, which was first used on the Air Jordan III (and later seen on the Supreme x Nike Dunk SBs), but it was green instead of the traditional grey. Fickle consumers were still wearing noteworthy Nike sneakers, but they were now constructed in a way that spoke to their tastes. The standard colorways were now traded for vinyl-like overlays that featured artwork from 3 Feet High and Rising. It became something that people always wanted but never knew they needed until then.
Both pairs of the "De La Soul" Dunk SBs are being retroed, but like the "Diamond," they're not releasing in their original forms. The high-top has been converted into a low-top and the low-top is now a high-top—Nike SB doesn't want to dilute the potency of the original release. "Doing retros and bringing them back is cool, but to flip them around is cool because the old ones you had are always going to be the old ones," says Nike SB Footwear Design Director Shawn Carboy. "It allows the old ones to stay special and stay unique, and then the new ones keep it fresh."
Additionally, Carboy sees the "Diamond" and "De La" retros as the brand's return to storytelling. In recent years, Nike SB has been increasingly focused on design innovation, but early on, the subdivision developed its identity with these and a number of other sneakers that spoke to skaters and sneakerheads and displayed insider knowledge of the culture. "Let's face it, Nike SB originated the 'themed' shoe," says Koston. "I always thought it was sick because there was a cool story behind it that somehow always related to skateboarding, or what was relevant to it at the time."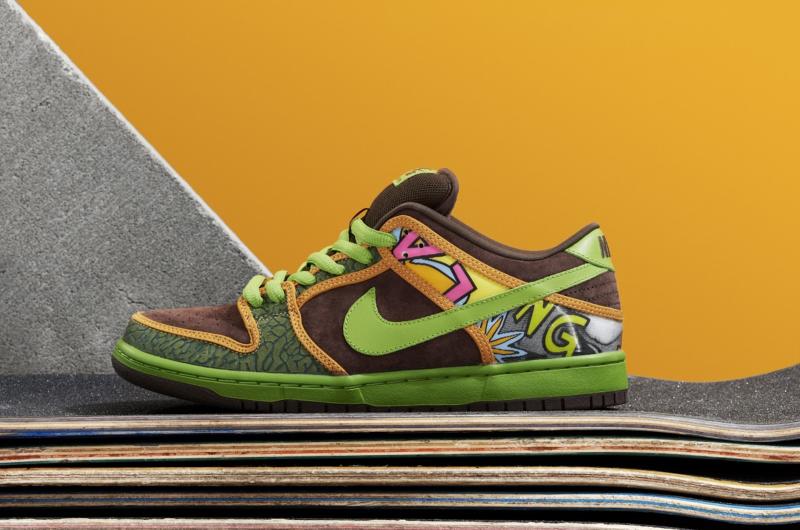 Those stories are still running strong, and Nike SB is banking that they'll cross over to All-Star Weekend, an event that has nothing to do with skateboarding but plenty to do with sneakers. If the hype lives up to its potential, fans can expect the "De La Soul" retros to disappear quickly, and for Nike to drop more SB retros soon. Carboy hints that there are things in the works, but like a kickflip off a park bench, final plans are still up in the air.
The Nike Dunk High Premium SB 'De La Soul' will release 2/12 in North America and 2/13 worldwide, and will retail at $150.
The Nike Dunk Low Premium SB 'De La Soul' will release 5/16 worldwide and retail at $135.