There couldn't have been a bigger stage. With millions tuned in, everyone's eyes were set on Kanye West's feet. The Grammys surely took place last night, but the awards given were secondary to adidas' informal announcement that it's poised to be the sneaker brand that everyone talks about in 2015.
The past year and a half was big for adidas, signing the likes of Pharrell, Kanye, and Nigo to the brand's already booming roster that includes high-fashion designers Rick Owens, Raf Simons, and Jeremy Scott, along with musicians such as Big Sean and Rita Ora. But the momentum that was built up in 2014 came to life all in the course of 48 hours, and the Grammys was the star-studded event that adidas was waiting for to tell the world that it's back and ready to compete with Nike for the hearts and wallets of sneaker consumers across the globe.
Image via Dan Skelton
Late Friday night, Ibn Jasper seemingly spoiled a year's worth of planning for adidas when he posted a handful of photos of the Yeezy 750 Boost on his Instagram account. The next day or so was filled with a series of events and sightings of the sneaker, but they would all pale in comparison to the whirlwind of attention that the Grammy Awards, and Kanye debuting his new signature model, would receive. 
Kanye arriving at the award show's festivities—the Roc Nation Pre-Grammy Brunch—in a grey pair of the sneakers, with Kim in tow, wasn't the only thing that would bolster adidas at the Grammys. Pharrell made a splash, too.
After re-introducing the world to the Stan Smith through his customized pairs, Pharrell and adidas were able to release several collaborations on the '70s tennis sneaker. Those pairs were nowhere to be seen last night, though. He decided to show up to the show with his wife, Helen Lasichanh, while wearing a custom-made 3M adidas short suit. It was a bold move and only furthered by Lasichanh​ wearing a one-piece adidas jumpsuit with the brand's Three Stripes running up the arms and legs.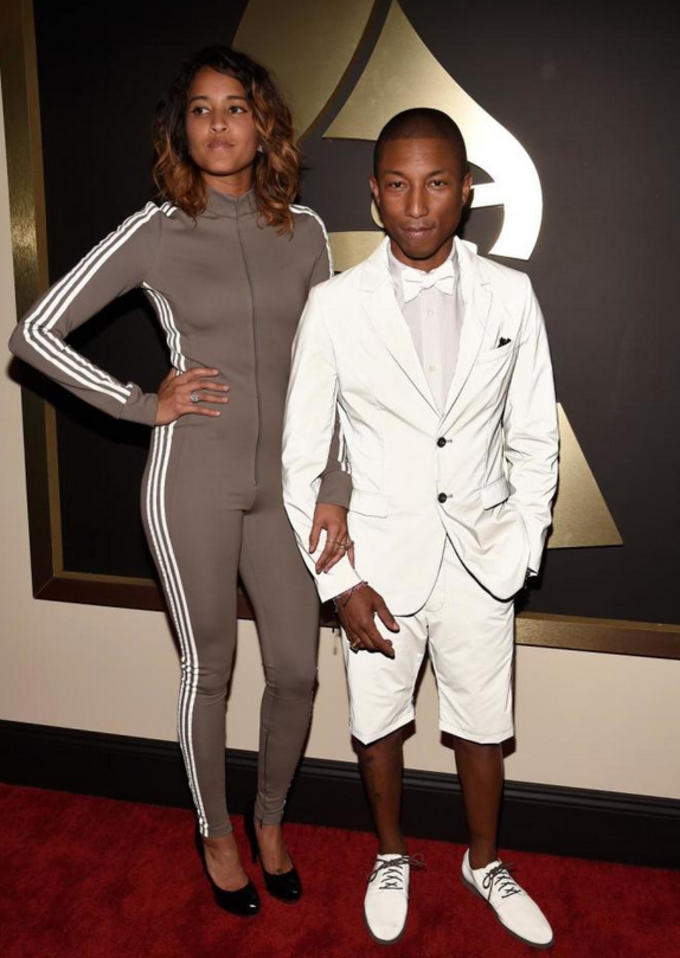 Image via @itunesmusic on Twitter
That was only the appetizer, however. During his performance of "Happy," Pharrell put on once again for the Stan Smith. This time he wore a customized, bedazzled pair of yellow Stans that were hand delivered to him by adidas Design Director Paul Mittleman, which Mittleman claimed went from his "desk to [Pharrell's] feet in 6 days."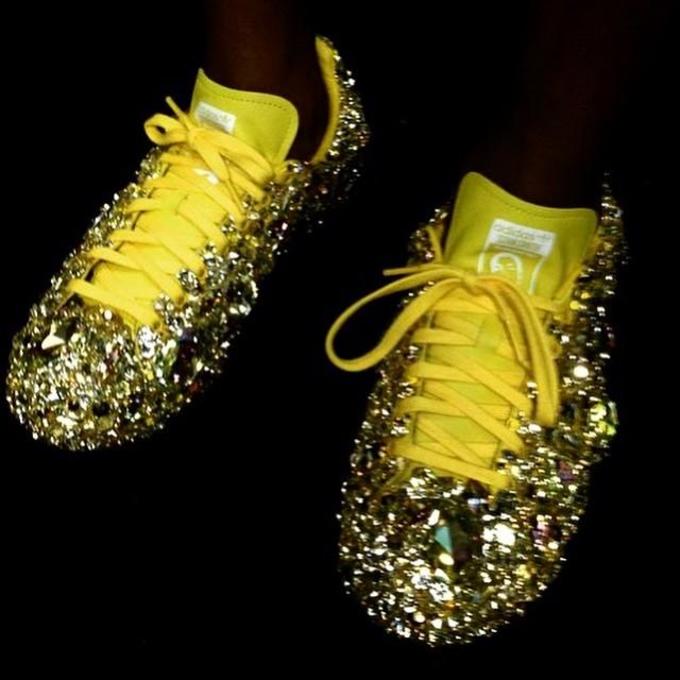 Image via Soledad O'Brien
Then the evening's crescendo happened: Kanye came out to perform "Only One," while wearing his already-seen Yeezy Boosts with a velour tracksuit that some are speculating is part of his adidas collection. Everything stopped at that moment. The lyrics and Kanye's energy moved the crowd, but it was a stand out moment for adidas. It was screaming to the world, "We've arrived, and we're not playing it safe," something that Kanye criticized Nike of in the past.
The music was being taken in, but everyone was more hypnotized by Kanye bringing the sneakers, which people had been anticipating over a year for, to life. Just days before, the Internet was on the fence on how it felt about the collection's first design. This performance definitely swung people over to supporters, and the excitement only amplified for Kanye's second performance of the night: "FourFiveSeconds," a track featuring Rihanna and Paul McCartney. There was a feeling in the air that we'd all see the rumored "Solar Red" version of the Yeezy Boost. 
Sadly, this didn't happen. Kanye came out in black Chelsea boots. But the fact that everyone was waiting with baited breath proved that adidas had turned the tide. The general public, not just sneaker nerds, wanted to see the brand do big things in the public sphere.
It didn't matter if they were planning a huge year for the Superstar or if shops such as Solebox and Highs and Lows had recently done killer EQT collabs. Adidas' agenda finally crossed over to the mainstream, all because of Kanye and Pharrell (and with a little help from the Kardashians). The Grammys became less and less about Beck winning awards that no one thought he deserved. It was a sneaker event much more powerful than any Jordan drop or Internet leak. And to think, this is just the beginning.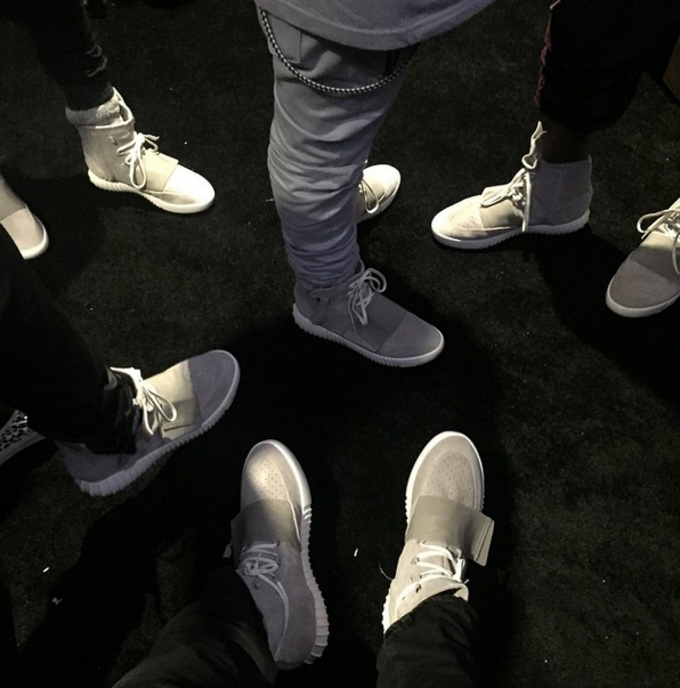 <span></span>
Image via Virgil Abloh
It didn't hurt that Kanye's camp was putting on for him through social media, either. It went beyond Ibn putting the sneakers on Instagram. The event was supported by Don C. and Virgil Abloh, who aren't just Kanye's friends but influential folks in their own right, who kept the conversation moving on Twitter and Instagram throughout the night.
Kanye has convinced his fans to come over to adidas, or at least have the brand on their radar. But can he make them disciples to his sneakers, much like he has in the past? If there are more instances like this, it would certainly seem so.
Matt Welty is a staff writer at Complex. You can follow him on Twitter here.