Some brands have embraced storytelling as part of the marketing plan. For the most part, ASICS prefers to keep it moving. With their ownership of a fair chunk of the performance running market, a race day metaphor seems apt—glancing back too much could cost you first place. ASICS is very much about the science and what makes a runner be better, but that doesn't mean that the company—founded in 1949 by sportswear pioneer Kihachiro Onitsuka—doesn't have a rich history. The recent heritage-line rebrand to ASICS Tiger looks set to fully explore the deep archives with its barely-scratched surface. The best shoes you might not have heard of are in there, because ASICS' 1986 to 1995 output is masterpiece after aesthetic masterpiece. Apparently they were pretty good for running in too.
1990's Gel-Lyte III is a perfect example of the brand's unique barrier-breaking visual language. Acclaimed when it dropped 25 years ago for its unique triple-density sole, minimal but effective Gel cushioning and split tongue, this motion control masterpiece was a runner's favorite. Progressive minded Polo heads of the time were paying attention too, years after legitimizing the breakthough ASICS Epirus as a connoisseurs' choice. By 1992 it was gone, superseded by the Gel-Lyte Ultra (aka the Gel Lyte IV—four is an unlucky number in Japan). When the III made a quiet retro return in the mid 2000s, fanatics gravitated towards it. Then Amsterdam's Patta, Berlin's Solebox and Ronnie Fieg, working for NYC mainstays David Z, made this one-time hardcore athletic pick into a lifestyle contender. 
In Japan, creativity is a communal process. You'll hear a lot of "we" but few of the possessive "I"s. It's tough to get much bravado or self-promotion out of designers who are responsible for design classics. In the western world, it's often just part of the campaign trail when a new shoe debuts or a tale needs to be told. The man behind the ASICS Gel-Lyte III (though he'd go to great pains to give the development team credit) is designer Shigeyuki Mitsui. 
Niigata-born Mitsui-San has been with ASICS for over 30 years. This artist, musician and self-professed troublemaker was in town for a celebration of one of the finest sequels of all time and was gracious enough to drop a little science on how it came to be. 
What was the first shoe you worked on with ASICS?
I worked on the Epirus — I worked on it with my senior designer. I love that shoe. I also worked on the GT II with that shoe's senior designers, but only a small amount. Those were the first Gel shoes for ASICS. But I only helped on those. I joined ASICS in 1984 and the Epirus was already being designed so I was just an assistant. 
So you were just learning the trade then?
Yes I was.
What was the first shoe you designed there?
It was the Comp Royal—I designed it completely. It's from 1985 and a bicycle shoe. It's unique in that it has Gel on the upper. 
To cushion your feet from the pedals?
That's right! At first I didn't want to use Gel so I refused, because on a cycling shoe the sole should be stiff. Very stiff. But if we put it on the shoes, maybe it would sell more, so they asked me how to use it on a shoe and I was very confused about that. But I decided that it could go on the instep area and that's where there's pressure and push. 
Did you work on the previous Gel-Lytes?
I only worked on a portion of the original Gel-Lyte. On the midsole and the heel protector. On the Gel-Lyte II maybe 50% of the shoe, I wasn't the head designer on that.
And for number III?
100 percent! [Laughs]
Did you think that running shoe design was quite boring around that time?
ASICS has a lot of intelligent people there. There were two divisions. One division at ASICS was the institute where they research about the sports science—I believe that's the number one in the world. Then there was the top level technology and management element. Then there were people in design division that are not so intelligent—especially me! I'm really foolish. So the intelligent opinion is very theoretical and considered. That creates high quality performance shoes, but too much theoretical consideration in designing can lead to a boring design. Too simple and too clean. 
Did it annoy people?
Yeah! They said, "The Gel-Lyte III is a super high-performance shoe! Why are you playing with the upper design treatment? Every consumer knows that ASICS is about high-performance treatments. We don't need to visualise it. We can put it inside. But I felt that the outside surface of this one should be playful too. The GT II was a flagship model and be intelligent, but the Gel-Lyte was a little bit cheaper back then. Still expensive, but not as expensive.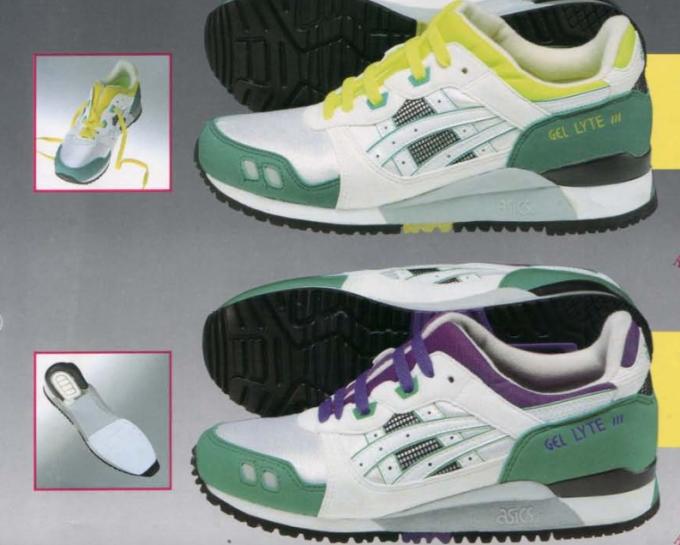 The split-tongue wasn't new in 1990, was it? The LD-Racer had it the previous year.
Yes. The LD-Racer had it. The split tongue was created by my senior developer. He created the basic structure and developed and designed the LD-Racer.
There must have been a lot of testing with it.
He is a great developer. Honestly speaking, he is a little bit of an outlaw like me! [Laughs.] He is very creative. I thought the split tongue was great structure. I put it on the GT-Trainer too which was a mid-cut with a split tongue. 
The tri-density on the sole of the Gel-Lyte III was pretty unique too.
The tri-density on the sole is a very difficult technology. The foam sponge and compression is difficult to control. With two densities you get a soft foam and hard foam, it's far easier to control. Tri-density was hard to control and manufacture. Originally, it was rejected when it came to manufacture, but it really worked from a performance standpoint. Adding that extra density drastically changed the ride—it was a smoother transition. 
It must have been expensive to develop.
A little bit expensive! But the development and manufacturing department compromised and used it.
Why did you put the 3M Gel logo behind bars on the heel with that mesh over it? It's like Gel is in jail.
I think it should be visible when a flash hits it, but in my opinion it doesn't need to be there when light isn't hitting it. We just needed to make sure that ASICS was recognisable. 
When you designed the shoe was anything changed from sketches to design?
Very little differences—the plastic eyelet was different. It was a difference in the D-ring; my design concept was very slightly different. That was a minor compromise because it was difficult to change—a D-ring shape to a plastic eyelet shape.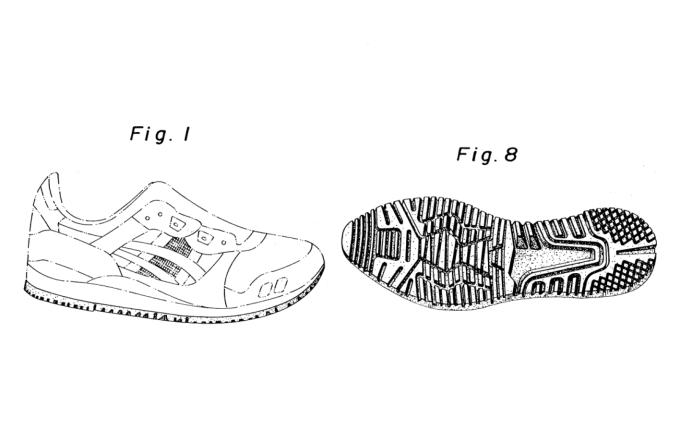 Was it meant to have flat or round laces in it?
Flat shoelaces were popular and very functional, I designed it for them. Many round or oval shoelaces are accepted. Round shoelaces are good for hiking, mountaineering or skiing. Oval shoelaces became a standard in the late 1990s, but I think flat is better for functionality here.
Did you have a say in the original colors of the shoe?
I proposed from the design side. I put the colors on to highlight the new element. I proposed the citrus and green original colorway, the other one, deep ocean—a very dark blue—and pink. Finally the global team chose the citrus and green. I created the original drawings in those colors.
Did you work on the Gel-Lyte Ultra after the III?
Not really. That was another designer, and a younger designer designed the Gel-Lyte V. It was lighter and had had a lighter structure. I developed cross training shoes after the III and helped on some mono-sock and eco-skeletal concepts. After this I was working on long-term development and function. 
When did you realize the shoe had come back—did anyone tell you that it had been re-released in the mid–2000's?
No. I spoke to ASICS Europe. They said that the Gel-Lyte III had become incredibly popular a few years later. I thought it was unbelievable. I'm a crazy designer. Crazy people can understand the mind of the crazy designer.
So a whole generation is equally crazy 25 years on.
That's right!
Do you have a message for the fans of the Gel-Lyte III?
I love to see you change the colors, paint, and change the laces on the Gel-Lyte III yourself because of your love for the shoe. For me, the Gel-Lyte III is like my daughter. Please be happy with her.
Gary Warnett is a contributing writer to Complex. You can follow him on Twitter here.