Riley Jones is a freelance writer from Charlottesville, VA and a contributor to Sneaker Report. With an unshakable affinity for basketball and all things pop culture, he can be found on Twitter @rchrstphr.
RELATED: 10 Inspiring Personal Trainers You Have To Follow on Instagram
RELATED: Khloe Kardashian Put in More Gym Time Than You Did This Week
No. 1 - Kim is All About Getting the Right Shape…
…While Khloe Goes Hard Until She Can't Take Anymore.
No. 2 - Khloe's Got a Mean Right Hook…
…But Kim's is Still a Knockout.
No. 3 - Kim Hits the Gym Whenever She Has a Moment Away From North…
…Meanwhile, Khloe Looks Like She's Moved In.
No. 4 - Khloe Doesn't Slack on Upper Body Work…
…But Kim Needs a Breather Every Now and Then.
No. 5 - Kim Likes to Get Creative With Aerobics…
…While Khloe Keeps it Indoors and Intense.
No. 6 - Khloe Staaaays Squattin' (French Montana Voice)…
…Kim Leaves it All in the Gym After a Hard Day's Work.
No. 7 - Kim's Been an Athlete Since She Was Young…
…Khloe Does a Little Bit of Everything These Days.
No. 8 - Even Gunnar Knows Khloe Isn't to be Messed With…
…Kim Takes Sneaker Notes From the Best.
No. 9 - Kim Was Taking Cues from Legends at a Young Age…
…Khloe's Determined to Become a Legend Herself.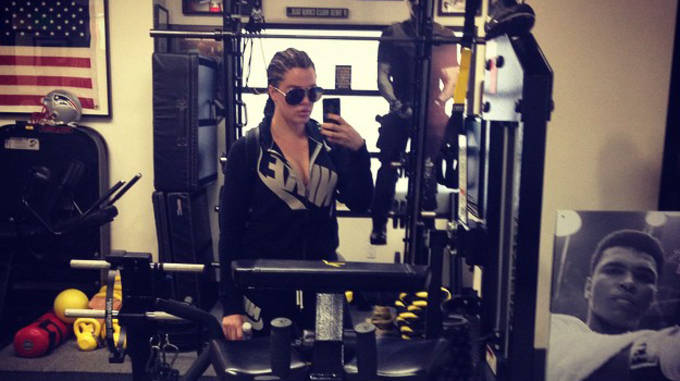 Verdict
Winner: Khloe
There's no doubt about it, Khloe wins by a landslide. While Kim might have a slimmer figure, this is a classic "don't judge a book by its cover" situation, and it's clear that the work Khloe has been putting in far eclipses her sister's recent training. We certainly can't fault Kim as she's been busy with baby North, but it seems like her idea of fitness is more about the image and perception than actually grinding it out in the weight room. With Khloe, the proof is in the pudding, and she has every reason to be proud of her killer training regime.
RELATED: 10 Inspiring Personal Trainers You Have To Follow on Instagram
RELATED: Khloe Kardashian Put in More Gym Time Than You Did This Week