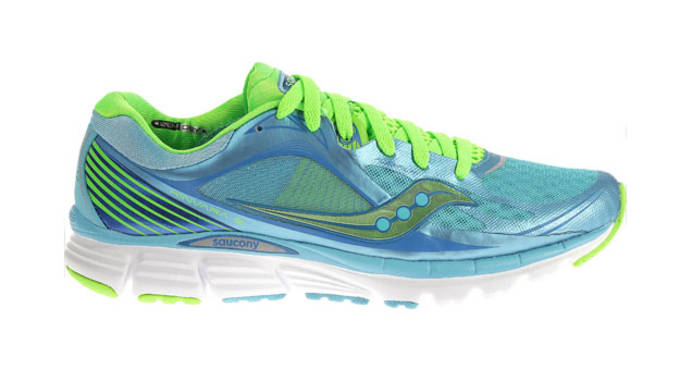 When we look back at 2014, we'll remember it as the year that performance technology took the next step. From the athletic wear giants, like adidas and Nike, to upstarts, 361° USA and APL, every brand seemed to usher in a new or improved technology this year. That's why when deciding on our best running shoes of the year, we weighed each shoe's key technology pretty heavily. Check out what we came up with by clicking through the slides for the best running shoes of 2014.
Stephen Fiorentine is a freelance writer from Long Island. He loves his New York Giants and Yankees, as well as Cool Ranch Doritos. Follow him on Twitter.
RELATED: The 25 Best Soccer Boots of 2014
RELATED: The Best Workout Songs of 2014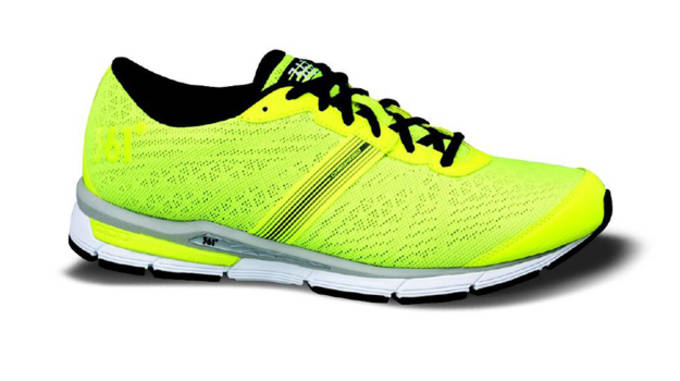 No. 10 - 361° Chromoso
Key technology: Quick Dynamic Defense System
Long one of the top athletic brands in China, 361° USA launched this past year with its eyes set particularly on the North American running market. The best has probably yet to come from 361° USA, but the brand got off to a strong start in 2014 with the Chromoso. The sneaker's Quick Dynamic Defense System works together to provide shock dispersion, guidance and energy return. Another feature you'll love is the price, as it's tough to find a better running shoe under $100 than the Chromoso.
No. 9 - APL Joyride
Key technology: Propellium construction
We all know the APL's sneakers can make you jump higher, but did you also know they make you run faster? Through the running shoe's Propellium construction, the Joyride uses less rubber to allow more direct contact to the ground. The result is an increase in energy generation, therefore making you faster. The shoe is also incredibly versatile as it's able to be used both indoors at the gym and outdoors on the pavement.
No. 8 - Nike Air Max 2015
Key technology: Full length Max Air unit
The Air Max 2015 released just in time to be included on this year's "best of" list. However, with a few more months under it's belt, maybe the shoe will find a higher ranking on this list next year. The main attraction here is the full length Max Air unit that the shoe gets its name from. The unit has been enhanced this year to provide greater flexibility, while the engineered mesh upper and Flywire cables make sure you have an adaptive fit.
$190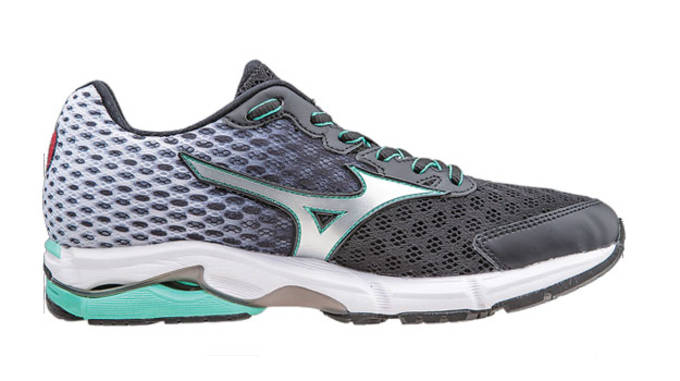 No. 7 - Mizuno Wave Rider 18
Key technology: Mizuno Wave
For its 18th iteration, the ever popular Mizuno Wave Rider got an outsole upgrade designed for more durability and shock absorption. The running shoe's premium sock liner was also enhanced this time around to provide more rebound and resiliency with every foot strike. As always, the sneaker comes equipped with Mizuno's Wave technology in the heel in order to reduce and redirect impact forces away from your foot.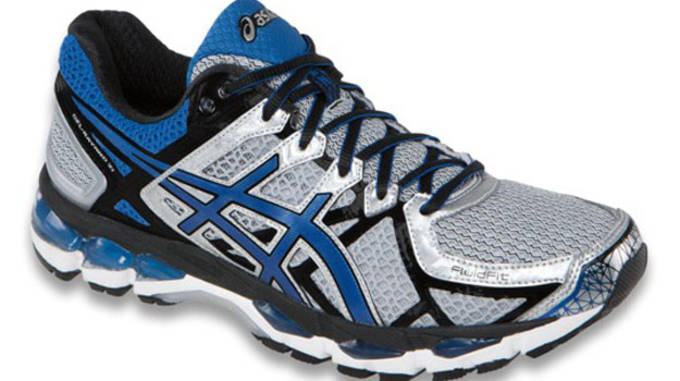 No. 6 - Asics Gel-Kayano 21
Key technology: FluidRide
Another running classic, the Gel-Kayano came back for its 21st go round in 2014 with upgraded everything. Asics' FluidRide technology blends bounce back and cushioning properties with reduced weight and premium durability. Overpronators need not to worry, as the sneaker employs a new upper and uniquely designed heel construction to complement the shoe's technology.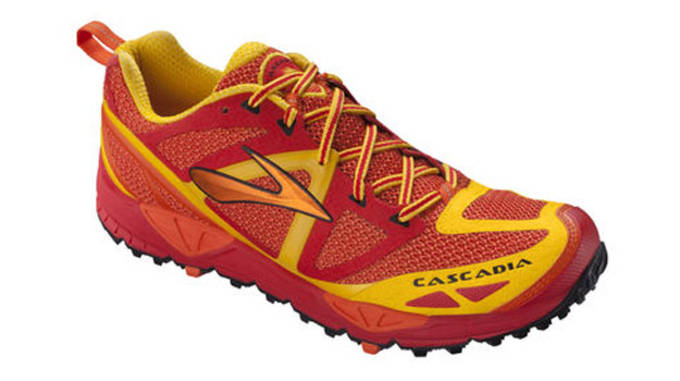 No. 5 - Brooks Cascadia 9
Key technology: BioMoGo DNA midsole
We wanted to include a trail shoe in our year end round up running shoes, so we might as well include the best trail running shoe going right now. The Brooks Cascadia 9 is designed for rugged terrain with its four-point pivot posts. The BioMoGo DNA midsole works so that the shoe adapts not only to your foot but also the surface you are running on. Finally, Brooks Running lowered the heel and added flat laces for this latest installment of the Cascadia trail series.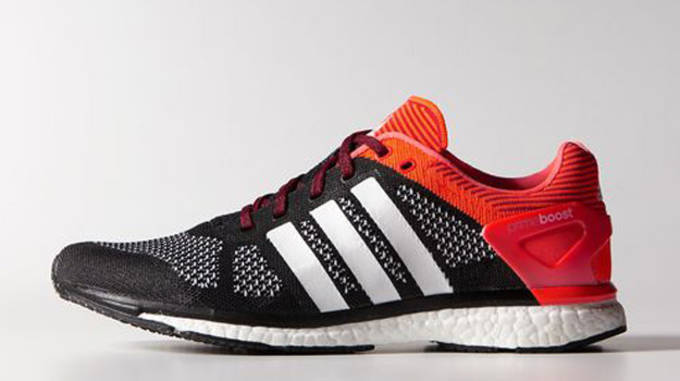 No. 4 - adidas Primeknit Boost
Best for: Primeknit
Boost seems to get all the headlines when it comes to adidas' performance technologies, but Primeknit is no slouch either. In the Primeknit Boost, adidas combines its top two technologies in making as advanced of a running shoe as there is today. The Primeknit upper is made up of a highly breathable and flexible material, while the shoe's Boost-enabled midsle makes for unrivaled cushioning and energy return.
$200
No. 3 - Nike Flyknit Lunar 2
Key technology: Flyknit upper
Designed to supply a comfortable and supportive fit, the Nike Flyknit Lunar 2 boasts a Flyknit upper made entirely of polyester yarn that's woven more openly in areas that require greater flexibility and tighter in areas that need more support. In addition to it's technical aspect, the Flyknit Lunar 2 really redefined what a running shoe is supposed to look like with its all-knit appearance. Look for the next installment of the series to come out in early 2015.
$120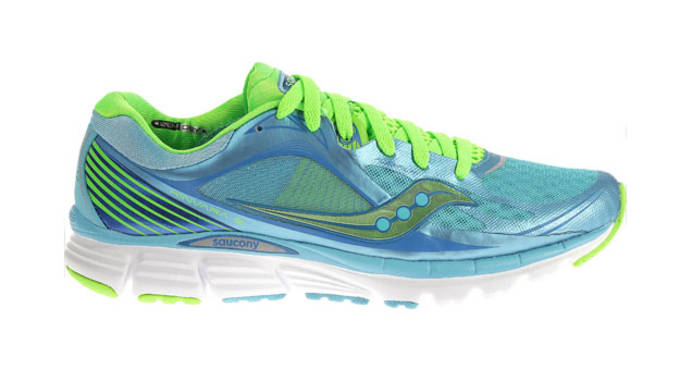 No. 2 - Saucony Kinvara 5
Key technology: FlexFilm
Designed for the racer, the Saucony Kinvara 5 features a ton of new features this year with no added weight. In the words of Saucony, the Kinvara 5's FlexFilm provides an "exoskeletal support frame for unparalleled strength and comfort " without putting on any additional weight. Meanwhile, PowerGrid technology centers the foot, absorbs impact and distributes pressure for an extra smooth ride.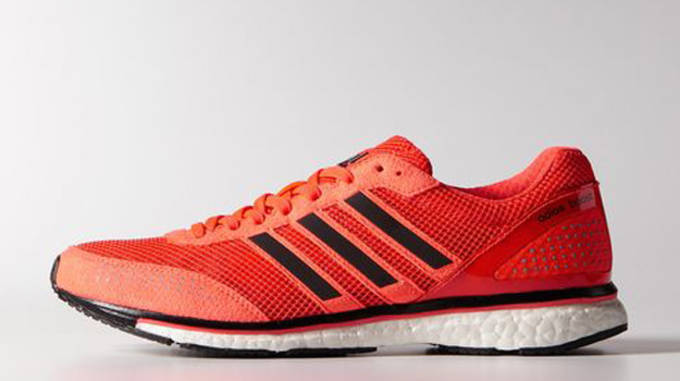 No. 1 - adidas Adizero Adios Boost 2
Key technology: Boost
The adidas Adizero Adios Boost 2's track record speaks for itself. Not only did it set world record for fastest marathon time ever at the Berlin marathon, it also claimed both winners in the men's and women's races at the New York City Marathon this year. Has a running shoe ever had that type of year competitively? From a technical standpoint, adidas' Boost technology supplies a never ending supply of energy return to keep you going on race day.
RELATED: The 25 Best Soccer Boots of 2014
RELATED: The Best Workout Songs of 2014