This Feature Originally Appears in Complex's December/January 2015 Issue
Interview by Daniel So  •  Photography by Holly Andres
The man responsible for attracting Kanye and other influencers into adidas' growing stable of talent knows exactly what it takes for the three stripes to achieve sneaker dominance.
Jon Wexler isn't a household name outside the sneaker industry, and that might be a good thing. As adidas' Global Director of Entertainment and Influencer Marketing (a.k.a. celebrity talent wrangler), Wexler is constantly hounded by potential suitors looking to work with the storied footwear company. The brand's most recent watershed moment came late last year, when Kanye West announced in a controversial radio interview that he'd be ditching Nike to earn his stripes at adidas. How did that relationship come to fruition, and what does that influence mean for the company? Only Wexler knows.

How did you become the celebrity whisperer for adidas?
I'm a problem solver, brand builder, dot connector. This role didn't come about because I had a history in the entertainment industry. I transitioned from footwear to communications in 2008, and as a communications manager we launched an ad campaign called the House Party. It was the first time we pulled in people like David Beckham, Run–DMC, Missy Elliott, Katy Perry, and Jeezy. When I called them in for the campaign it became clear that we needed someone who could see beyond the silo that they worked in, so we could fully maximize all these great relationships. The goal was to sync up all those different layers and enable the brand to not only be an ad on TV, but also to bring that thing to life on the ground. In discussing that with my boss I said, "We should merge these worlds to make sure they're working in unison." She said, "No one here does that, so that's going to be your job from now on."
ADIDAS IS AN INCREDIBLE BRAND THAT IS INCLUSIVE AND WILLING TO TAKE RISKS, AND ARTISTS RESPOND TO THAT.
How do you decide who adidas will work with?
It's all about DNA. People whose DNA overlaps with ours, as well as our fan base's. Authenticity is critical, too. If that isn't there, kids see through it. We look for people who are creative and groundbreaking, who set trends and forge their own paths and are not afraid of what people are going to say about that. Obviously the people [adidas works with] are iconic, because it is the most iconic brand in the world.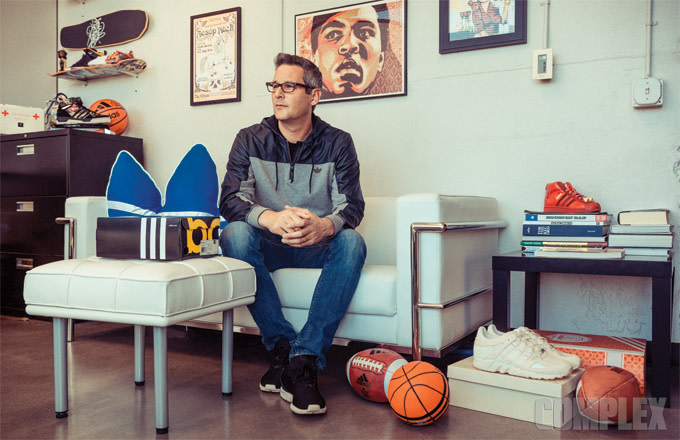 But adidas does also work with people who aren't "mainstream."
There are plenty of examples of underground kids whom we've been working with forever who we've supported, partnered with, and who have blossomed through our relationship. A lot of those people don't cross over to the mainstream. It's not a negative; they're staying in their lane. We appreciate relationships with people in those communities. Other people have made that jump from unknown to household name—Katy Perry. We started working with her in 2008, from "Hot N Cold" and "I Kissed a Girl," to now Katy fucking Perry. We did our first in-store with Big Sean before his first album, Finally Famous, came out. I told him, "I think you need to change the title of your album—you're famous." Sean's got the right team around him, he's got the right sound, kids dress like him. If you go to a Big Sean show, the first 75 kids in the audience are all dressed identical to him. We licensed "I Do It" for our Crazy Light Derrick Rose commercial and the relationship blossomed from there. Now he and Derrick have this great relationship, too. It's not just a transactional thing—it's a real relationship.

Is that common?
These relationships are all real. When we partner with Snoop, we're family. When we partner with Pharrell, we're family. To us, they are people who are famous for leading, taking risks, and doing stuff that other people aspire to. That human level, that's the plane that we operate on. Adidas is an incredible brand that is inclusive and willing to take risks, and artists respond to that. Who can't adapt to Stan Smith in their daily life, or the Pro Model, these iconic silhouettes that are a part of our DNA?
How tense does the collaborative process become?
Certain people have the reputation that they're hard to work with, but no matter the rumor, whenever they work with us they're unbelievable. We've had such great experiences. Everyone is courteous and professional. We're a sports brand, not an entertainment company, so they know there's a certain type of behavior that we can work with.
But Kanye?
That guy is a good example of somebody who is always early. No one works harder than he does. He's so determined to make a partnership a success, he's constantly gathering information and speaking positively about the brand. He's an amazing partner. He came to Germany, and has gone to the factory in China. He's dived into understanding all aspects of what it is in the creation process and the engineering that goes into it. He's a scientist.
How did that partnership come about?
We'd been in conversation for a while. Someone in his camp reached out to somebody at Reebok, who gave him my number, and we started talking. From early in our conversations it was clear that he wanted a platform to create. If you were to take what he says [during his tour speeches] and home in on those bullet points about creativity, you could tell why he had real potential at adidas. We're going to invest in that creativity instead of limit it. During Fashion Week last September, we were launching the Jeremy Scott x A$AP Rocky collaboration and I texted Kanye, "I just landed in New York. By chance are you here?" He hit me back: "Yo, just landed. What are you doing here?" We made small talk, and at the time our CMO Hermann Deininger [who passed away in May 2014] and creative director Dirk Schonberger were in town for the Y-3 show and I said, "Hey, we're all here. Maybe we should connect." We met up while he was doing rehearsal for Jimmy Fallon and started to put it together. Things progressed and I remember him hitting me with a text that said, "The world changes now." That was in November. A minute later, the signed contract came through, and we were sitting on the best-kept secret from that point on, until he mentioned it on the radio show. We issued a statement and have been in business ever since.
When Kanye was spotted wearing adidas Pure Boosts, was there a sales spike?
My piece of the business is on the relationship side of things; I don't really look at a lot of those metrics as much. But when Kanye shows up in GQ wearing Pure Boosts or Stan Smiths, I've got to assume there is an impact [on sales]. Whether it be market share immediately or mind share, that's a slow burn or quick spike. Kanye is the groundbreaker in his crew. He's surrounded by a large group of influential people, so when he wears a pair of Pure Boosts, all those other guys are repping it as well. When we were in Mexico a few months ago confirming some product, he told me he was playing ball in Pure Boosts. I told Kanye, "We make great basketball shoes. Please don't play in those. We'll get you some real ball sneakers." He replied, "No, this Pure Boost technology is so amazing. I don't want to take them off my feet."
Can an entertainer today sell more shoes than an athlete?
It's nontraditional now, so eventually it'll get there. Does that happen today? No, it doesn't, and I wouldn't want it to, either, because if you're going to launch a brand properly you have to have something with some longevity. You can't just race to the bottom of it, you have to launch pinnacle product and then evolve and build across that platform so finally you have this broad-based business.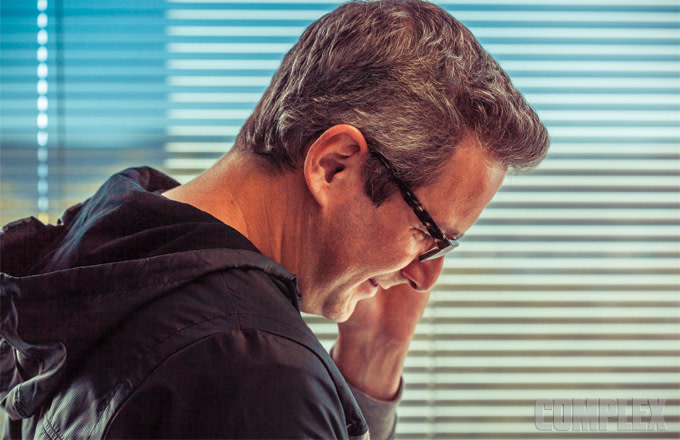 How did Y-3 and these other high fashion designers get involved with adidas?
Adidas was the first brand to work with a designer not from the sports world—Yohji Yamamoto—and it kicked off an entire movement among other brands. Our partnership with Yohji happened when we put sneakers on his runway models because he wanted to have an athletic inspiration for his show. It was simple and just for one shoe. Then it became a bigger partnership and collection because it was mutually exciting. Y-3 was the first of its kind and that partnership has really blossomed. We do full-blown runway shows with him now. Our creative director has personal relationships with Raf Simons and Rick Owens, and brought them into the brand.
What does the business side of adidas think about "influence"? How does that fit into the marketing strategy?
It's grown in importance and now it's critical. It's in direct proportion to the explosion of social media over the last five years. This pipeline of consumers and the people who influence them—the celebrities, their peers, bloggers—it's so much more significant now. Kanye always says, "I don't have an off-season. I'm selling out the same arenas that sports teams are playing in." The whole no-off-season thing was an insight.
Do people ask to work with adidas now?
Our team used to get tons of email requests to work with us, and with the signing of Kanye those requests have increased exponentially. You respect the fact that people want to work with you, so you have to always contemplate and consider these things and straight up let people know if you're in or out. For us, we want to take these shots, but we want to be surgical about the people we do partner with. We want to go deep with them. Again, it goes back to that relationship factor—nobody wants to be the side action; they want to be the main thing. We try to take the right mentality with people and be respectful if we don't feel that we can service someone properly.
Who do you want to work with in the future?
We want to forge relationships with people who identify as having freshness, that indefinable "it" quality. We try to find people early enough in their careers and then nurture the relations so that, as they grow, we grow and our audience grows together. We have these iconic, significant partners who are with us now, so the goal is to constantly stay on the wave of freshness. We don't take our eye off the ball, but at the same time we have these partners you don't want to over-index. You're constantly looking at different things. There are definitely people we want to work with, but it's more of an archetype, not a specific he or she.