After much speculation, Nike finally held its basketball event tonight in New York unveiling the next chapter in the brand's signature history. As was pretty much expected, Nike introduced Kyrie Irving and his Kyrie 1 signature shoe.
Fellow Nike signature stars Penny Hardaway and Charles Barkley were on hand in New York to user in the Kyrie Irving era. In unveiling the Kyrie 1, Nike introduced its first signature athlete since 2007, when Kevin Durant's KD line was launched. From a tech standpoint, the Kyrie 1 contains Nike Air Zoom cushioning in the forefoot with a 360-degree dynamic traction pattern wrapping the shoe's sidewalls. Unlike other Nike signature silhouettes, the Kyrie 1 does not feature Flywire technology. Instead, the shoe relies on its Hyperfuse construction for lockdown stability.
Aesthetically, the shoe features Kryie's "K" logo on the outside of the tongue with his autograph gracing the inside. Kyrie's No. 2 can be found on the heel with the acronym "JBY" (Just Be Yourself) sitting beneath Irving's logo on the outsole. As a homage to Kyrie's native Australia, the toe and heel counter are wrapped in a jagged pattern inspired by the Sydney Opera House.
Nike introduced two colroways of the Kyrie 1 at it's launch event tonight. The first colorway to launch will be the "Dream" edition. Inspired by Kyrie's dream of waking up on Christmas morning and lacing up for an NBA game, the shoe will drop on December 23, two days before the Cavaliers are set to play the Heat in Miami on Christmas. The second colroway, known as "Deception Red," will release on January 10 and was inspired by Kyrie's quickness and first step.
Get your first official look at the Nike Kyrie 1 "Dream" and "Deception Red" colorways in the gallery above and pick up a pair at Nike on December 23 and January 10, respectively. If you can't wait until then, the shoe is available right now for customization on NikeiD.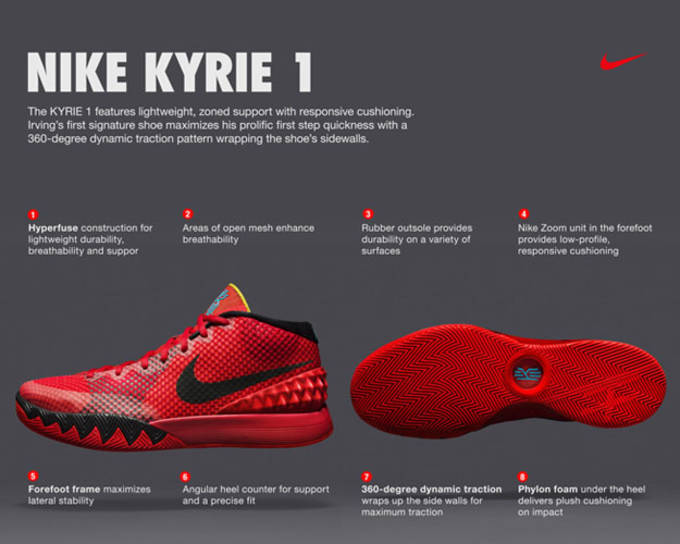 [Nike]
RELATED: Penny Hardaway, Gary Payton, and Scottie Pippen Talk Signature Shoes
RELATED: Get a Close Up Look at the Nike Kyrie 1