Today marks the official launch of the latest Nike Basketball signature shoe, the Kyrie 1, and the Swoosh thought this would be the perfect time for some educating. As Kyrie emerges as the newest face of Nike Basketball, they wanted you to know several things about him that you might not have known, unless your a serious Kyrie stan. A few that jumped out the most at us were that Kyrie was dribbling a basketball by just 13 months, and his godfather is none other then former NBA point guard legend and Bronx native Rod Strickland. Check out the full list of facts from Nike below and let us know which surpises you the most, and make sure you pick up the Kyrie 1 today from select retailers as well as the Nike Store.
No. 1: IRVING COULD DRIBBLE A BASKETBALL AT 13 MONTHS
Irving demonstrated ball control as a toddler and could routinely make a basket in a regulation-height hoop at age 4. By 6, he could sink a left-handed lay-up.
No. 2: HE FLOURISHED IN HIGH SCHOOL
Irving always stood out as an athlete but high school is when his star power started to shine through. He transferred schools in New Jersey for his junior and senior years and was surrounded by other seriously talented players. He put in countless hours, studied film, embraced his skills and — in the ultimate test — finally beat his dad 1-on-1.
No. 3: IRVING PLAYED BASEBALL AND WAS AN AVID SKATEBOARDER
In addition to basketball, Irving played baseball, holding his own as a shortstop with older boys when he was just seven and eight. He was also an avid skateboarder as a teen.
No. 4: IRVING'S GODFATHER IS FORMER PROFESSIONAL BASKETBALL PLAYER ROD STRICKLAND
Irving's connection to Nike began when he was still in a crib. His godfather Rod Strickland was a Nike athlete who made sure his godson was outfitted in Nike shoes. Irving signed on with the Swoosh in 2011.
No. 5: IRVING KEEPS A JOURNAL
Irving enjoys writing and has always kept a journal, where he enters quotes and mottos to help guide his life and his game. The "Hungry and Humble" motto featured on the new KYRIE 1 is a maxim shared by father and son that Irving once printed in silver ink on his black-and-white Nike duffle bag in grade school.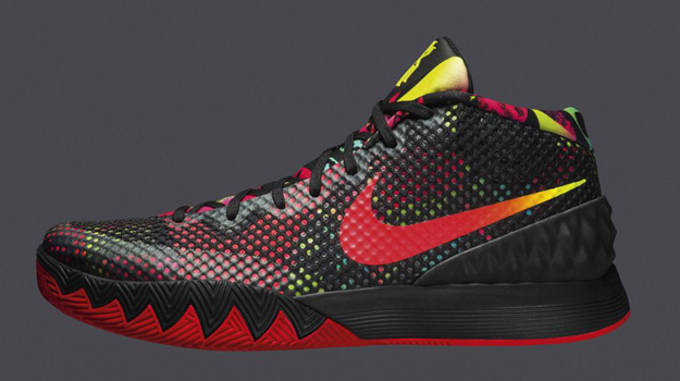 No. 6: SETTING GOALS IS THE KEY
The secret of Irving's success may lie in goal-setting and discipline. "We always had goals for ourselves and he had to learn how to manage his time from a young age," Drederick Irving says. There was basketball practice afterschool followed by homework and chores at night. "Cs weren't accepted in our house and good grades were always a point of pride for Kyrie." He still lives by goals, writing them on the wall at home.
No. 7: PLASTIC BAGS DID WONDERS FOR IRVING'S CROSSOVER
Irving in part owes his phenomenal ball handling to a drill learned from his dad: dribbling a ball wrapped in a plastic bag. The plastic reduces bounce and feel, forcing the player to dial up focus and dribble harder. Look no further than an Irving fast break to the hoop for evidence.
No. 8: IN AN ALTERNATE UNIVERSE, IRVING WOULD BE A JOURNALIST
If he weren't playing pro hoops, he would probably be a journalist. He still could be in the future. Dad sees him as a journalist, sports analyst or coach working with kids 20 years from now.
No. 9: HE LOVES MAC AND CHEESE
His go-to comfort food is mac and cheese, a favorite of many that dates back to baked pasta dishes of 14th century France.
No. 10: IRVING IS THE FIRST PLAYER IN 6 YEARS TO HAVE A NIKE SIGNATURE SHOE
Irving was a big fan of the Nike Air Zoom Huarache 2K4 and would imagine them as his own signature shoe. He also dreamt of playing pro basketball on Christmas Day. Now, both visions are becoming reality: Irving is the 20th Nike basketball athlete to garner a signature shoe, which he'll wear when Cleveland plays Miami away on Dec. 25. As dad says: "He's a winner."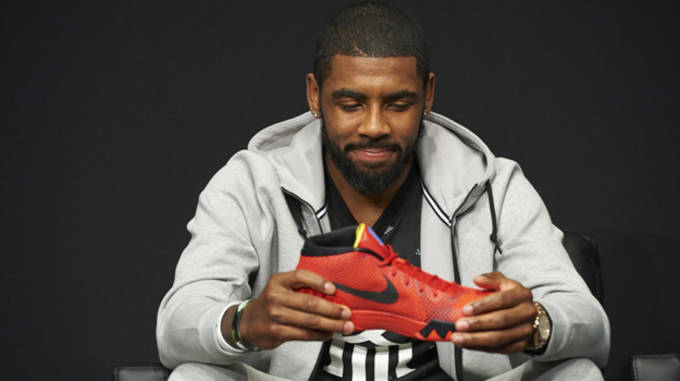 [Nike]
RELATED: Kyrie Irving Will Wear a Kyrie 1 NikeiD PE In Front of the Royals Tonight
RELATED: Kyrie Irving Already Has Nike Kyrie 1 PEs