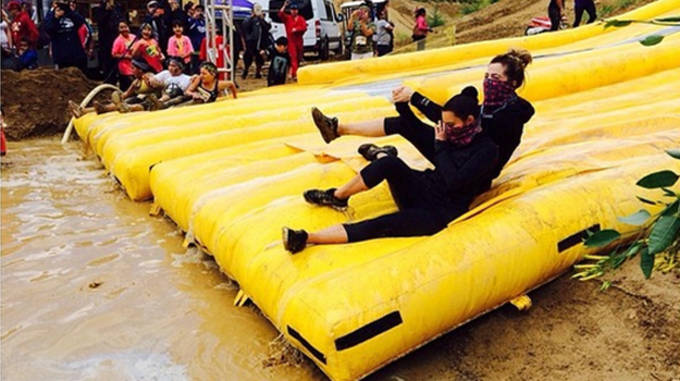 From breaking the Internet to starting a multi-million dollar mobile gaming empire, there sure was a lot to learn from the Kardashian family this year. However, if you were paying close enough attention, the family also set the tone for healthy and fit 2014. Through their avid use of social media and penchant for posting gym selfies, we learned everything from the Kardashian's choice of workouts to their preference for fitness gear. Click through the slides to see 10 things the Kardashians taught us about fitness this year.
Stephen Fiorentine is a freelance writer from Long Island. He loves his New York Giants and Yankees, as well as Cool Ranch Doritos. Follow him on Twitter.
RELATED: 25 Amazing Fitness Baes to Follow on Instagram
RELATED: Who Trained Harder: Kim vs. Khloe?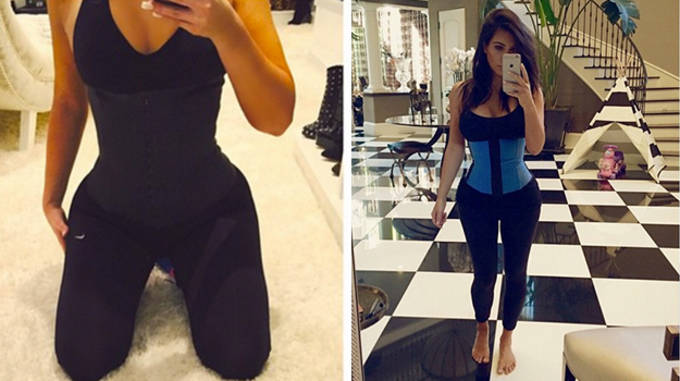 No. 10 - Waist Training is a Thing and It Doesn't Appear to Be Going Anywhere Anytime Soon.
Right around the time Kim broke the Internet, she started posting pictures to her Instagram account praising the wonders of waist training, especially her waist shaper. Sure enough, just a few weeks later, Khloe would cement the practice's status as an official fitness trend when she posted pics of her in her waist shaper.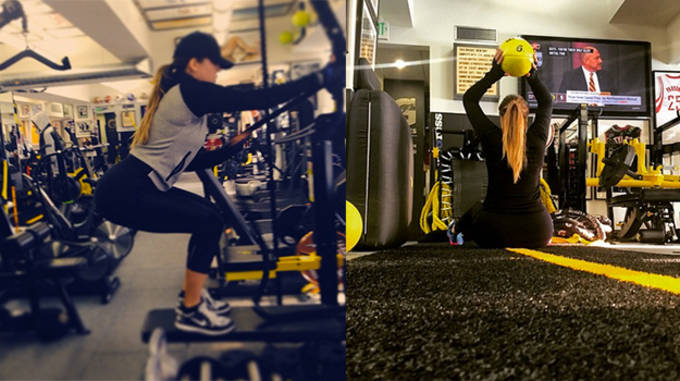 No. 9 - No One in the World Goes As Hard As Khloe in the Gym.
Along with the sun rising and setting, one thing you could count on each day in 2014 was an Instagram picture of Khloe in the gym. Among the things that we found out about her fitness obsession this year were that her fitness idol was Jennifer Lopez and that her main motivation for going to the gym was because "no one ever wrote a song about a small ass."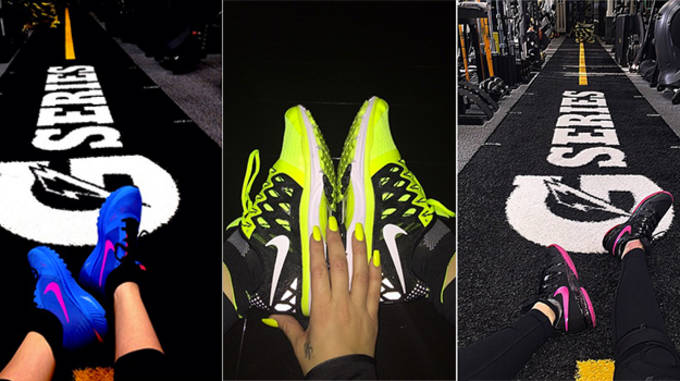 No. 8 - Despite Kanye's Influence, the Sneakers of Choice in the Kardashian Family Are Nikes.
From Kim to Khloe to Kendall, it seemed like the only sneakers allowed in the Kardashian family gym this year were Nikes. Khloe's obsession with posting her Nike sneakers became such a thing that it lead us to ask the question if she was getting paid to do it? Something tells us that Kanye can't be too happy about the Kardashian/Jenner sisters' love for the Swoosh.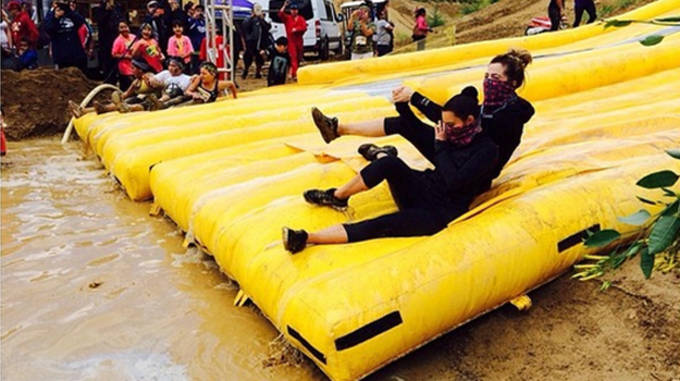 No. 7 - Even the Biggest Celebrities on the Planet Enjoy Fun Runs
The fun run craze officially blew up in 2014. From dressing like zombies to rolling around in the mud to running through bouncy houses, today's adults proved that they are really kids are heart. The same thing could be said about America's first family of reality television, as Khloe and Kim embarked on a mud run of their own this year.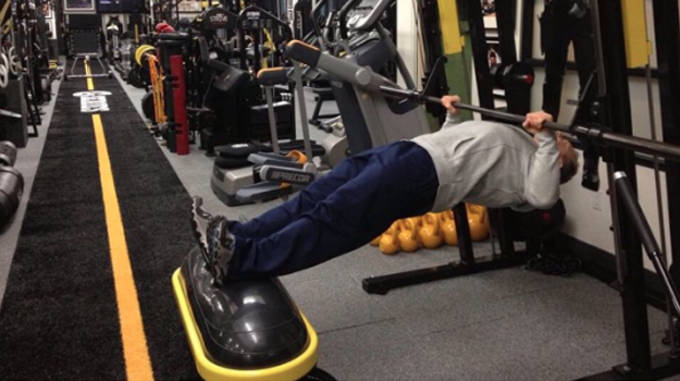 No. 6 - Gunnar Peterson is the Ultimate Celebrity Personal Trainer.
If you're wondering who the mastermind behind the Kardashian family fitness plan is, that would be none other than Gunnar Peterson. Besides training the Kardashian/Jenner clan, Peterson is famous for working with Ciara, Shay Mitchell and Paige Hathaway to name a few. Check out some of Peterson's training tactics, as well as his witty commentary, in the videos below.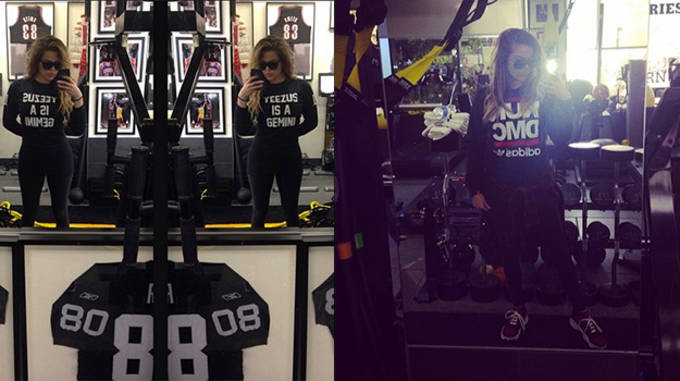 No. 5 - Khloe Loves Her Rap-Referencing Workout Tees.
Amongst the things you can find out while shuffling through Khloe's gym selfies is her love for hip-hop gym tees. From Kanye to Run-D.M.C., Khloe has every era of rap history covered. Being that one of her main gym motivations is big booty song writing, this makes a ton of sense.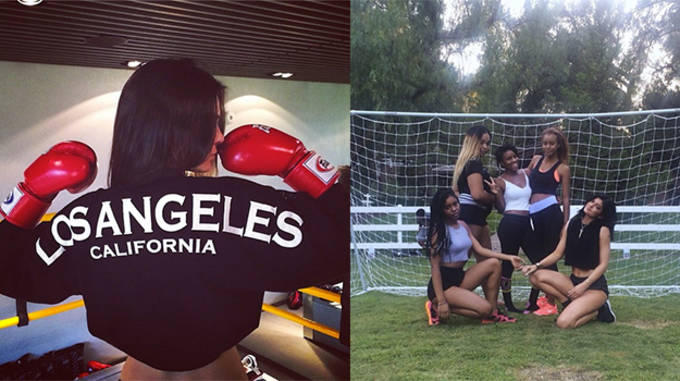 No. 4 - The Jenner Sisters Are a Force to Be Reckoned With.
Watch out Kardashian sisters, the Jenners are coming for your spot. Whether in the ring or on the pitch, both Kendall and Kylie took their workouts outside the gym this past year. You could say it was a breakout year for the sisters, who furthered their modeling careers as well as starred in the latest Beats headphone audio campaign. Who knows? If someone can unseat the Kardashian trio from the celebrity throne, it may just be their half-sisters.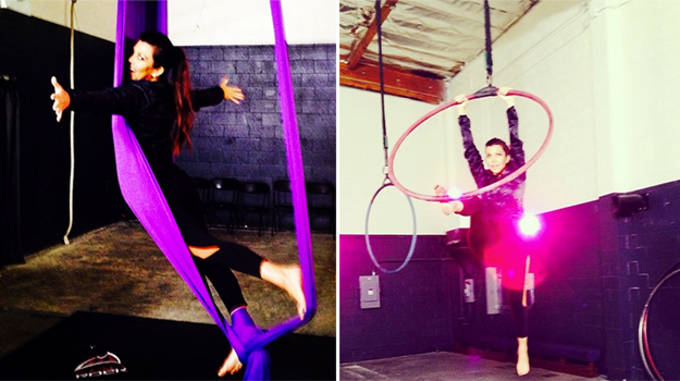 No. 3 - The Best Workouts Require a Little Out of the Box Thinking.
Sometimes, the best workouts (and most fun) are the ones that go beyond just your regular run-of-the-mill gym equipment and free weights. Take for example Kourtney, who partook in both aerial fabric ribbons workouts and ring exercise classes this past year. While you don't have to go to such extreme lengths to get a good burn in, sometimes ditching the treadmill for a class can be a lot more productive.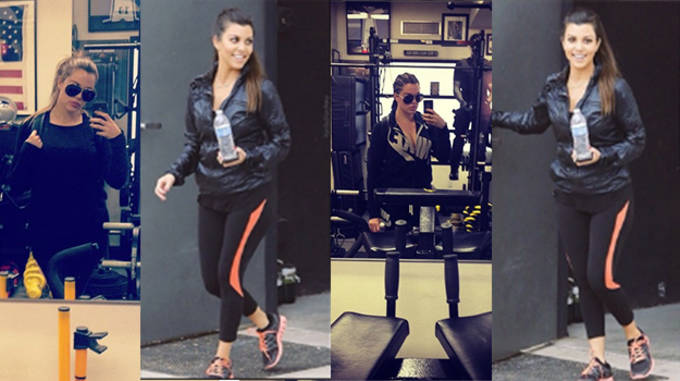 No. 2 - The Kardashian Family Gym Uniform Appears to Be All Black
Judging from the photos above and throughout this list, it seems as if the Kardashian family only wears all-black to the gym. While there are some neon highlights here and there, the sisters are almost always wearing a black shirt with black pants in every workout picture they post.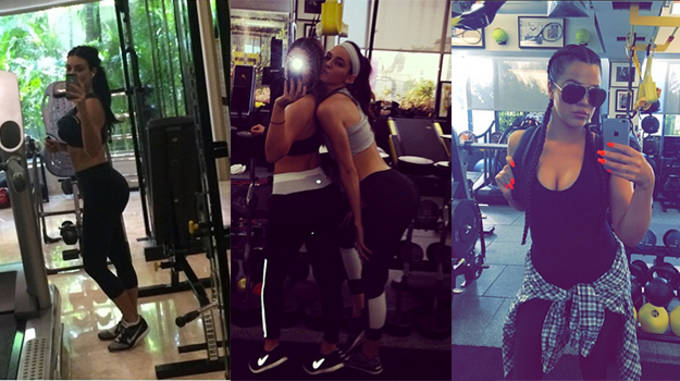 No. 1 - Going to the Gym Doesn't Count Unless You Take a Selfie to Prove It.
If there's one thing to take away from the Kardashians in 2014, it's that they believe in the mantra "pic or it didn't happen." Whenever they go to the gym, they'll let you know about it via Instagram whether you want to know or not. Of course, the Kardashians employ this practice wherever they go, but when it comes to going to the gym they are especially notorious for snapping a selfie.
RELATED: 25 Amazing Fitness Baes to Follow on Instagram
RELATED: Who Trained Harder: Kim vs. Khloe?