RELATED: KNOW YOUR TECH: Hike Safer with Merrell Backpacking Grade Boots
RELATED: adidas Outdoor Launches the Terrex Fast R Hiking Shoes
[caption id="attachment_227043" align="alignnone" width="625"]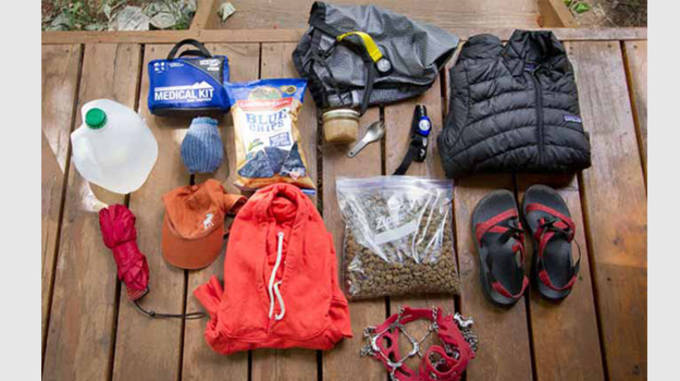 Image via Tombihn
Be Prepared…On Behalf Of Everyone
As a former Boy Scout, I am obsessive when preparing for camping (the Boy Scout motto is, after all, "Be Prepared"). Even on a five-mile hike, I make sure I have a flashlight, snacks, toilet paper, and the best map I can find. The first time following the wrong trailhead is enough to let you know just how precarious a walk in the woods can be. Less experienced family members may not have had the proper fear of nature instilled in them, and as such may not make thorough preparations. Bring extra water, extra snacks, and extra gear — because at least one family member will inevitably be ill-prepared. You might come off as annoying before the hike, but when it gets dark earlier than expected, and everyone has a flashlight, you won't look so annoying anymore.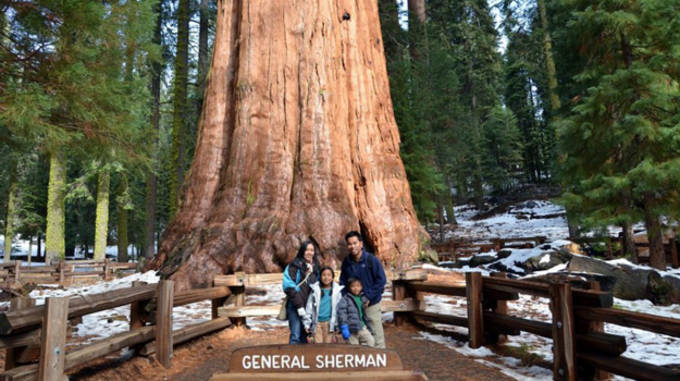 Think About What They Want
When I hit a national park, even for the first time, the last thing I want to do is head right for the touristy attractions. While the well-known spots like the General Sherman Trail in Sequoia and the Skull Rock area of Joshua Tree are packed with people, trails longer than three miles are usually almost completely empty. Most visitors stick to paved attractions marked by plenty of signage close by the main roads. Bear in mind that the crowded attraction might offer the experience your other family members want. If they are traveling to these parks for the first time, of course they will want to see the biggest trees and the best-known views. Hiking with family members that aren't outdoors-y is all about compromise. My sister always says the kind of hiking she likes is on paved roads, so when she's on a trip with me, we don't exactly rough it.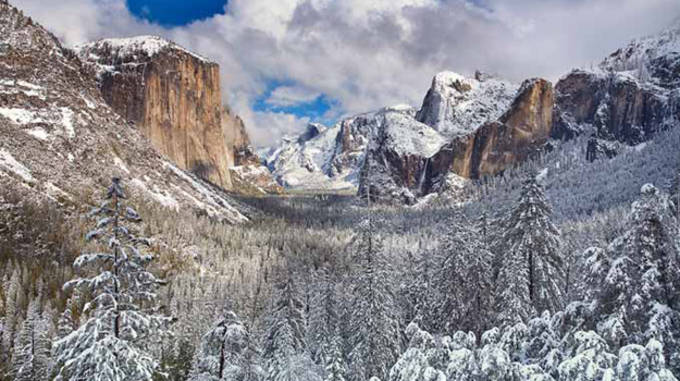 Remember That Everywhere Has Seasons…Kind Of
When people move out here to California from the East Coast, they often complain that they miss seasons. Personally, I would be happy if the only snow I saw ever again was at the top of a mountain, but to each their own. Even though California doesn't have four relatively evenly spaced seasons ranging from snow in the winter to blistering sun in the summer, the weather does change. Portions of Yosemite and Sequoia close in the winter, and traversing the roads that remain open may require chains on your tires. Joshua Tree and Death Valley are best experienced between November and February, before daytime temperatures get unbearably hot. Though the coast is generally temperate, you still see 10-20 degree fluctuation between summer highs and winter lows. Staying overnight on a California beach in winter will get chilly. Even though California doesn't have the winters much of the country is used to, you still need to research the climate before you take the whole family up a mountain, down the coast, or through the desert.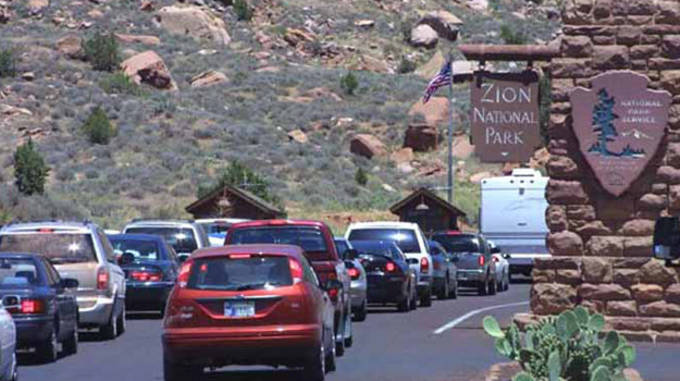 Don't Get Caught In The Crowd
Hiking and camping are incredibly popular in California and in surrounding areas. Before you plan your hike, do a little research on just how crowded the park will be. Summer weekends at Yosemite, Sequoia, and Zion mean overflow parking and RVs gumming up traffic. For the coastal parks like Morro Bay and the Redwoods, what Google Maps projects will take an hour on the PCH may actually take three hours or more. Shifting your trip a couple weeks, or starting on a Thursday instead of a Friday could save you hours of hassle. If you have to sit in traffic for half a day before you start hiking, morale might be unbearably low before you even start your hike. California is all about traffic, but if you plan ahead you can minimize the time spent sitting in your car, waiting to get out in the wild.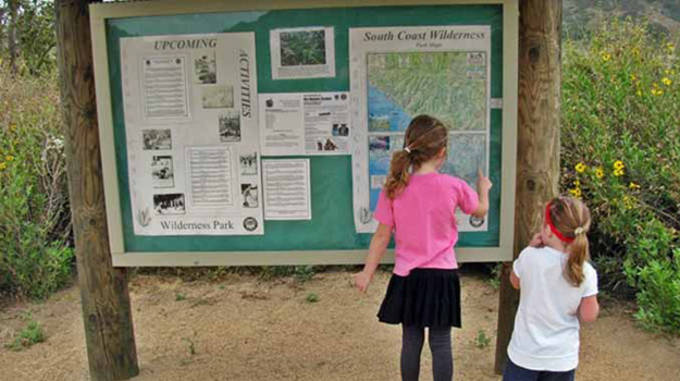 Establish A Navigator
Even if you are following a well-blazed trail, some doubts may arise. I was on a hike last weekend, and even though we had a topographical map and a compass, we sat at a fork in the trail for five minutes before realizing we were a little further back on the path than we thought. Whenever I hike, one guy carries the compass and the map, and makes all the final decisions. If someone thinks he's off, they call him on it, but generally, we follow his lead. It's fine if multiple people are keeping track of where you're going, but if one person isn't established as taking the lead, then there is a chance no one is paying attention to where you're going and how you got there.
Take Altitude into Account
Not all hikes are created equal. Last weekend, I was hiking in Sequoia National Park with a group of guys between the ages of 23 and 28. We figured a fourteen mile round trip would be no problem. We didn't realize that the Twin Lakes Trail increases in elevation over 2,500 feet during the hike, topping out at over 9,500 feet. During the last mile we were wheezing, breathing heavily, and stopping frequently. If you can obtain a topographical map, you'll be better prepared for your hike, and be able to get a better sense of just how much your family can handle.
I'm the guy in the red jacket hyperventilating like an asthmatic senior citizen on the huge log. Don't end up like me.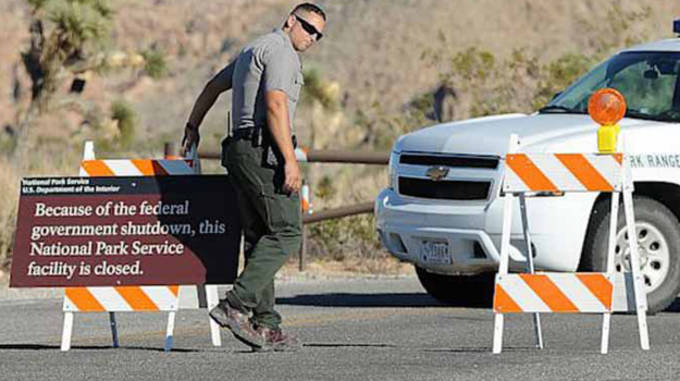 A Park Ranger Is Your Greatest Ally
One of the biggest challenges of hiking with family can be getting them to listen to you. How do you deal with this? Don't do the talking. National park rangers are some of the most informed, excited people you will ever encounter. Rather than explaining to your dad that he needs two gallons of water minimum for a day hike in the desert, let the ranger tell it like it is. Instead of trying to convince your younger brother that hiking six miles to a ridge in the Sierras is worth it, let a ranger speak to him from experience. If you aren't sure about any aspect of your hike, a ranger will be happy to set you straight. The hardest part is getting rangers to stop talking once they get going. These people really love nature.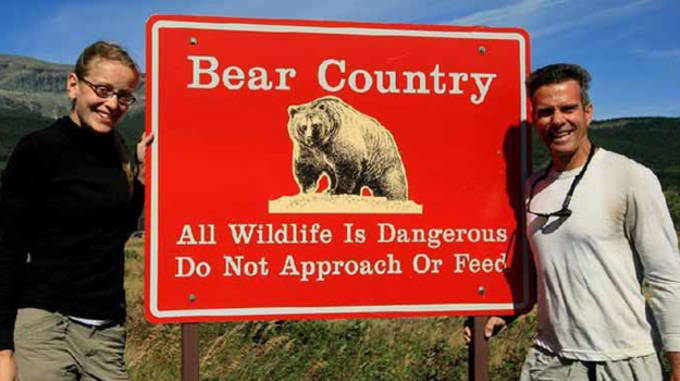 Be Real About Wildlife
Just because there is no reason to be scared of wildlife doesn't mean your family isn't worrying about bears and mountain lions in the backs of their minds. I've been within ten feet of black bears on both coasts and I've lived the old saying that if you don't bother them, they don't bother you. I also know that in the dozens of times I've been camping, I've only seen black bears twice. I've never seen a grizzly bear, and I've never seen a mountain lion, even though I've camped in areas known for all three.
You might think that ignorance is bliss when it comes to wildlife. Why worry your less experienced family members? This is the wrong move. When they see bear boxes in Sequoia, mountain lion warnings in Zion, or snakes in Joshua Tree, they may begin to panic. Head these potential fears off at the pass by educating your fam on just how rare it is to see wildlife, and how to react if things start to go south. It would be a shame if you saw an animal as beautiful as a black bear, and some members of your family were too scared to appreciate it.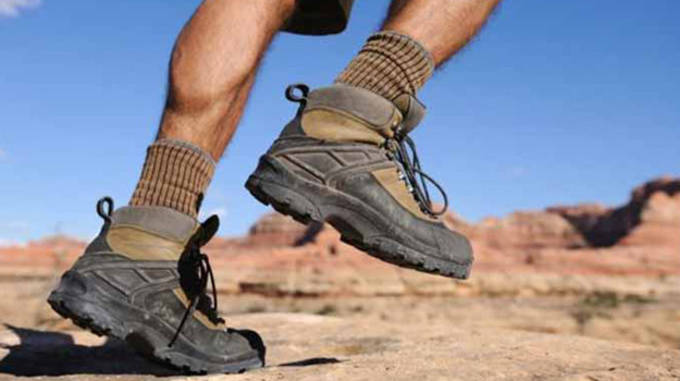 The Shoes Make the Man (Or Woman)
The best investment you can make before hiking — or doing any camping for that matter — is hiking shoes. Dropping eighty dollars at REI can prevent blisters, callouses, and general sore feet. If your family is hesitant to buy sturdy shoes, help your more frugal relatives pick out their best shoes for the hike. Middle distance running shoes tend to do okay on trails, and anything with traction is better than something with a slick sole. I always try to carry a couple extra pairs of hiking socks with me when I'm travelling with less experienced campers. At less than ten dollars a pair, these socks can turn mediocre footwear into decent hiking gear. It will be worth the sacrifice of sullying your socks if you can avoid a night spent with family members complaining about blisters.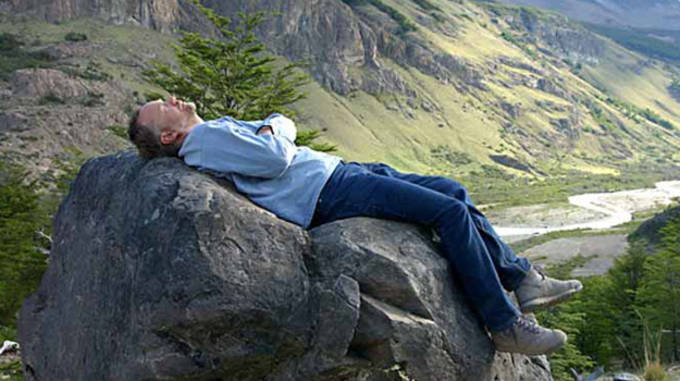 Get On Their Schedule
Your family's pace is probably going to annoy you. Your dad is going to stop and look at every tree. Your little sister is going to take an Instagram selfie every thirty seconds. Your out-of-shape older brother is going to need a break every half mile. And they all may want to call it quits early. You might not reach the pristine lake, perfect peak, or idyllic grove of Joshua trees you were looking forward to. Accept it and get on their level. If you miss out on something you were really hoping to see, you can always come back by yourself another time.
RELATED: KNOW YOUR TECH: Hike Safer with Merrell Backpacking Grade Boots
RELATED: adidas Outdoor Launches the Terrex Fast R Hiking Shoes