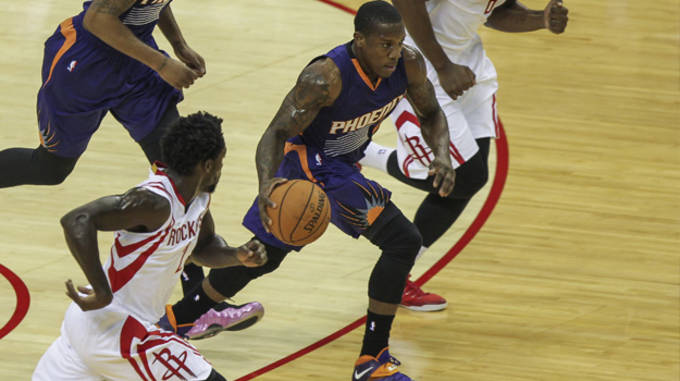 No. 10 - Eric Bledsoe
Currently wears: Nike Zoom Soldier VII, various LeBron sigs
2013-14 stat line: 17.7 points per game, 5.5 assists per game
Eric Bledsoe's had to play in the shadows of elite players his whole career. In his college days at Kentucky, much of the attention went to John Wall, and by the time he made it to the Clippers, Chris Paul would end up stealing Bledsoe's shine. After a brief stint in the D-League, Bledsoe came back with a renewed fire, and last season he posted his best numbers yet with the Phoenix Suns. If he's able to keep up this level of play, there's no reason he shouldn't be donning a Jumpman within the next year.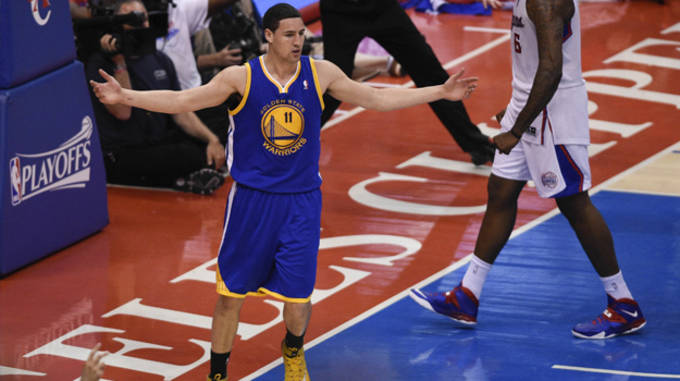 No. 9 - Klay Thompson
Currently wears: Nike Hyperenforcer
2013-14 stat line: 18.4 points per game, 6.0 assists per game
The bulk of Golden State's offense goes through Steph Curry, but he's not the only dead-eye shooter wearing blue and yellow. Klay Thompson impressed from the jump, earning a spot on the 2012 NBA All-Rookie First Team, and his numbers continue to rise. Last season, he peaked at 18.4 points per game, and we expect him to eclipse 20 this time around.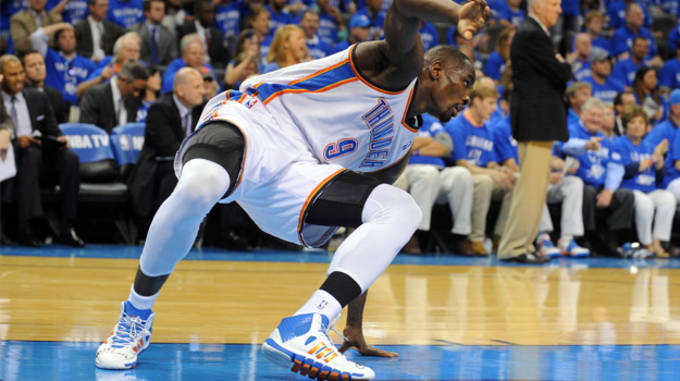 No. 8 - Serge Ibaka
Currently wears: adidas CrazyGhost
2013-14 stat line: 15.1 points per game, 8.8 rebounds per game
Aside from Blake Griffin, Andre Drummond, and the recently acquired LaMacrus Aldridge, Jordan Brand's looking pretty weak in the big man department. One guy we'd nominate is Serge Ibaka, the OKC power forward who never seems to get the credit he truly deserves. Ibaka's  tenacious play has been a key factor in the Thunder's success over the years, and it's about time he gets the props he's earned.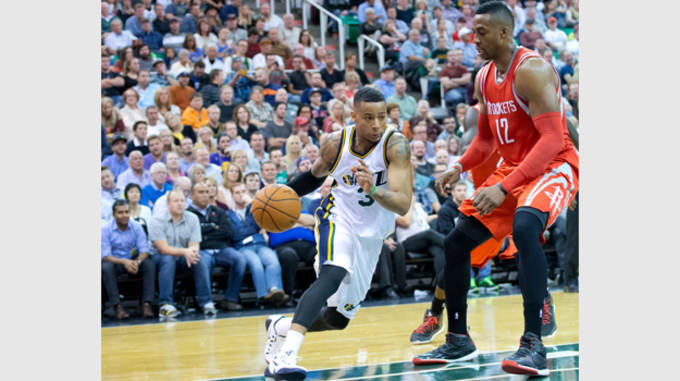 No. 7 - Trey Burke
Currently wears: Nike Kobe 8 System
2013-14 stat line: 12.8 points per game, 5.7 assists per game
It might be a little earlier to bet on Trey Burke, but we like what we've seen so far. His performance as a rookie was one of the only things that kept the Utah Jazz (barely) afloat, and this year could be the season he really breaks out as a superstar player. Plus, with no other Jazz players currently repping the Jumpman, this would be a proper throwback to the days of Jordan's rivalry with Stockton, Malone, and company.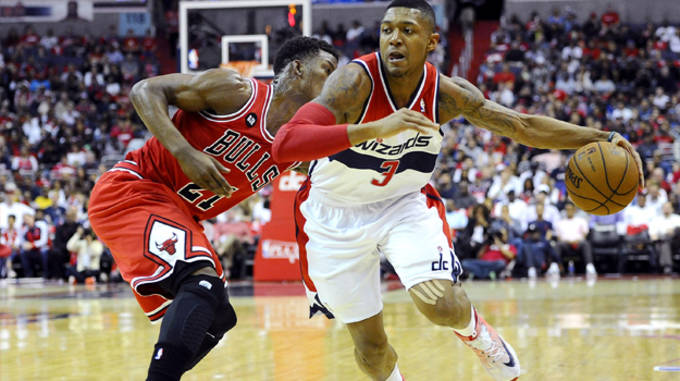 No. 6 - Bradley Beal
Currently wears: Nike Zoom HyperRev
2013-14 stat line: 17.1 points per game, 3.7 rebounds per game
During the 2014 NBA Playoffs, Bradley Beal helped power the Wizards to their first Eastern Conference semifinals appearance in nearly a decade, and this year they have the potential to go even further. Beal's sharp perimeter shooting will be a key asset for Washington this season, and there's no better way to motivate the young star than with an endorsement from the GOAT.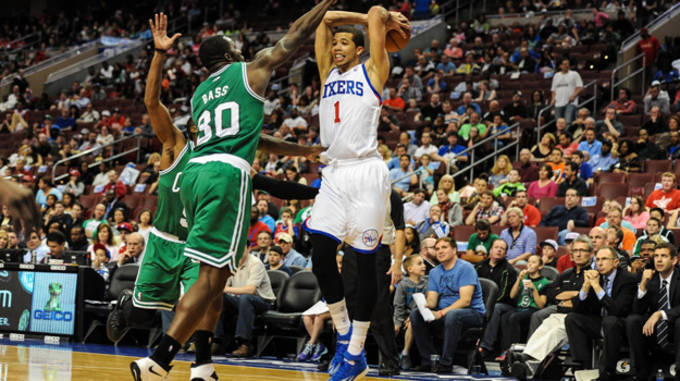 No. 5 - Michael Carter-Williams
Currently wears: Nike Zoom HyperRev
2013-14 stat line: 16.7 points per game, 6.3 assists per game, 6.2 rebounds per game
The 2014 Rookie of the Year, Michael Carter-Williams, is bound to have a signature shoe sooner than later. The only question is, what brand will it be? MCW's currently repping the Swoosh, which would make for an easy transition to Jordan Brand if it goes down. Barring injury, Carter-Williams could have an even bigger 2014-15 season, and his first NBA All-Star appearance can already be considered a lock.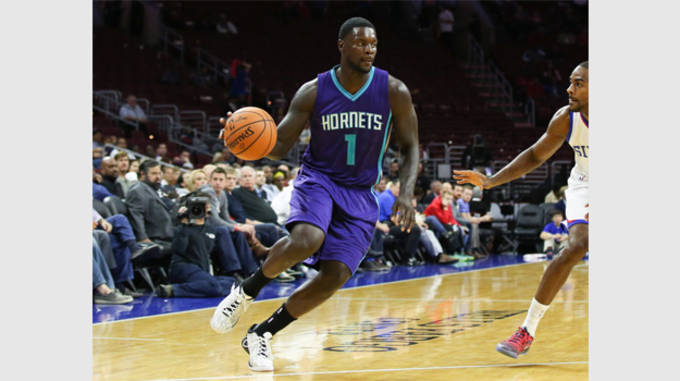 No. 4 - Lance Stephenson
Currently wears: Various And 1 models
2013-14 stat line: 13.8 points per game, 7.2 rebounds per game
Lance Stephenson isn't quite a superstar yet, but his addition to Jordan Brand would make more sense than almost anyone else on the list. Now that he's a Charlotte Hornet, he'll be one of the most essential parts of the MJ-owned franchise, and with such big expectations, Lance deserves some big rewards. As much as we love And 1, one of the best brands of our childhood, it's time for Stephenson to get an upgrade.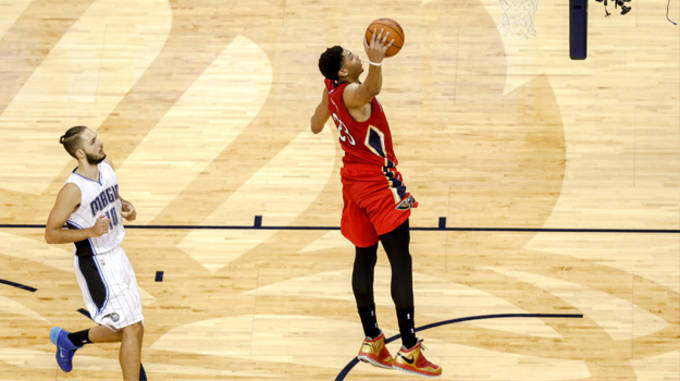 No. 3 - Anthony Davis
Currently wears: Nike Air Max Hyperposite
2013-14 stat line: 20.8 points per game, 10.0 rebounds per game, 2.8 blocks per game
We already mentioned that Jordan Brand could benefit from a few more big men, and Ant Davis would be the perfect fit. Not only does he already rock #23, but his numbers eclipse nearly every other player in his size range. By now, Ant has already earned All-Star status, but we think he can take it even further. With the right supporting cast, Davis is the kind of player who could unexpectedly win the MVP award.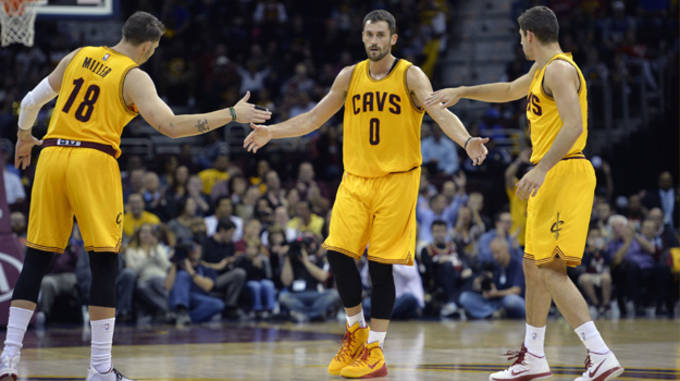 No. 2 - Kevin Love
Currently wears: Nike Hyperdunk 2014
2013-14 stat line: 26.1 points per game, 12.5 rebounds per game
All of the hype is centered around LeBron's return to the Cavaliers this season, but a deciding factor in Cleveland's success will be Timberwolves import Kevin Love. Last season, he put up some of his best numbers and also posted the first three triple-doubles of his career. When it comes to the kicks, Love's situation is a bit confusing. As far as we can tell, he's still signed with 361 Degrees, but he's been wearing Nikes on the court as of late. This might make a transition to JB a little easier, and would really help solidify him as an elite player.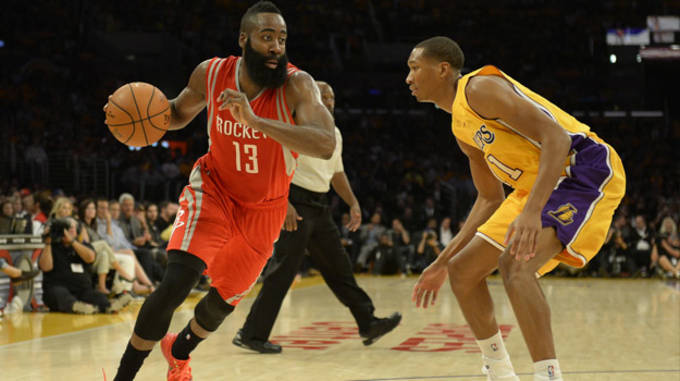 No. 1 - James Harden
Currently wears: Nike Zoom Crusader, Nike Zoom Run The One
2013-14 stat line: 25.4 points per game, 6.1 assists per game
James Harden was pretty nice with the Thunder, but he took it to another level in 2012-13 after being traded to the Houston Rockets. Ever since then, he's been one of the league's biggest offensive threats and helped to keep the struggling Rockets afloat. Harden's clearly a big fan of Zoom cushioning, as he stuck with the Zoom Crusader for the bulk of '13-14 and has now upgraded to the Zoom Run The One. This makes us wonder how much better he might be with Jordan Brand innovations like Flight Plate, which is basically like Zoom Air on roids.
RELATED:  10 NBA Players Who Could Break out This Season
RELATED:  10 NBA Players That Deserve a Signature Shoe