Jumplife founder Montserrat Markou is looking at my sneakers, and not in the way people normally look at a pair of black/cement Air Jordan IIIs. Well, maybe it is if they suspect them of being fake. It's a look that's both critical and somewhat disapproving, one that lasts a beat longer than necessary. "You should definitely be wearing different sneakers," she finally says.
This, of course, is not possible since the sneakers are the whole point. We here at Sneaker Report often test out new sneakers, but what about the retros? After all, nearly every lifestyle shoe started out as a performance shoe—even Chuck Taylors were once high-tech—and many of them were as groundbreaking then as new performance sneakers are now. The biggest question is do they STILL perform? Which is why I find myself in a downtown trampoline gym, wearing the wrong shoes.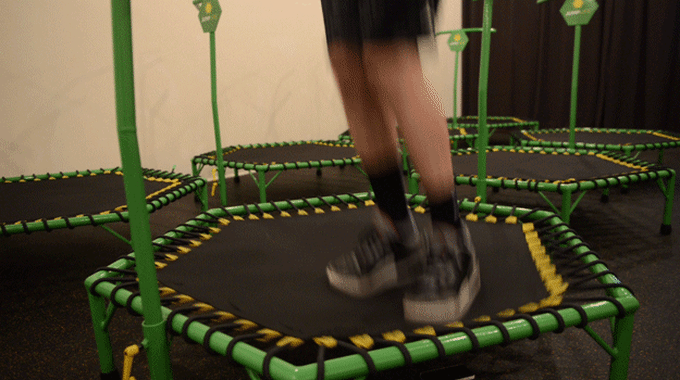 What Markou recommends to her Jumplife clients are lightweight, flexible shoes, which the Air Jordan III decidedly isn't. The ¾ cut was somewhat revolutionary in a sport that had come to be dominated by bulky hightops, but today the tumbled leather uppers (complete with elephant print overlays) and thick sole combine to make a pretty stiff shoe—one that is also, much to my later dismay, almost entirely unbreathable. This was fine for a basketball court in 1988, perhaps, but not ideal for a springy surface like a trampoline.
Michael Jordan didn't have to spend much time on trampolines, of course. And I couldn't duplicate his high-flying feats with or without one, even in my long-gone prime. But I could surely spend 45 minutes bouncing on one, wrong shoes or not. As it turned out, the shoes were the least of my problems.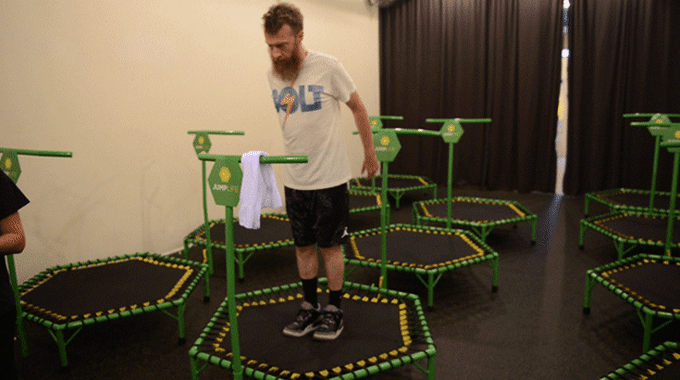 Yes they were stiff, yes they felt heavy, yes they didn't allow for much, uh, trampoline feel. And yes, the smallish, single-serving trampolines weren't exactly right for basketball shoes. But as literally bouncy instructor Rhea took the class—myself and eight women, including our intrepid photographer—through song after song, it became increasingly apparent that I was in the worst shape of anyone. As I began to sweat like Patrick Ewing and curse my hubris for picking the three-pound dumbbells over the one- and two-pounders (after holding them out straight long enough, three pounds starts to feel like 30, then 300) the mantra simply became "don't quit." I didn't bother asking myself "what would Michael Jordan do?" since he'd just go play 36 holes of golf while smoking two cigars at the same time.
Afterwards, drenched but alive, I put the cursed weights away and asked Rhea about the whole non-impact aspect of trampoline workouts. She said that while the trampoline eases pressure on joints, the resistance winds up being something like five times your body weight—for me, roughly three Shaqs. This made me feel a little better about my performance, or lack thereof. I can't say I felt like Michael Jordan (or even Gilbert Arenas) out there, and if I go again—which I might—it won't be in Jordan IIIs. But I can certainly say this: It wasn't the shoes.
Russ Bengtson is a senior staff writer at Complex and the co-host of Quickstrike. Follow him on Twitter. 
RELATED: Is Under Armour Ready for Kevin Durant?
RELATED: What I Learned From Running in the 1986 Micropacer Shoe