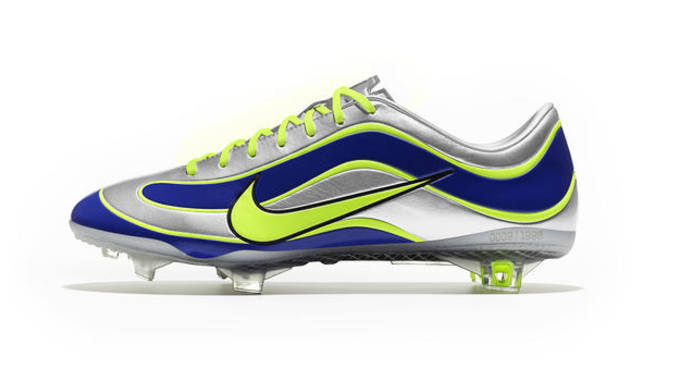 No. 10 - Nike Mercurial Vapor IX R9
Release date: May 2013
Current eBay price: $600-$1000
It's safe to say the Mercurial Vapor IX is the king of limited Nike soccer boots. In 2013, they paid tribute to the OG Ronaldo and his original Mercurial boot from 1998 with a special colorway of the Vapor IX. Lifting the silver, blue, and yellow colors, what was old was new once again, and collectors ate it up. Hopefully you didn't make the mistake of actually hitting the pitch in these, because they can bring in up to a grand today.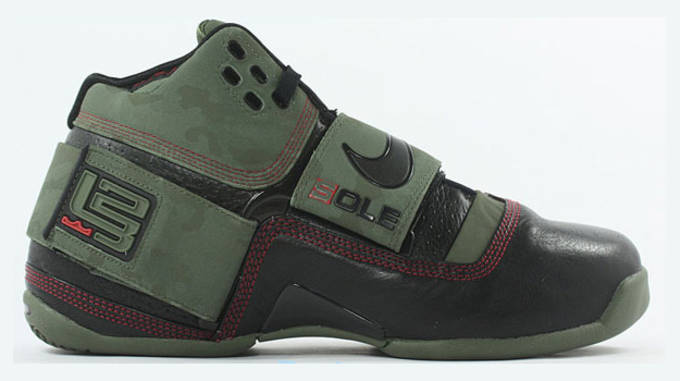 No. 9 - Zoom Soldier I "7-7-7 a.k.a. Sole Bar"
Release date: July 2007
Current eBay price: $750
Our friends at Sole Collector have had the privilege of working with Nike on several special collaboration sneakers, but they're usually retro models. In 2007, they helped introduce the original LeBron Zoom Soldier I with this war-ready camo tinged makeup. With just the right amount of branding and the perfect stealthy colorway, the only problem was the actual production of the shoe. Sole Collector had planned a pop-up event in Los Angeles on 7/7/07, and they got started on the collab just three months beforehand. For the full backstory, click here.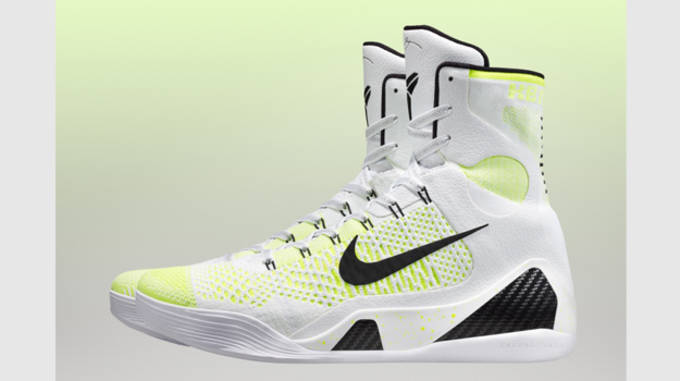 No. 8 – Kobe 9 Elite NRG "White/Volt"
Release date: January 2014
Current eBay price: $2000
The Kobe 9 Elite isn't even a year old, but the model has already treated collectors to some of the rarest Mamba sigs of all time. Between low top and high top, HTM and NRG, and a myriad of colorways, there's been no shortage of #VeryRare Kobes lately. This crisp white, black, and tennis ball volt variation of the high top model gets our pick as the best of the bunch. It's also one of the rarest colorways out there, and you'll be hard pressed to find a pair for under two stacks.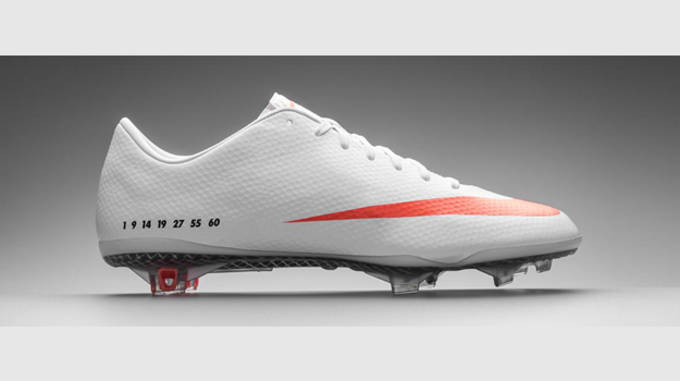 No. 7 - Nike Mercurial Vapor IX CR Special Edition "White/Orange"
Release date: February 2013
Current eBay price: $2000
Ronaldo's 2014 white/gold Mercurials came in at number three, but this white/orange version from early 2013 is just as rare with only 100 pairs in existence worldwide. Sticking with a basic white upper, orange accents and numbers detailing CR7's 2011-12 season fill out the boot.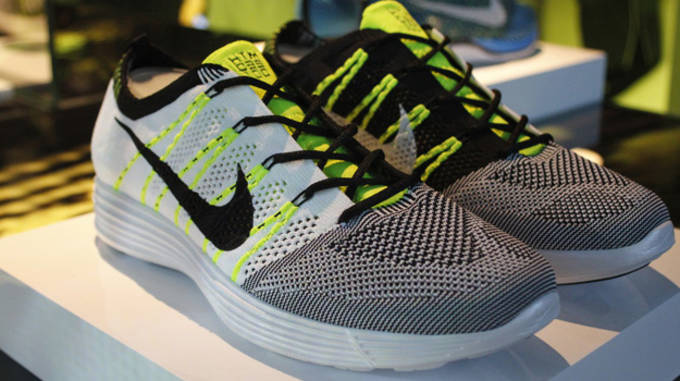 No. 6 – Flyknit Trainer HTM
Release date: February 2012
Current eBay price: Unavailable
Anyone can get a pair of Flyknits, but unfortunately, we can't all get our hands on the ultra-coveted HTM versions. To kick off the debut of Flyknit tech, Nike unveiled a handful of HTM designed models including both Trainer and Racer variations. This Trainer, composed of a white and black base with volt accents, was limited to just 100 pairs and has become so scarce that you can't find a single pair on eBay today.
No. 5 – Mercurial SL "Carbon Fiber"
Release date: 2008
Current eBay price: $2000-$2750
How do you take the most cutting edge football boot line and make it even better? Easy—wrap the entire thing in Carbon Fiber and slap a limited tag on it. This Mercurial SL was the result of CEO Mark Parker's challenge to the design teams to develop something with no boundaries or limitations. Each division came with their own pitch, but it was the soccer design that really took off. The Carbon Fiber upper was entirely crafted in Italy, while the plate was developed in Germany and the outsole was made in South Korea, making these the intercontinental champions of rare performance sneakers.
No. 4 – Zoom Kobe VI "Barcelona FC"
Release date: May 2011
Current eBay price: $2750-3000
The Mamba's had a number of rare releases inspired by his favorite football club, but this mango hued Zoom Kobe VI "Barcelona" from 2011 takes the cake. With a striped, jersey-inspired sockliner, a Barcelona FC crest on the inside of the tongue, and one of the most vibrant colors we've ever seen on a basketball sneaker, these are definitely up there on our grails list. Like many limited drops, these weren't available to those of us in the States, and instead dropped in extremely limited numbers as a UK exclusive. If you've got a spare $3k sitting around, they can be yours today.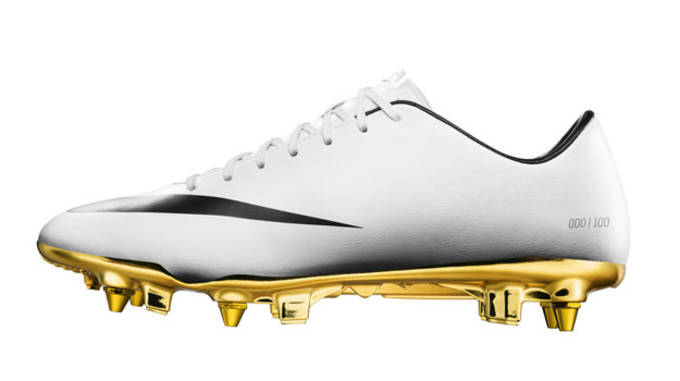 No. 3 - Mercurial Vapor IX CR7 Special Edition "White/Gold"
Release date: April 2014
Current eBay price: $3000-$3500
Nike doesn't release their production numbers on limited releases very often, so when they do, you know it's something special. These boots dropped earlier this year to commemorate Cristiano Ronaldo's outstanding 2013-14 season, which included averaging over a goal per game and becoming the quickest player in Real Madrid history to reach 200 goals. Decked out in Ronaldo's preferred white upper, these boots feature a gold cleat plate and were limited to a run of just 100 pairs. As expected, they sold out quickly, and now they're among the most expensive boots on the resell market today.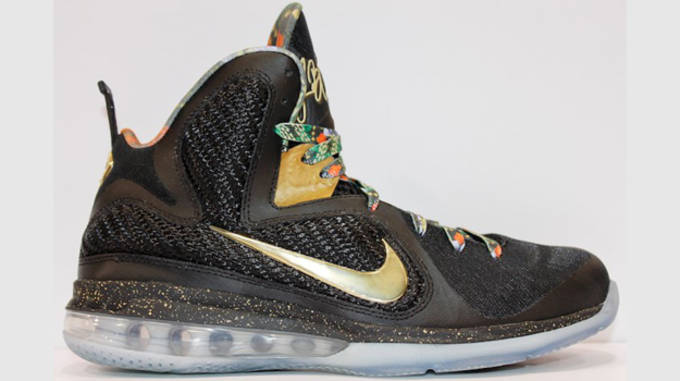 No. 2 – LeBron 9 "Watch the Throne"
Release date: Summer 2011, Friends & Family exclusive
Current eBay price: $3500 (no lacelock), $6000 (w/ lacelock)
Two years after the "All Black Everything" Air Max LeBron VII, Hov and 'Bron hooked up again for a special take King's 9th sig. Only this time, Jay brought Yeezy along, as well as Givenchy's creative director Riccardo Tisci. What, you thought the "RT" AF1s were Tisci's first design with the Swoosh?
Don't forget this 2011 LeBron 9, which was created to celebrate the Watch the Throne tour and featured graphics from the album's artwork, designed by Tisci. Like the "All Black Everything" VIIs, these were incredibly hard to track down, with early rumors placing the production figure at around just a dozen pairs. Since then, it's become apparent that there are more pairs out there than were originally believed, but they're still #VeryRare.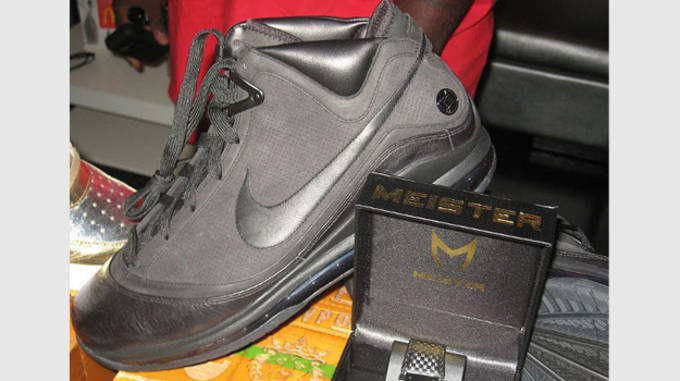 No. 1 – Air Max LeBron VII "All Black Everything"
Release date: 2010, Friends & Family exclusive
Current eBay price: Unavailable
Trends come and go, but few have had the staying power of Jay-Z's "All Black Everything" mantra. In 2010, Nike Basketball and King James linked up with Hov for this incredibly rare version of the Air Max LeBron VII. Decked out in leather and suede in place of the original model's Flywire-based upper, these Roc Nation approved kicks gave new meaning to luxury. Inside, the insoles were packed with both men's countless accomplishments. Unfortunately for fans of Jay and 'Bron, these were a strictly Friends & Family only release, and have become one of the scarcest LeBron sigs of all time. Oh yeah, did we mention they came with a watch?
RELATED: Ranking the #VeryRare Colorways of Nike Flyknits
RELATED: A Complete History of the Nike Air Foamposite One