Standing at a staggering 7'1, Shaq was one of the biggest and most dominant forces the NBA had ever seen. Very rarely is he not the biggest guy in the room, but on a recent trip to Shanghai that's exactly what happened.
The Big Shaqtus touched down in China for some vacation and sightseeing before he's put back to work for the NBA on TNT, but he met up with another cultural icon and megastar in former Rockets center Yao Ming. Measuring in at 7'5, Yao is one of the tallest to ever grace the NBA floor, and made Shaq Daddy look like a shell of the monster he really is. This is becoming a common thing for Yao, as earlier this week he spent some time with Roger Federer and Novak Djokovic with the ATP Tour going on in Shanghai.
Although Shaq wasn't the biggest in the room, his personality always is, as he joked about Yao's size saying " Yao says he's 7 feet 4 I think he's 7 foot 8". Looking at the photo, we tend to agree with the Big Cactus. After all he has his Ph.D.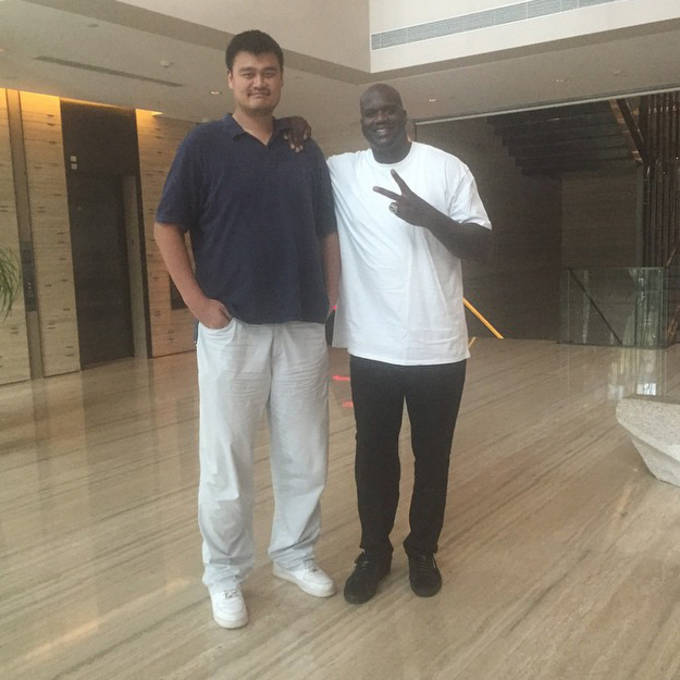 [Shaq]
RELATED: Yao Ming Made Some Tennis Pros Look Like Ants Today
RELATED: Today in Performance Sneaker History: Shaquille O'Neal is 41