Right up there with the golden arches, the Jumpman is easily one of the most recognizable and iconic logos in the world. Nike trademarked the image and made it the official logo for Jordan Brand, an offical branch of Nike since 1997. As one of the biggest sports brands in the world, not much slips by Nike, as they just filed a lawsuit against a West Palm Beach Crossfit affiliate for trademark infringement.
Crossfit CityPlace, a crossfit gym in West Palm Beach, Florida operates with a similar logo to the iconic Jumpman image and Nike isn't too happy about it. The logo (which is incredibly close to the Jumpman) features an upside down man balancing on a kettleball. Nike has since filed a lawsuit against the CityPlace claiming the logo will "create confusion with the public, causing the sneaker maker "grave and irreparable damage" according to the Palm Beach Post.
Grave and irreparable damages? For a company that sees over $2 billion annually? Seems a bit farfetched from Nike's end, but the logo does appear to be a genuine ripoff of the logo that lines your sneaker closet. Crossfit CityPlace owner Matt Brewster is fighting the claims and feels his company did nothing wrong. "They're trying to bully the little guy because they've got more money," Brewster told the Post. "They're trying to scare us, but we're not going to be scared."
According to Brewster, the logo was taken from an actual picture of himself back in 2011, performing a signature crossfit handstand move. Lawyer's for Brewster believe that Nike is suing out of jealousy and believes they are upset that they missed out on the cash cow that is crossfit, is looking to make up for it.
Do you think Nike is right on their claims? Or should they stop worrying about the little guy and focus on bigger and better things. Let us know your thoughts in the comments and stay tuned for the latest developments.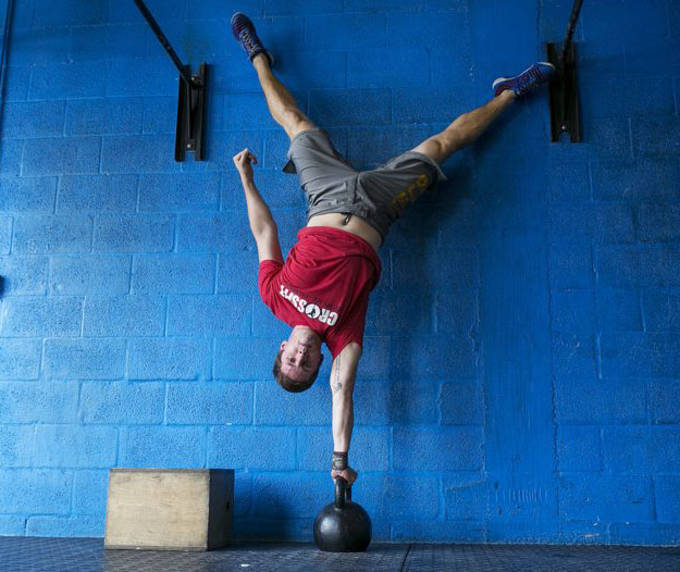 RELATED: The Best Basketball Shoes For Power Forwards
RELATED: The Jordan Super.Fly 3 Is Ready To Take Flight