This feature originally appears in Complex's October/November issue.
After officially walking away from A Bathing Ape last April, Nigo has done everything but fade into the sunset. The streetwear king, who built a legacy with the camo-printed tees he designed for the Japanese clothing company he founded in 1993, has beefed up his resumé. He's advised major corporations like Uniqlo and Coca-Cola on what's cool now and, more importantly, what will still be cool 10 years from now. He's taken on the creative director role for Uniqlo's UT project, which promotes self-expression through pop culture graphics on T-shirts. He's launched Human Made, his own private label that focuses on workwear with a vintage edge. His latest venture is a new sportswear collection with adidas.
Bringing Nigo on board was a no-brainer for the German sport and lifestyle brand, which has already collaborated with high-end fashion visionaries like Rick Owens and Yohji Yamamoto, as well as cult designers like Mark McNairy and Raf Simons. "Nigo has a great skill for seeing what is happening and not happening," says adidas Originals design director Paul Mittleman, who shepherded the process. "It was only natural to let him craft, curate, and cultivate a collection from the past, present, and future." Adidas also joined forces with Nigo's close musician friends Pharrell Williams and Kanye West, cultural luminaries in their own right who will have collections popping up in late 2014 and early 2015. 
For adidas, the sneaker company that led the charge in courting entertainers like professional athletes, the Nigo/Kanye/Pharrell triumvirate represents a new era of culture. Beyond their impact in the music world, Kanye and Pharrell have become stylish juggernauts in their own ways. Take, for example, Kanye's buzzed-about collaboration with French label A.P.C., and Pharrell's ability to start a trend simply by wearing a vintage Vivienne Westwood mountain hat. Of the three, Nigo, who has the most experience designing sneakers and clothing, will drop his collection first, in November. The designer put his spin on everything from sneakers (with fat laces, of course) to the tracksuits made famous by the brand's original hip-hop ambassadors, Run-DMC. That legendary trio took the trends popularized by NYC b-boys and immortalized by photographers like Jamel Shabazz and made them mainstream, influencing kids everywhere (including Nigo in Japan) to cop a pair of Superstars to rock, tongues out. 
Nigo adds his signature touch to the aesthetic, a graphic lexicon begun during his time at A Bathing Ape and perfected through current projects like Human Made. Well-versed in the art of cutesy graphics, Nigo manages to distill the appeal of Japanese anime art, style, and pop culture into simplistic animal mascots. In this project, a crowned polar bear carries the torch of memorable characters like A Bathing Ape's Baby Milo. The DNA of streetwear courses through the collection, especially in pieces like coaches jackets and varsities, while the adidas logo is flipped with a simple "by nigo" underneath the iconic trefoil, illustrating streetwear's ability to re-contextualize the symbols of fashion. After decades working as a small-scale independent, the 43-year-old designer is enjoying the near-limitless resources of a large sportswear company, and according to him, the collaboration with adidas couldn't be more perfect.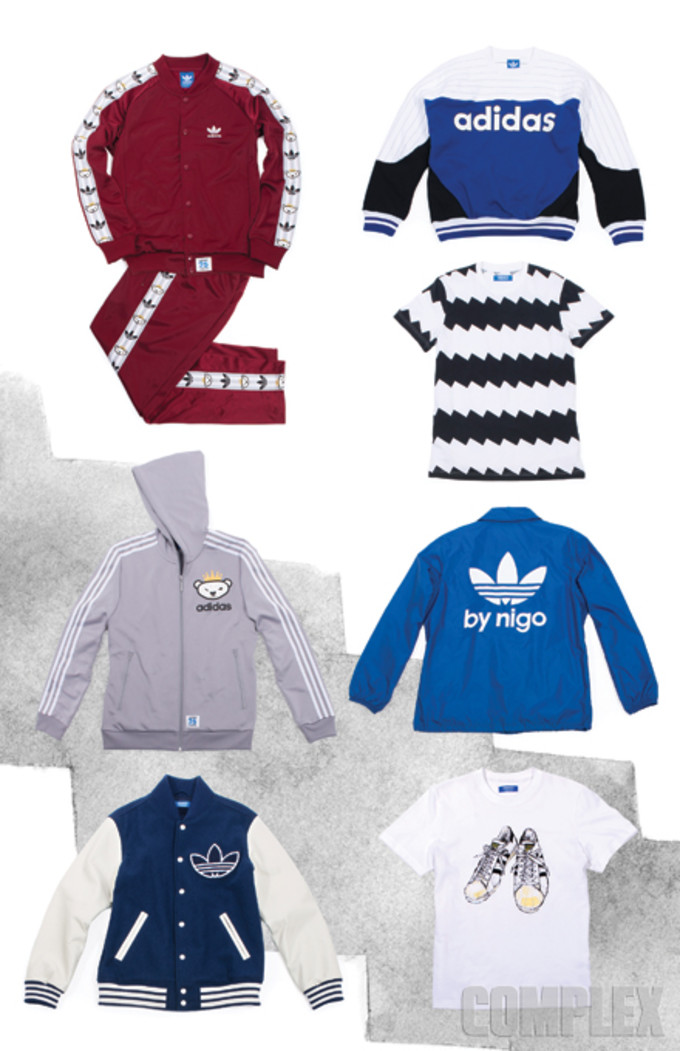 Why was adidas the brand you wanted to partner with?
It's always been an important brand to me. [Adidas reps] were interested in having me work on a large-scale, long-term project with global distribution; that matched what I was looking to do. A friend, Paul Mittleman, started working at the head office, so I had some confidence that communication wouldn't be a problem. He used to be at Stüssy; I've known him a long time, but we hadn't worked together until we did a project just before I left BAPE. It was natural and easy—I was confident to work with him again. It's been clear that adidas understands and appreciates what I am doing, which is essential.
How has your time at A Bathing Ape and working with big brands like Uniqlo and Coca-Cola shaped your work with adidas and beyond?
All of my experience comes into play constantly. One thing that my experience has taught me is that I don't want to spend a lot of my time managing people anymore, looking after some big organization. So it's important to utilize what adidas is great at doing and provide creative input that works for them and can be realized without diluting my vision
How is this collaboration different from others you've worked on?
It's always different because you're working with different teams and different organizations. Every brand has a personality, too. Working with a company of this size and with these capabilities is interesting for me. A lot of what I've learned over the years has been about making the most of the limitations of a small independent setup—many of those considerations are irrelevant at the scale of something like this.
What's the inspiration behind this project?
It's simply my interpretation of what I want to see from adidas. I'm not interested in trying to take adidas too far from its roots or make a fashion statement. I wanted to stick to making sportswear. That's the strength of the brand to me: sportswear that can be adopted as fashion, not fashion with sport trimmings.
Sportswear pieces like varsity jackets and tracksuits also have a following in the world of casual streetwear. It seems like you put your touch on a lot of adidas' core competencies.
I wanted to keep a feeling of simplicity in what I do for adidas. I thought I should start with iconic pieces. It seems obvious to me that tracksuits are a classic adidas look, and I wanted to take that back to its essence, so I changed the silhouette. I referred to a few different styles from the '80s that I had in my collection to get some of that feeling. Varsity jackets are more of a standard piece for me than they are for adidas, but it's another iconic piece of sportswear—something that's strong enough to be done in a simple treatment without being overdesigned.
You regularly draw inspiration from animals. Is there a story behind the crowned polar bear graphic?
There's no particular meaning. He represents me in a way. He's a bit aggressive looking, which is something I like. I've used bears before, in some Human Made designs, for example. I'm drawn to them for some reason.
adidas was one of the first sneaker brands to embrace lifestyle as much as sports. Are you carrying the torch with this collaboration?
This is a genuine connection—as I said, I have always felt something for the brand. In fact, it's the first brand I recognized as a kid. The '80s were an important time for me in developing my style, so it seems natural to be coming back to adidas now. I'm interested to see how what I make for this brand affects people's perceptions of it. It would be difficult now for any one thing to have the kind of life-changing impact that seeing Run-DMC for the first time had on me. I don't have the perspective of a young teenager to be able to know what is going to have that kind of impact on them. There's a lot more choice, more marketing, more celebrity than there was back then, so I'm also interested to see who today's youth react to. There are so many more images vying for attention now, but that is the spirit in which I'm undertaking this.
How has Run-DMC influenced you? Did they put you up on adidas?
Run-DMC changed my life in more ways than just introducing me to adidas. It was about the collision of music and style. It's one of the major influences in what I've done up to this point. It convinced me of what I wanted to do in life. I have no idea what I would create if I hadn't been influenced by hip-hop.
"I don't want to spend a lot of my time managing people anymore, looking after some big organization."
What is the state of collaborations right now? Are we at a point where there are too many?
Genuine collaboration is not the same as putting two names on some product as a marketing technique. There is little of the former and way too much of the latter.
What makes a "genuine" collaboration?
Both sides need to get value out of working together. In the case of my work with adidas, it's quite easy to see what both sides get and why the project couldn't exist if we weren't working on it together. They give me the platform. They have great manufacturing capability and they have a global distribution network. I am feeding my designs into their system and that allows me to see what I design reach its potential. From their perspective, I suppose they admire what I have done and they see how what I do could work within their framework. On a creative level, they have an amazing history and I can access it and reinterpret and add to it.
How have style collaborations evolved over the past few years?
I'm not a great observer of what's going on in "the scene" in general, so I'm not the best person to ask. I see stuff, of course, but I don't need to form an opinion. That wouldn't help my own work. I don't look at too many other people's work. I stay focused on what I'm doing.
What do you make of adidas' conscious effort to court lauded fashion designers like Raf Simons, Jeremy Scott, and Yohji Yamamoto for similar projects?
It's a clear statement that they value design and are committed to working with designers with a strong and distinctive aesthetic, and that has been true for a long time.
Does their work influence yours at all?
I don't pay any attention to what they are doing. I actually don't think about it at all. But, since you ask, I'm fairly confident I'm coming at this from a totally different perspective.
Sneakers in your collection include the Rivalry Hi, Superstar 80s, and ZX 500. Why these silhouettes?
There were many more styles I was interested in working on but I wanted to hear adidas' perspective on what it felt was iconic or which made the most sense in terms of everything else going on there. This selection is a happy medium between both viewpoints. I've always looked at their styles in an idiosyncratic way, so it was useful to find out what adidas considers to be the classics.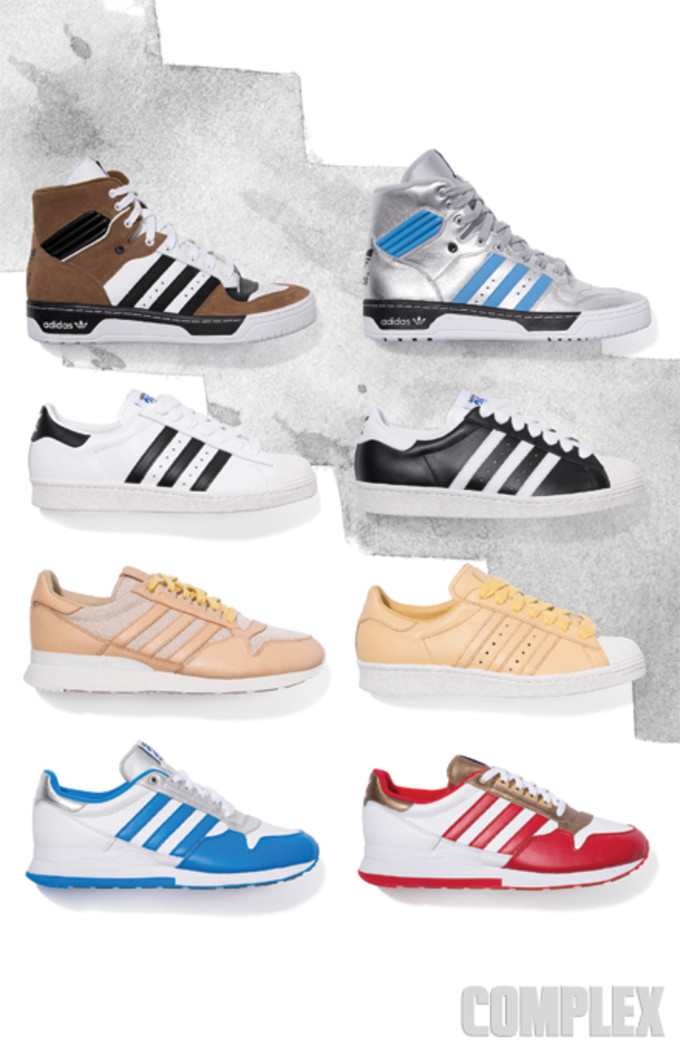 The fat laces on the Superstar 80s harken back to a very specific era in the adidas history.
My relationship with adidas goes back to the '80s golden era of hip-hop and that's something I can't ignore. Fat laces are an obvious indicator of that time but they also stand for the early '90s revival of those styles that the Beastie Boys in particular were pushing. The early '90s was massively influential in creating the core of the look that became what streetwear is now, and it was a creative and exciting time for me personally. What's interesting now is that I see a younger generation of artists and designers who were clearly influenced by what I was doing in, say, 2004 and what Pharrell was making and wearing. You can see a revival of that era today.
"Genuine
collaboration is not the same as putting two names on some product as a marketing technique.
"
You've worked with and influenced guys like Kanye West and Pharrell. How do you feel about them being afforded the same collaborative opportunities as you? Have they arrived as designers in their own right?
I haven't spoken to Kanye for a little while but I've seen Pharrell a lot recently and I've seen some of what he has planned. It's comfortable for me to have them both there at the same time as me, of course. I guess we represent a certain "generation" together. In fact, Pharrell and I talk about ideas whenever we get a chance. I like to get his input and I think he feels the same way about me, and that's real because each of us has worked together in the past on music and fashion. I haven't seen what Kanye is doing yet but I am sure he has a clear vision of what he wants to do—that's how he works, in my experience. I'm interested to see what comes out of it.
What are some great ideas that have come out of your conversations with Pharrell?
I guess Billionaire Boys Club was the big one, from a historical perspective. But I'm not giving anything away if you're asking about future projects.