The life of a Jacksonville Jaguar fan is never an easy one. Currently in a 7 year playoff drought, there hasn't been much to root for in Jaguar country, and now it's only getting worse.
The Jaguars organization sent out a letter to fans asking them not to stand due out of respect to other fans in attendance. After several reports of "excessive standing", the Jaguars felt they needed to address this situation, and told fans that to only stand with "the flow of the game" (whatever that means). The letter also detailed two "standing encouraged" sections now exist, and fans who are interested in standing for the whole game can relocate their season tickets to those sections. The letter also notes that fans who excessively stand are subject to ejection from the game due to the Fan Code of Conduct policy.
Sure, we've all had that one idiot guy at a sporting event yelling and standing through the entirety of the game. It can be annoying, but in the end all they're doing is rooting for their. The Jaguars should really reconsider their stance on this, simply because attendance for in Jacksonville is the lowest out of all NFL teams.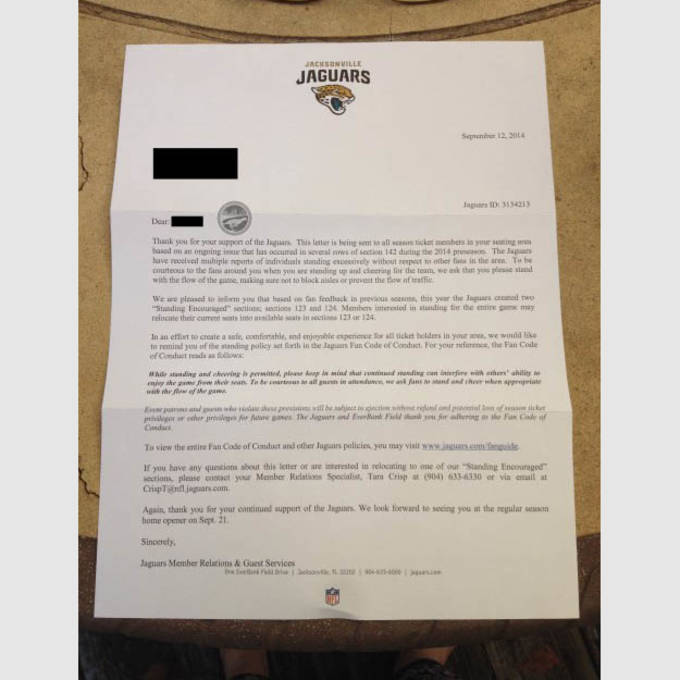 [BCC]
RELATED: Peyton Manning Supports Legalized Marijuana? Well, His Bank Account Does
RELATED: Big Game, Big Shoes: The Cleats Worn by Every Super Bowl MVP