Small production runs aside, it's not hard to find limited edition ASICS runners these days, especially considering the number of collaborations the brand has come out with in the past couple of years.
Crepe City's Morgan Weekes took to Instagram and shared a photo of two ASICS collabs that just might take the cake as the rarest ASICS sneakers, ever. Released in the 90s, the ASICS x McLaren project was a three-sneaker collection with the British Formula One team. The collab was made in Japan and only given to members of the pit crew.
One iteration features a mostly red upper with subtle white branding, while the other pair features significantly more hits of white on its inner sleeve, heel panel, and ASICS stripes. If you're based in the U.K., there's a slim chance you might randomly be able to find a pair in the aftermarket from time to time. For those in the U.S., well, just keep it moving.
UPDATE:
We talked to Morgan Weekes, and he gave us this backstory on his pickups. Weekes said, "I have a friend who works high up in McLaren and used the the Internet to search and an old guy in his 60-70s had two DS pairs in his house in my size. He only wanted $30 for each of them. He was also a member of the pit crew team who won the race with a famous driver that year around 25 years ago now. The tech on them is actually pretty amazing for the time, it's got that Huarache sole and sock liner so there's no risk of crumbling while having a dynamic fit, a non-slip sole, and beautiful sandwich mesh."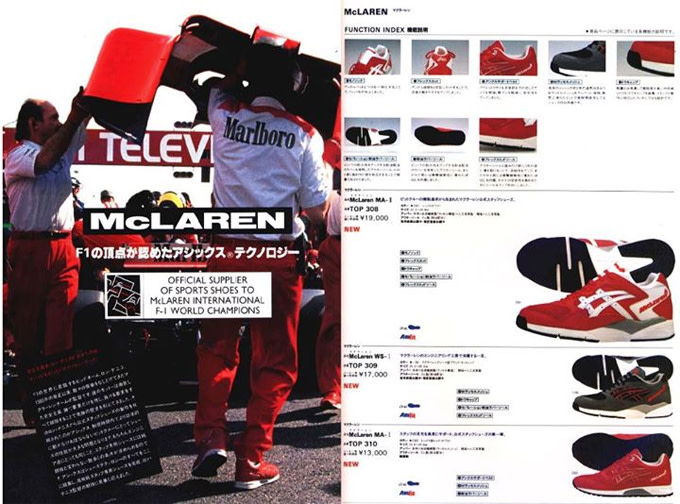 [via morprime and jerico_st.adrian]