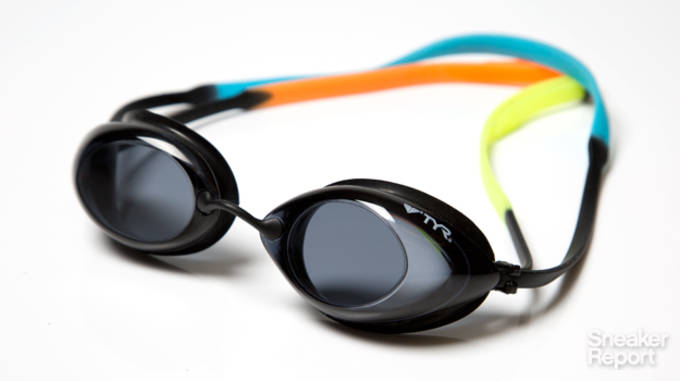 Swimming, like running, is a solitary endeavor. The challenge—you versus the water in a slow build of endurance—requires patience, and a mix of distance and sprint training designed to hone technique and maximize motion. As with running, opportunity for team workouts exist, but, ultimately, once in the water success comes from within.
Swimming, like running, doesn't require heaps of gear. One needs three core pieces: cap, goggles, and suit. Choice of suit, unless competing for gold, depends only on comfort level (brief, drag, jammer...each covers private parts to meet standards of pool decorum). Ditto caps. There are choices—latex, lycra, silicon—but for the most part are worn primarily to keep hair from meddling with filtration systems. Goggles, however, matter. Fit and vision combine for a healthy, happy workout. When goggles are slipping about, fogging up, or just leaky, pool workouts becomes a brutal slog against chlorine-driven burn and untimely adjustment stops.
Each morning, I swim roughly 2 miles in a 25 yard pool. For those counting, that's 144 lengths and a fair share of flip turns. For the past 3 weeks, I've been alternating between two googles: Nike's Remora and TYR's Racing Mirrored.
Both goggles are ostensibly the same in build, with multiple nosebridge options, a wide angle of vision, and two straps around the head. Both the Nike and TYR google are also FINA (the international governing body of swimming, diving, water polo, synchronized swimming and open water swimming) approved, meaning each is sanctioned for use in international competition.
A brief note on brands: In 2008, TYR and Nike ranked 2 and 3 respectively in global swim sales. That year, Nike exited the elite swim market (i.e. left the race to make the wildest, Olympic winning suit), but has continued to support U.S. Masters Swimming and the College Swimming Coaches Association of America. All that to say, Nike might not match TYR's immediate connection to the pool, but the brand has pedigree in aquatic sport, making comparison between products a logical, worthy pursuit.
Nick Schonberger is Deputy Editor at Complex Media and a formerly a mediocre Water Polo player. 
RELATED: How the Newton Energy Considers Body Mechanics for the Daily Runner
RELATED: Protect Your Music Devices from Water and Sweat with this Device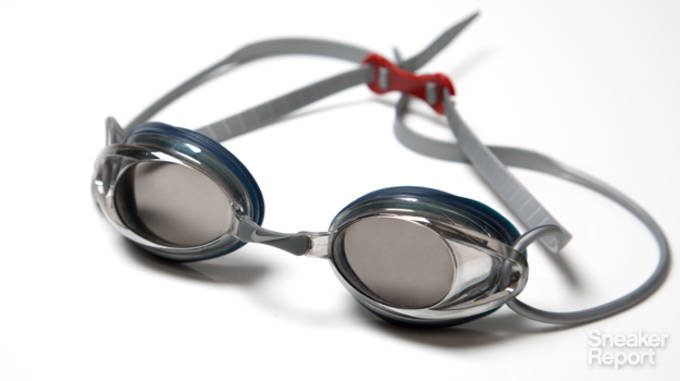 Nike Swim Remora Rapid Goggle
Key features: Three nose bridge size options, silicone hydroflow gasket
Nike refers to its goggle gasket as "soft seal," meaning, primarily, that fit around the eye socket isn't suction based. The proposition is comfort, and the the two-piece silicone design succeeds to a degree. There is no pinch, but there are also seams (even when proper nosebridge is assessed and employed) that open in a slow leak. While not gushing, these leaks do build over time and force stoppage in workouts for water removal.
Another slight against the Remora is fogging. Fogging, for the uninitiated, is the scourge of all swimmers, especially when circling in a crowded lane. Vision in the Remora (on average) went from excellent (i.e. full pool) to troubling (i.e. inches) within ten minutes of vigorous freestyle. Note: For comparative purposes I did not use any third party spray to combat this problem, just old fashioned spit.
$17
Bottom line: The Remora is a comfortable google with a few key issues—fogging and subtle leaking. The latter may be simply an issue of the goggle's fit to this wearer's facial structure. In strict performance, the google is certainly hydrodynamic (in that it moves with the wearer through water fluidly) and doesn't come unhinged during quick turns.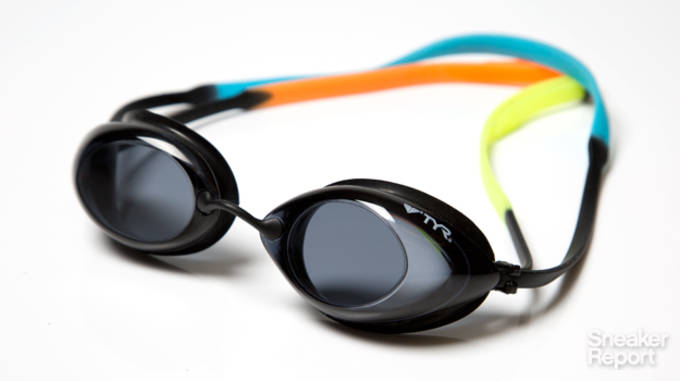 TYR TRACER Racing Goggle
Key features: Anti-fog coating, anti-leak Thermo Plastic Rubber gaskets, 4 nosebridge size options
The TYR Tracer Racing Goggle is essential a Swedish google (an unstructured google without a gasket) evolved. In its minimal build, the Tracer offers a very, very close fit through the Thermo Plastic Rubber gasket, which is just a single piece between the lens and face. As advertised, there's no leak. And, even better, as advertised, there is no fog.
Over typical swims (35 to 45 minutes), there was no stopping for google adjustment. The straps pull easily pre-swim to tighten, and the bridge lies comfortably at the nose. No pinch. Zero pain.
Bottom line: The TYR Tracer Racing Goggle succeeds in providing no fog visibility and a perfect fit.
The Final Verdict
Though identical at first glance, the TYR Tracer beats the Nike Remora where it counts: the gasket. A closer fit to the eye socket solves any and all leaking. As it is the only of two goggles to tout anti-fog (which works), the TYR wins on that front. If speed is an issue, unscientific split readings suggest the TYR makes swimmers quicker. Don't hold us to that. Do, however, trust that assessing gasket build is an essential step in selecting the perfect goggle.
RELATED: How the Newton Energy Considers Body Mechanics for the Daily Runner
RELATED: Protect Your Music Devices from Water and Sweat with this Device