During a routine visit in New York City to see my girlfriend, Laura, I decided that I would make my case for The Dopest Boyfriend of the Year by Jason Markking a few of her heavily worn sneakers while she was out on a photography gig. I got all of my utensils ready, put on Soul Tape 2, and preceded to rejuvenate her sneaker steez. 
I started off with her favorite, the "Muti-Color" Nike Flyknit Trainer, then moved on to the "Black/White Speckle" Nike Roshe Run. After that, I got her RF x ASICS Gel Lyte III ECP "Knicks" nicely re-upholstered. To finish my mini-project, I shifted my cleaning efforts towards her UNDFTD x Bape x adidas ZX5000s, which needed some midsole work. At this point, reality had set in: A nice gesture turned into an epiphany—my girlfriend has more heat than me and I am cool with that.
In past relationships, I dated girls who thought sneaker shopping meant copping a pair of Mossimo Supply Co. joints from Target and $1.99 Old Navy sandals. 
I met Laura while photographing an event in Princeton, N.J., and the first thing I noticed was her choice of footwear for the day. In a conservative effort, she laced up the "Iguana Green" Roshe Run. Yes, that may not seem like a lot, but it felt like a holy grail compared to what I typically see from the Princeton constituency.  I decided to lace up the "25th Anniversary" Air Jordan 1, which, in retrospect, flawlessly completed my alphet. After going Super Saiyan and turning my swag on full attack, I approached her and we proceeded to discuss the proper pronunciation of "Roshe." The rest is history.
In past relationships, I dated girls who thought sneaker shopping meant copping a pair of Mossimo Supply Co. joints from Target and $1.99 Old Navy sandals. These were the same girls who could not fathom how I could spend over $100 on a pair of sneakers. So I was in unchartered territory when I stepped inside of Laura's midtown apartment for the first time and saw the collection of sneakers she had equipped herself with. Saying that I was rattled would have been an gross understatement. But it gave me life. It was refreshing to see a girl whose collection was not full of Jordans she could not name.
Since then, we've had our fair share of conversations about sneakers and pretty much understand what each other's preferences are. She knows not to show me a pair of Nike Foamposites in any facet of life. On the other hand, she is not a "yes man" when I say I like a certain colorway or model—she gives me her honest opinion.
It's amazing how much you can learn about a person based on why they like a certain sneaker. In a way, our passion for sneakers has actually brought us much closer together. Since we have been together, I have learned more about ASICS Gel Lyte IIIs and Vs than I ever wanted to. Coming from a basketball background, if it was not Jordans, it was not real. Though my loyalty stays with Nike and Retro Air Jordans, she has expanded my knowledge regarding a part of the culture that I once could care less about.
I have been collecting much longer than she has, but her point of view on sneakers comes from a genuine love for them, which allows her to express her opinions and knowledge on the culture in a respected way. That much cannot be said for many people in the game now.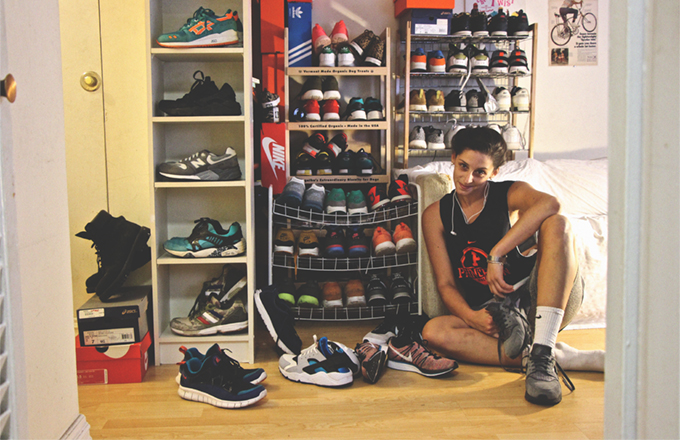 With the psychology of sneaker culture being so competitive and insecure, one would think I constantly feel the need to compete with her when we venture into the fashion-conscious bubble of NYC. But I don't. I fully understand that we've reached a point in time where people solely buy sneakers to feel accepted, or even superior to others. But there is literally no room in my relationship for that type of tomfoolery. It is bad enough that there are men within the sneaker community that justify hating on women who collect shoes because they naturally have smaller feet, which in turn makes it "easier" to cop shoes. It's pathetic. 
On days I laced up a general release, I have never felt like less of a man or a "sneakerhead" because my girl had heat on. This comes from me being comfortable knowing that I'm wearing something that I actually like and not what an #influencer posted to their Instagram. I actually welcome it. When she feels like putting on some beaters, I'll tell her, "Nah, throw on your Huaraches, B."
But don't get me wrong: There are times that I tell her that we have to have God-level alphets on like a poor man's version of Kimye (with much less money, rants, and selfies).
I have a partner that shares the same passion for sneakers that I do. It just so happens she has more heat than the boy, and I am perfectly fine with that. She has my respect when it comes to this culture as not only her boyfriend, but also a fellow sneaker aficionado. Fellas, if you are in the same boat as me, embrace it.
Joe Sherman is a contributor to Complex and he once tried to fit into a size 7. You can follow him on Twitter here.