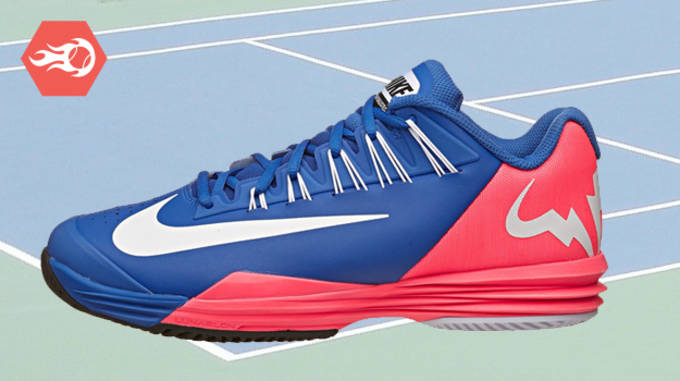 The US Open has returned, but you don't have to be a tennis pro to take over the courts. With the right pair of shoes, you'll have the confidence, speed, and quickness needed to make your mark. The main things to look for in tennis shoes are cushioning, durability, and lateral stability.
No matter the surface, it's important to have cushioning that will not only absorb shock as you land, but prepare you for the next maneuver with efficient energy return. Shoes that lack proper cushioning can leave you feeling sluggish on the court and lead to injuries, so don't skimp on the midsoles. Any tennis player can attest to the beating that their shoes go through on the court, so durability is also an important factor. You want something that's tough and resilient in the right places, most notably the toe and medial areas. Finally, lateral stability is crucial due to the constant side-to-side movements and footwork involved in the game. The sneakers on this list not only meet these requirements, but are equipped with other performance features to help you elevate your play. Hit the court with The Best Tennis Shoes Available Today.
Riley Jones is a freelance writer from Charlottesville, VA and a contributor to Sneaker Report. With an unshakable affinity for basketball and all things pop culture, he can be found on Twitter 
RELATED: The Bucket List: 10 Breathtaking Places to Play Tennis Before You Die
RELATED: What the Best Men's Tennis Players Will Wear Next Week at the U.S. Open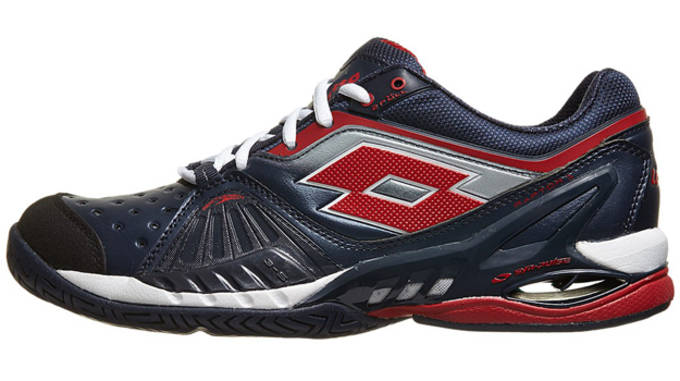 No. 10 – Lotto Raptor Ultra IV
Although the Lotto Raptor Ultra IV isn't the newest shoe on the list, it's without a doubt one of the very best. Perfect for players of all levels, the Raptor Ultra IV was released last year and roars into 2014 with a number of new styles. It's based around a microfiber and mesh upper, which is supported by durable 3-S overlays. An EVA midsole is enhanced with Syn-Pulse cushioning for serious propulsion, while the outsole uses both ReactiveArch and PuntoFlex technologies for a highly flexible feel that moves naturally with the foot. The Raptor Ultra IV is worn by champions like David Ferrer, but you don't need to be a pro to reap the benefits of this well-equipped model.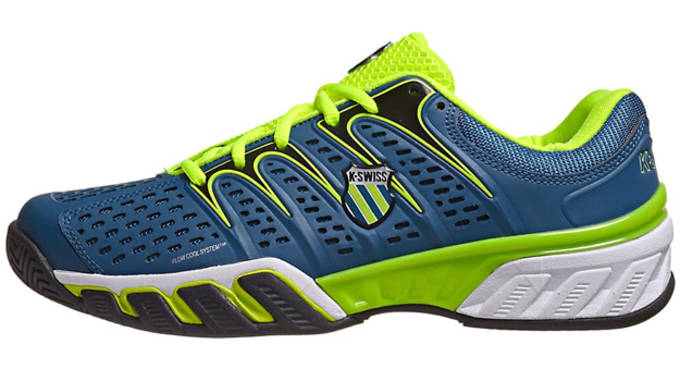 No. 9 – K-Swiss Big Shot II
The K-Swiss Big Shot is back and better than ever with the Big Shot II. The entire upper has been revamped for improved stability and durability, and it's also more breathable than the original Big Shot. The mesh-based upper is supported by the synthetic Flow Cool System overlay, which provides ample room for air to move throughout the shoe, keeping players cool and comfortable. Stability is provided by a 360 degree thermal plastic chassis, while the K-EVA midsole helps soften impact. The outsole of the Big Shot II is composed of Aosta 7.0 high density rubber which is then enhanced with Durawrap and Duraguard for resilient durability in the highest wear areas. In other words, these things are rugged and ready for the court.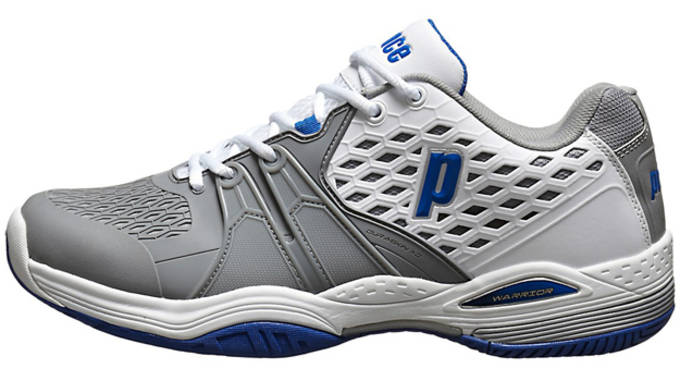 No. 8 – Prince Warrior
You'll be able to take on the competition in the Prince Warrior, which is shielded with a Duraskin XD overlay in the forefoot and synthetics throughout. After a few sessions on the court, the Prince Warrior's Shock Eraser heel cushioning and TPU Arch Bridge will have broken in comfortably and provide all the support you need to go the distance. The versatile all-court outsole is composed of PRC1000 rubber and comes with a six-month durability guarantee, so you won't have to hold back in these.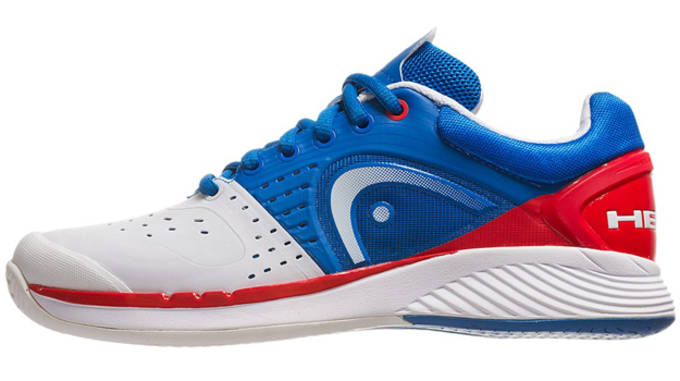 No. 7 – Head Sprint Pro
Pair your Head racquet with the Sprint Pro, a speedy yet well-equipped all-court option. At first glance, it might appear that the Head Sprint Pro's upper is split into two sections, but it's actually a one-piece seamless design. The mesh and synthetic based upper has been strengthened with Speed Skin TPU layers for protection, and a heel cup keeps you locked in place during quick movements. Meanwhile, Head Trinergy cushioning is used in the midsole setup, while the medial side is specially shaped to provide lateral support.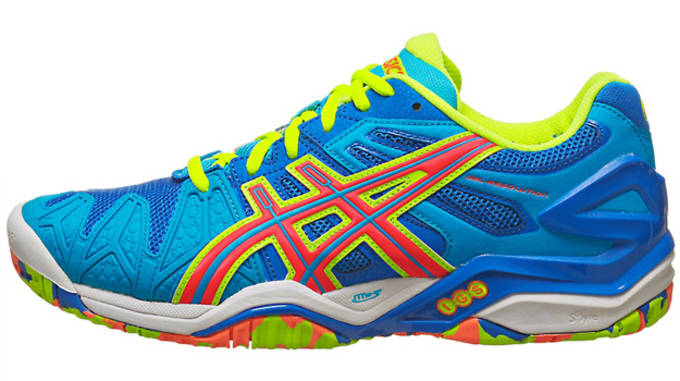 No. 6 – Asics Gel Resolution 5
Can't stop, won't stop. The Asics Gel Resolution continues to impress with its fifth edition, which features a redesigned upper and the addition of the Trusstic System for improved stability and efficiency on the court. The upper's Flexion Fit support wraps around a breathable mesh base, and will keep you locked down and protected in the areas you need it most. Down low, Asics High Abrasion Rubber is paired with a PGuard Toe Protector for long-lasting durability. As an added bonus, the Gel Resolution 5 is available in a handful of colorways that are sure to make a statement.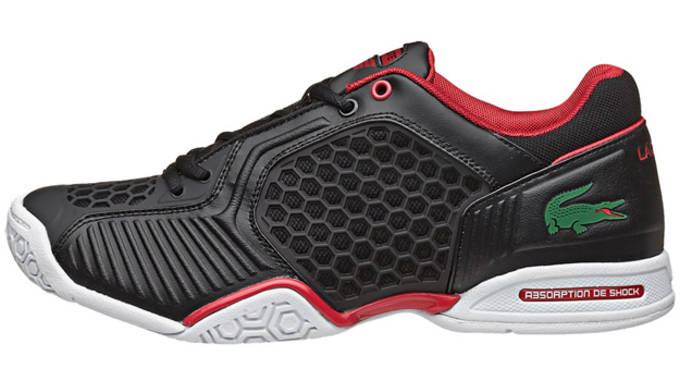 No. 5 – Lacoste Repel
Take your swag to the courts with the Lacoste Repel, which is just as high performing as it is stylish. The Lacoste Repel is suited for use on all surfaces and is built with a synthetic leather/mesh construction that is supported by TPU cages on the toe and medial areas. The upper is capped off with Lacoste's iconic croc logo at the heel and an added layer of protection at the toe. Memory Foam inserts are matched with an Inner Heel Gel pack, which will keep you cushioned on the toughest of surfaces, and lateral stability is provided by a TPU shank at the midfoot.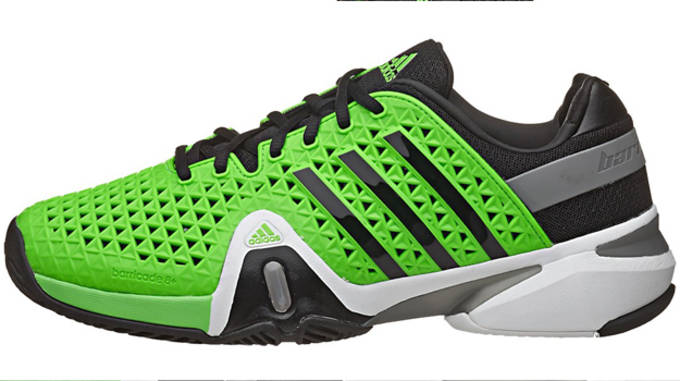 No. 4 – adidas adiPower Barricade 8+
adidas has a handful of excellent tennis options, and they've even dug into the vaults to release the oft-demanded Barricade 5, but we're sticking with the latest and greatest for this pick. Taking inspiration from 2014 French Open winner Andy Murray, the Barricade 8+ is champion approved. It's built around a Adituff upper, which offers prime breathability and also protects the toe from abrasion. The cushioning setup mixes Adiprene+ in the forefoot and standard Adiprene in the heel for a balanced approach, while Stability Claws are used to help support speedy movements and transitions. Like all Barricade products, the Adiwear 6 outsole of the Barricade 8+ is backed by a 6-month guarantee.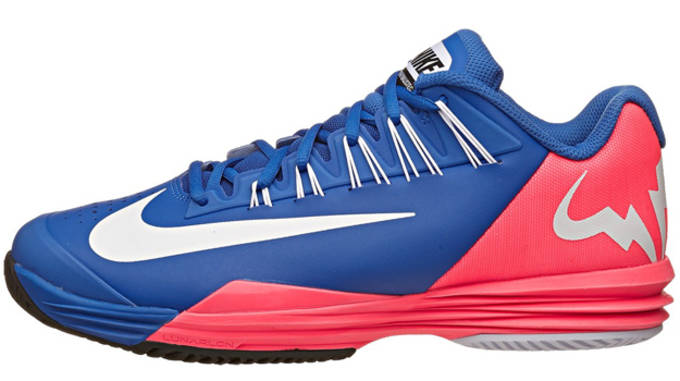 No. 3 – Nike Lunar Ballistec
From Air Max to Lunar. Rafa's latest may very well be his best yet, thanks to its ample Lunarlon cushioning and strong Flywire overlays. The upper of the Nike Lunar Ballistec is composed of synthetic and breathable mesh, with the Flywire cables that reach from the arch to the midfoot for a snug fit with plenty of stability. The Swoosh's time tested DragOn tech is used in high wear areas for abrasion resistance, and the XDR is touch enough to withstand the rigors of heavy play. Take a page out of Nadal's arsenal and try these out.
$165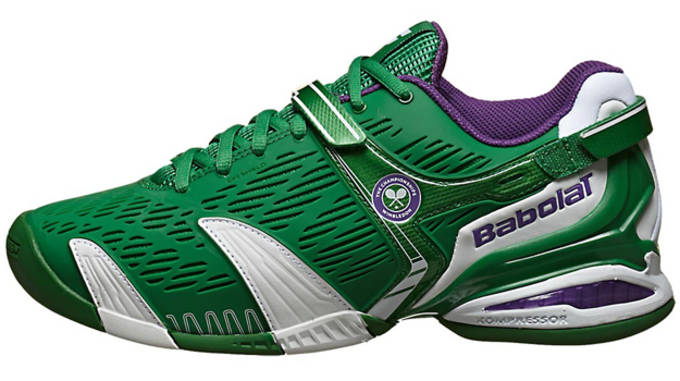 No. 2 - Babolat Propulse 4
These Wimbledon-approved kicks from Babolat are sure to excel in any scenario, whether you're in a Grand Slam tournament or a high school showdown. As the name suggests, this model is all about propulsion, which has been improved since the Propulse 3 with the addition of super responsive Side 2 Side technology. For added cushioning, the heel has a Kompressor System unit to protect the main point of impact. For players who need a little extra lockdown, the Propulse 4's FootBelt straps are sure to keep you secure. Finally, a Michelin OCS2 rubber outsole adds high durability and traction suitable for all surfaces.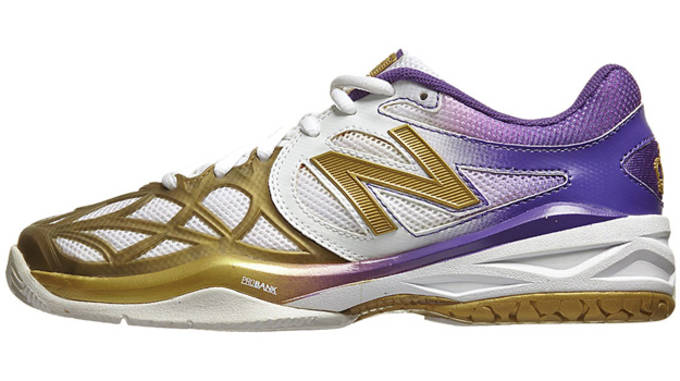 No. 1 - New Balance 996
Milos Raonic is currently in the midst of the best year of his pro career, and it's got us asking the age old question, is it the shoes? One thing's for sure, he's been on a tear ever since he started rocking the MC 996, and this year he reached a Grand Slam semi for the first time at Wimbledon and earned a career-best World No. 6 ranking. The 996 is mesh-based and is wrapped with an NDure cage which adds support and durable toe protection to the breathable makeup. Elsewhere, the midsole uses a balance of ProBank for stability and RevLite for cushion, while Ndurance rubber ensures they'll hold their tread.