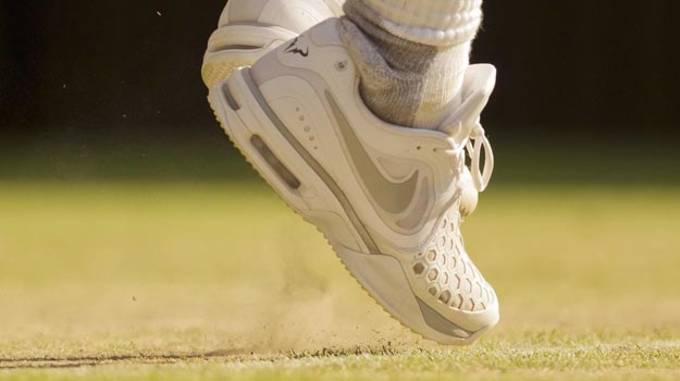 Wimbledon has come to a thrilling close, with Novak Djokovic mustering up enough talent and resilience to beat Roger Federer in a dramatic final. The match also featured a clash of brands, as Federer sported the Nike Zoom Vapor 9.5, and Djokovic countered with the adidas barricade 8.
Now that the tournament is over, take a look back at all the sneakers that were spotted on the grass at Wimbledon.
RELATED: Winners or Losers? Here's a Gallery of Tennis Pros Crying on the Court
RELATED: What Is the Difference Between Clay, Grass, and Hard Court Tennis Shoes?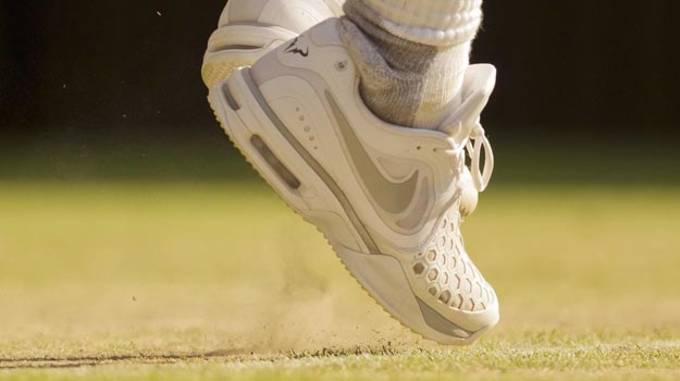 Nike Lunar Courtballistec 4.3
Worn by: Rafael Nadal, John Isner
Rafael Nadal made headlines for all the wrong reasons at Wimbledon, losing in the round of 16 to 19-year-old Australian Nick Kyrgios that is currently ranked 144th in the world. Everything about Nadal was unusual in this tournament, from his play to his footwear decisions. Instead of donning the newest model of the sneaker, the Lunar Courtballistec 5.3 (which Nike wanted him to wear), he stuck with the 4.3 model he was comfortable with.
adidas Barricade 8
Worn by: Novak Djokovic, Andy Murray, Ernests Gulbis, Kei Nishikori
It seems like we can't talk about tennis without mentioning the ever-popular adidas Barricade 8. In an epic five-set match, Novak Djokovic bested Roger Federer to win Wimbledon. During the final match Djokovic was battling inner pressure in addition to his opponent-- his sneakers needed to hold up. The stability claws on the Barricade 8 helped Djokovic keep his footing as he stretched and slid into splits to return some tough shots.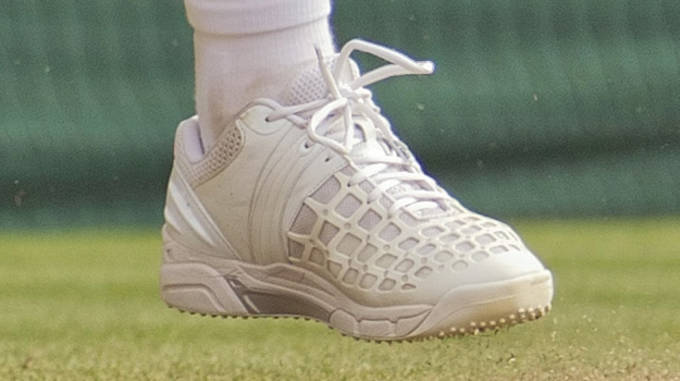 Yonex Power Cushion Pro
Worn by: Stan Wawrinka, Lleyton Hewitt
If Stan Wawrinka had not had to play three days straight, who knows what might of been? After playing for two straight days, he ran into Federer in the quarter finals. With little energy in the tank, Wawrinka was unable to hold onto an early lead, and came up short against his fellow Swiss countryman. No matter what shoes he was wearing, it would of been tough for Wawrinka to beat Federer on such little rest.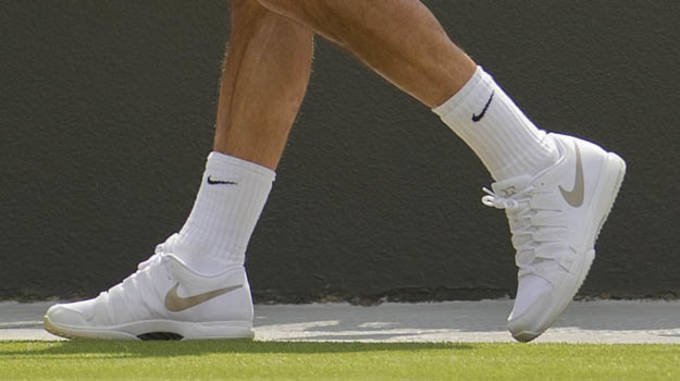 Nike Zoom Vapor 9.5
Worn by: Roger Federer, Jeremy Chardy, Tomas Berdych, Nick Kyrgios
Some of the best players at Wimbledon were wearing the Nike Zoom Vapor 9.5, with Roger Federer leading the pack. Federer lost in a classic final to Novak Djokovic, but that might not of been the most memorable match that featured the shoe. That distinction belongs to Nick Kyrgios, an Australian 19-year-old who beat world no.1 Rafael Nadal while wearing the Vapor 9.5 to shock the world and earn a spot in the quarter finals.
Lotto Raptor Ultra IV Grass
Worn by: David Ferrer, Kevin Anderson, Denis Istomin
Top players David Ferrer and Kevin Anderson were spotted in the Lotto Raptor Ultra IV Grass. Known for their no-frill, solid, and reliable tennis shoes, this was a grass-specific model of the Raptor with a dimpled tread for better traction on the Wimbledon courts. Even though no player sporting this pair got past the 3rd round, the fact that David Ferrer and Kevin Anderson wear the shoe has definitely upped its credibility.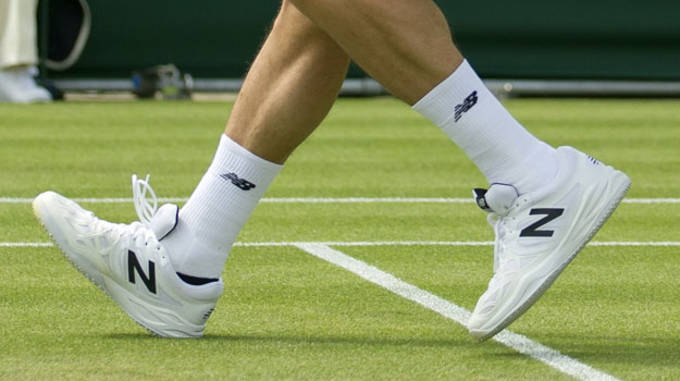 New Balance MC996
Worn by: Milos Raonic
It's a good thing the New Balance MC996 have NDURE cage technology to offer support to the foot. Not only were these shoes supporting Raonic, they supported the hope of Canadian tennis fans. Raonic made it all the way to the semi-finals and along with Eugiene Bouchard in the women's bracket, helped push Canadian tennis to previously unattainable heights.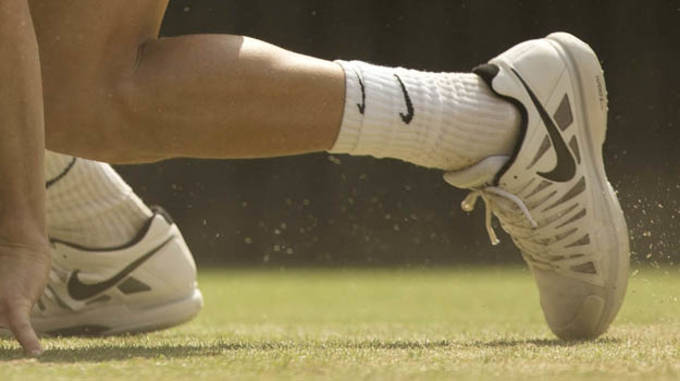 Nike Zoom Vapor 9 Tour
Worn by: Grigor Dimitrov
Grigor Dimitrov played in Nike Zoom Vapor 9 Tour. The shoe is very close to the Zoom Vapor 9.5 that Federer and Kyrgios played in, as they both feature similar materials that create a lightweight shoe. Dimitrov played well, making it to the semi-finals before losing to eventual champion Djokovic.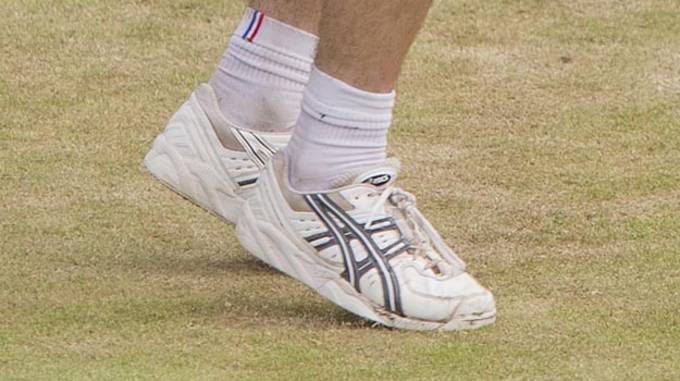 Asics GEL-Resolution 5
Worn by: Richard Gasquet, Gael Monfils, Tommy Robredo, Julien Benneteau
The newest Asics GEL-Resolution model was worn by some of the top players in the world, including Richard Gasquet and Tommy Robredo. The shoe is designed for stability above all else, and it kept Robredo upright even as he was losing in the round of 16 to Federer, who has haunted him his whole career.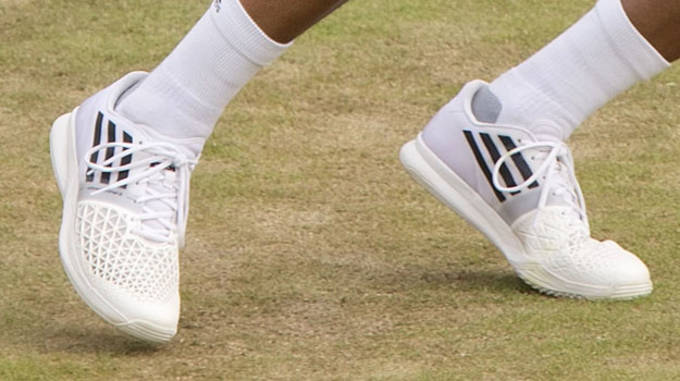 adidas adiZero CC Feather III
Worn by: Fabio Fognini, Mikhail Youzhny, Jo-Wilfred Tsonga, Alexandr Dolgopolov, Fernando Verdasco, Jerzy Janowicz, Gilles Simon, Jurgen Melzer, Jack Sock
The adidas adiZero CC Feather III was one of the most popular pairs spotted at Wimbledon. The shoe certainly lives up to its name as a lightweight performance shoe that allows players to move around without added weight. No player wearing these shoes got past the round of 16, but the sheer number of athletes who wore this model proves that it is a top quality sneaker.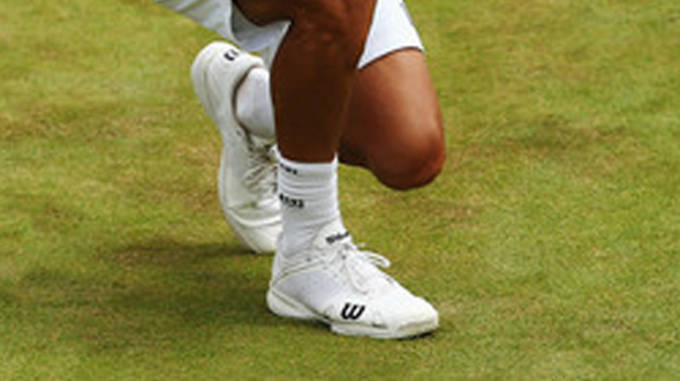 Wilson Rush Pro
Worn by: Feliciano Lopez, Philipp Kohlschreiber
Although Wilson seems to be losing the tennis sneaker arms race to Nike and adidas, they have been in the game for as long as anyone and they still make a good sneaker. The Rush Pro is known for its comfort and stability, and was last seen on the feet of Feliciano Lopez during his round of 16 loss to Stan Wawrinka.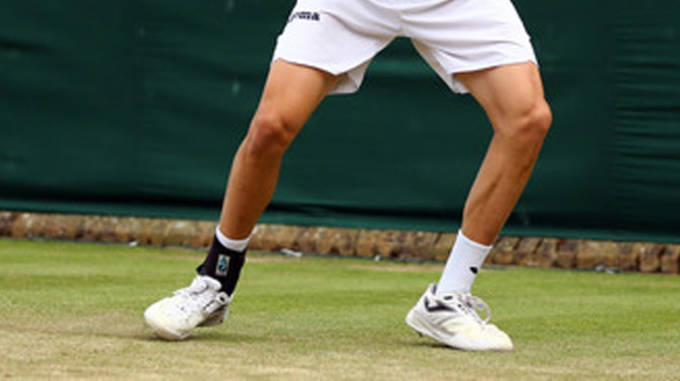 Joma Pro Roland II
Worn by: Marcel Granollers, Guillermo Garcia-Lopez
Joma is a Spanish brand, and the shoe tends to be more popular with European players such as Marcel Granollers, Guillermo Garica-Lopez, and Santiago Giraldo. The Pro Roland II is an all-around performance shoe, perfect for players that prefer a durable outsole.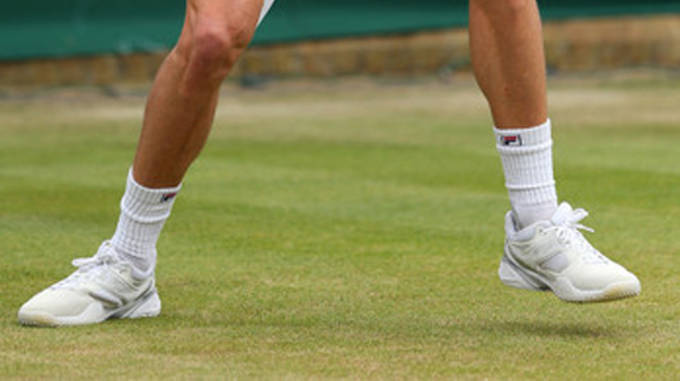 FILA Sentinel
Worn by: Andreas Seppi, Dmitry Tursunov
Andreas Seppi bowed out in the first round with a disappointing loss to Argentinian Leonardo Mayer, but we still got a glimpse of him in the FILA Sentinel. FILA is another brand that is synonymous with tennis, yet seems unable to compete with Nike and adidas in terms of sneakers. However, the Sentinel is a durable model that offers great traction and arch support.
[Tennis Warehouse]
RELATED: Winners or Losers? Here's a Gallery of Tennis Pros Crying on the Court
RELATED: What Is the Difference Between Clay, Grass, and Hard Court Tennis Shoes?