RELATED: Everything You Need to Know About the adidas RG3 Cleats
RELATED: Breaking Down RGIII's Stats According to Cleat So Far This Season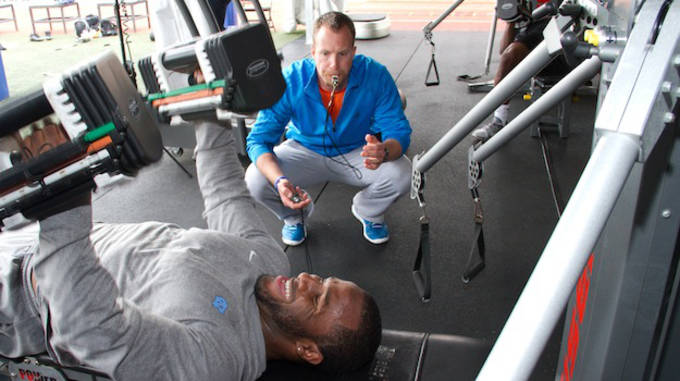 Strength
During the summer, every football program in America puts a heavy emphasis on making their legs as strong as possible. All high school players are doing back squats and loading up as much weight as possible. There is no doubt that back squatting is necessary to getting stronger too. But standing on one leg and squatting is more beneficial. Your legs work independently on a football field. Whenever you are changing direction or cutting, your legs are not moving up and down in a fixed position like a back squat.
My favorite exercise for this is the rear foot elevated split squat, which is also called the "Bulgarian" squat. You can either hold dumbbells or have a bar on your back. I personally prefer dumbbells. You have one foot elevated on a bench behind you and one foot in front of you. Then you do the squat on one foot and you are putting as much weight as possible on that foot.
There is also a lot of hip control that comes from that motion. Your knee is either going to want to cave in or go on the outside, which you are going to have to fight against. So there's a lot more stability that comes from the hips with that exercise. Hip stability is essential for knee protection. The likelihood of catastrophic knee injuries goes down because you have better hip stability.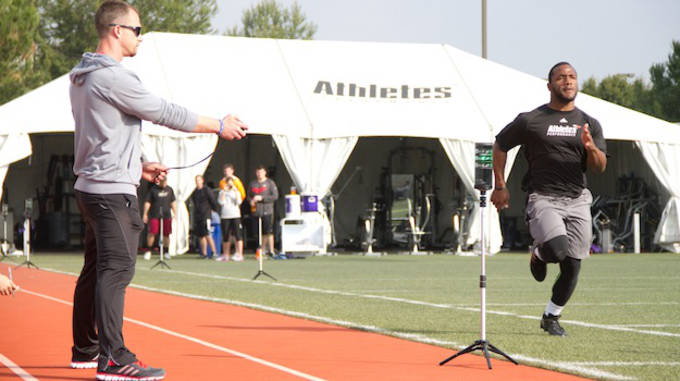 Speed
This one is simple. The best way to increase your speed is by running as fast as possible. In our offseason program, we do sprints at 10, 15, 20, and 25 yards. We are focusing on very good postural positions. As you push forward, we are trying to establish a power line. That means that as I push, I'm keeping my torso and my chest inline with my hips and inline with my back leg. We always see world-class sprinters get their body into a straight line before their foot leaves the blocks. That big push is a jump out of that position. That's how we need athletes to run 40-yard dashes for the combine. You have to load yourself into a position that is frankly tough to hold. You want your weight to be shifted forward so that it puts pressure on your arms. From there you are jumping out of the gate as fast as you can to get in that straight-line position.
When you train for speed, you want your maximum amount of capabilities when you are ready to start a rep. You want a lot of recovery time in-between each rep. That way you can put together maximum effort in every repetition that you do.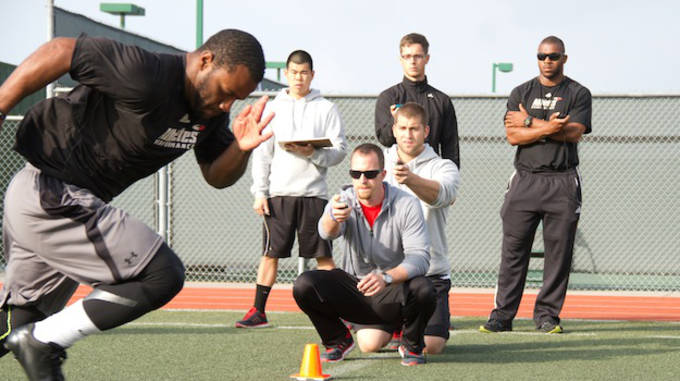 Conditioning
One thing that players always get confused about is that training for speed is not the same as conditioning. They think just because they run sprints they will be ready for the fall. That doesn't prepare you for practice or game scenarios. Your heart rate usually doesn't get in the right range. In a real game, you have to be able to recover in quicker amounts of time. There are two types of days for conditioning: linear and multi-directional. It is a jog-sprint series. You sprint the first 20 yards, then jog the next 60 yards, and then sprint the last 20 yards. When we finish, we stop at the goal line and then rest for 30 seconds. We would do five of those and that would be one set. So that would be a quarter of the work. Two minutes of rest between each quarter.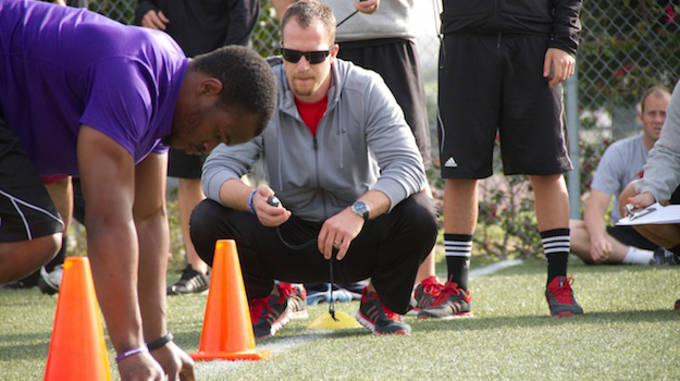 Prevention
This is a drill we would do on a multidirectional training day. This is to prepare your legs for when they burn out after the first few weeks at football practice when you have to play low and move in different directions. It is called the six-cone drill. You set up six cones in a dice formation (imagine a dice with the six dots on it). It does not even need to be cones. It could be a set of books or T-shirts. You will have two columns of three cones. Set them up in 10 yards width and five yards in length. We start on the far left cone and we have the athletes shuffle as fast as possible 10 yards one direction and then sprint full-speed forward to the next cone and then shuffle again. You end up making a big five or a letter "S." With that you slow jog back to your starting point and start again. Shuffles should be low and then you are sprinting forward so you have to transfer your force from moving laterally to moving straight forward. You spend two minutes on and use one minute of rest for five repetitions. Skill guys can bring ball with them for this drill.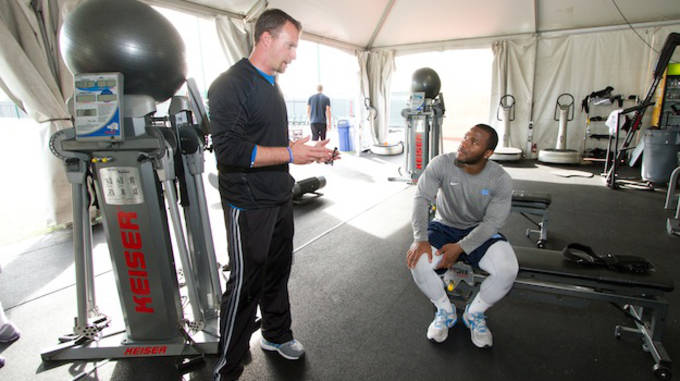 Recovery
Whenever you are training the body has to be put through quite a bit of work to get better. The true way it gets better though is when it heals. You will have designated work days and designated rest days. You also have to take into account your nutrition. Those three things together equate to a good, well-healed football player. We train four days a week and work on something different.
You don't want to be in an over-trained state. That is how injuries and sickness happen. Nutrition is a limiting factor for a lot of high school athletes. If you train hard and eat poorly, you aren't going to recover quickly, and your soreness is going to take twice as long. You won't get the returns that you would like to have.