adidas has been incredibly busy as the official sponsor of the 2014 World Cup, outfitting numerous teams with apparel and gear, as well as designing the offical Brazuka ball for the soccer spectacle. Today, adidas is right back to work as they debuted their first ever celebrity cleat collaboration from the brand, with a limited edition adizero 5-Star cleat designed by done other then Snoop Dogg, but unlike other 5-Star cleats, this is specifically designed for football.
Snoop's a longtime football fan and currently Snoop's Youth Football League helping under privledged kids achieve their goals on the gridiron, so it's no surprise adidas reached out to him to make something special. The cleats come inspired by Snoop's alter-ego Snoop Lion is done-up with gold cleat tips and detailing with an all-white toe box and roaring lion printed from the mid-foot to heel. To add further Snoop touches, the ankle collar and sockliner feature lion fur print, and a lace jewel is a lion tooth grill modeled after one of Snoop's personal chains. In case you needed further evidence on how designed them, adidas added in a Snoop Lion signature printed across the tongue and is features on the box.
The adidas adizero 5-Star cleat is one of the lightest in the brand's arsenal, weighing in at just 6.7oz, and features SPRINTWEB internal support base for maximum stability to aid during quick cuts and change of direction.
"As an avid football fan, I'm excited about my cleat collab with adidas," said Snoop Dogg. "The cleats are not only made for top performance, but specially designed by me - so get ready to be suited and booted, dipped and whipped like me."
The limited edition adizero 5-Star Snoop Lion cleat drops exclusively at Undefeated in Los Angeles on Friday, June 27.
$120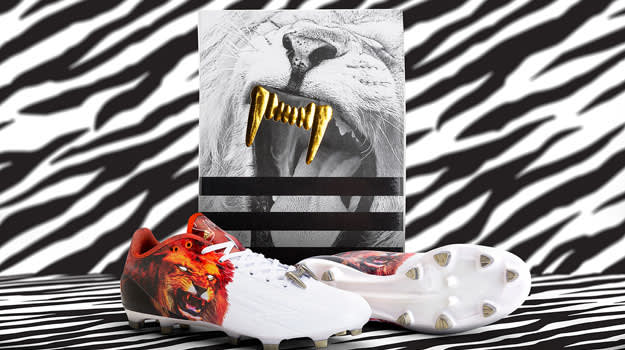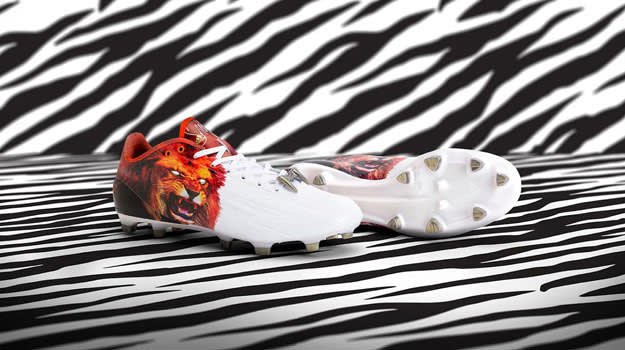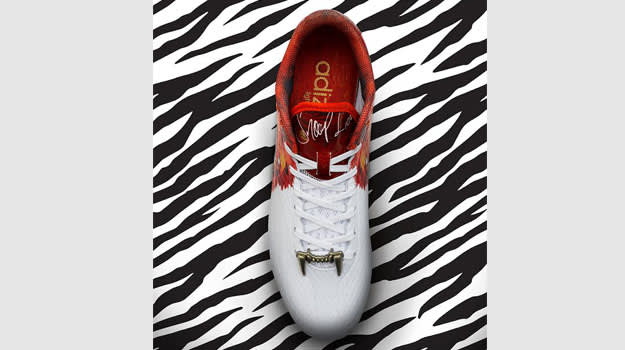 [adidas]
RELATED: Nike Football Unveils Silver Speed Collection for Super Bowl XLVIII
RELATED: Texas A&M Unleashes adidas adizero 5-Star 3.0 "Carmouflage" Cleats