The NBA Conference Finals are set to start on Sunday, but let's not forget the wild Second Round of the NBA Playoffs. It was two weeks of drama-filled basketball as four teams officially had to go home. The Thunder and Clippers both had monster comebacks during their six-game series, while LeBron James and co. managed some late game heroics in multiple games to eliminate the Brooklyn Nets. The Pacers and Spurs also made the best of their situations to advance to the Conference Finals. Here are the Shoes Worn During the Top 10 Plays of the NBA Second Round.
Rafael Canton is a freelance writer from Queens, NY and contributor to Sneaker Report. Anytime there is a conversation about the NBA, music, or nutella, he can be found in the thick of the discussion. He can be found on Twitter @RafelitoC7.
RELATED: This Week on Instagram: NBA Postseason Prep
RELATED: The Shoes That Won Last Night: NBA Playoffs Tip Off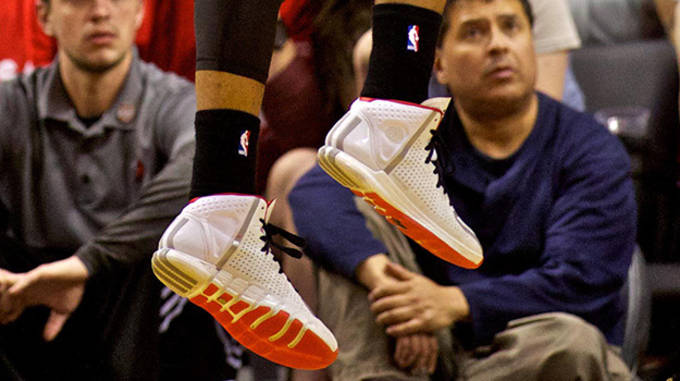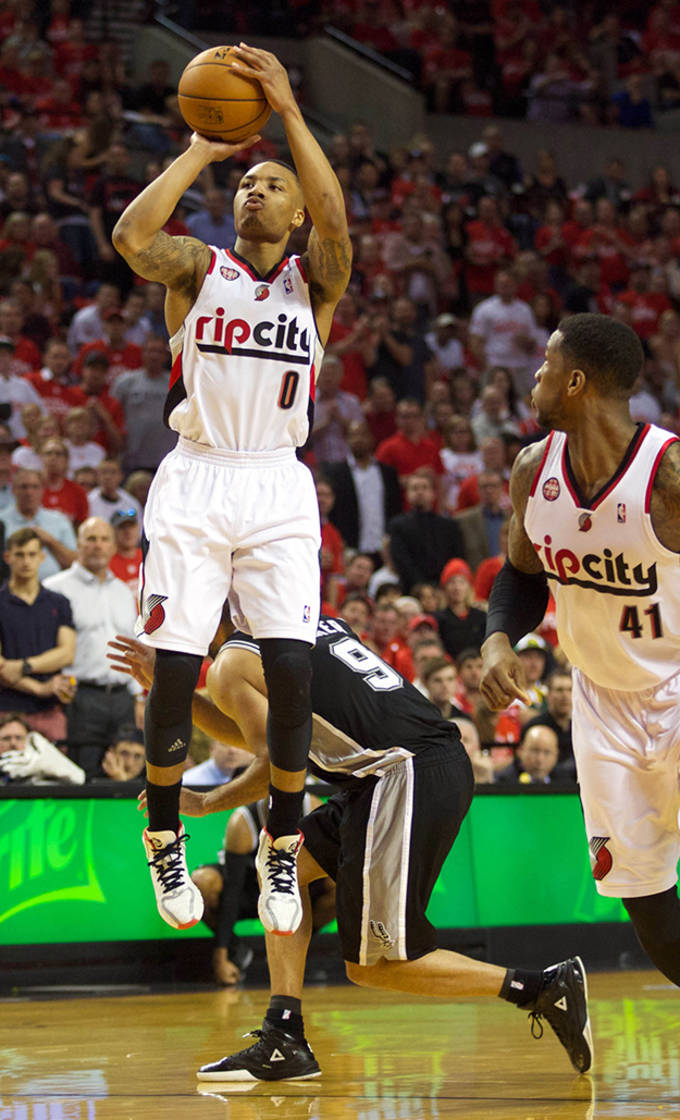 No. 10 - Damian Lillard Blazes a Path to the Rim
Date: 5/12/2014
Game: Spurs @ Trail Blazers, Game 4
Player: Damian Lillard
Shoes worn: mi adidas D Rose 4
It wasn't a pleasant second round experience for the Portland Trail Blazers. The Blazers were manhandled by the San Antonio Spurs who jumped out to a 3-0 lead. Damian Lillard and his Blazers squad prevented a sweep with a gritty Game 4 effort. Lillard finished with 25 points including this nasty stuff on three Spurs in the second quarter.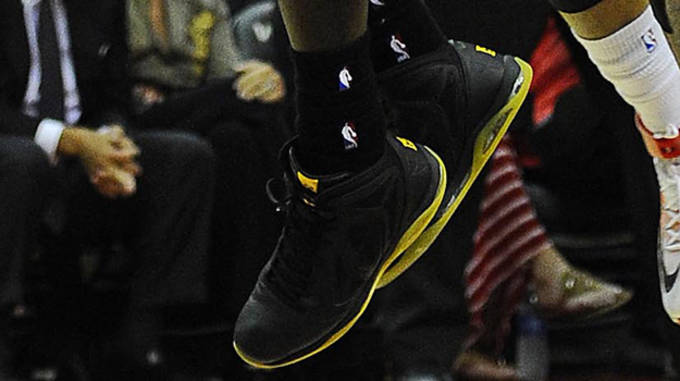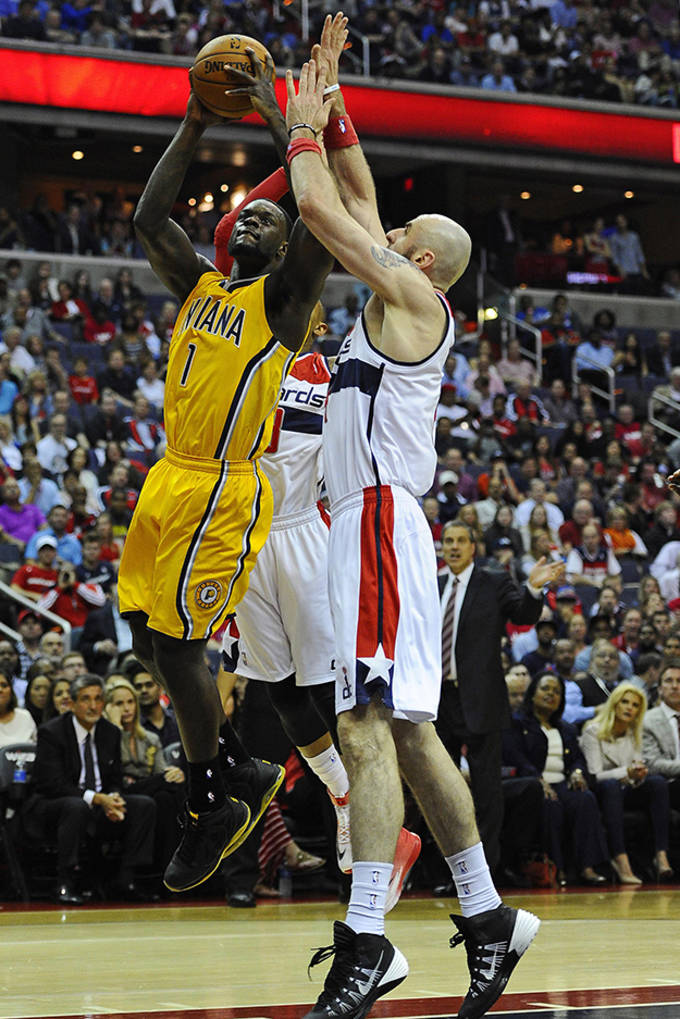 No. 9 - The Whirling Dervish
Date: 5/9/2014
Game: Pacers @ Wizards, Game 3
Player: Lance Stephenson
Shoes worn: AND1 Entourage 2.0 PE
Lance Stephenson is going to have his share of terrible plays, but he can really get the Pacers offense going with his fastbreak scores. In Indiana's 85-63 defeat of Washington Stephenson had a few key plays including this wild three-point play finish. Stephenson seemed to get the Pacers going at the right time and they will need him down the line in their Eastern Conference battle with Miami.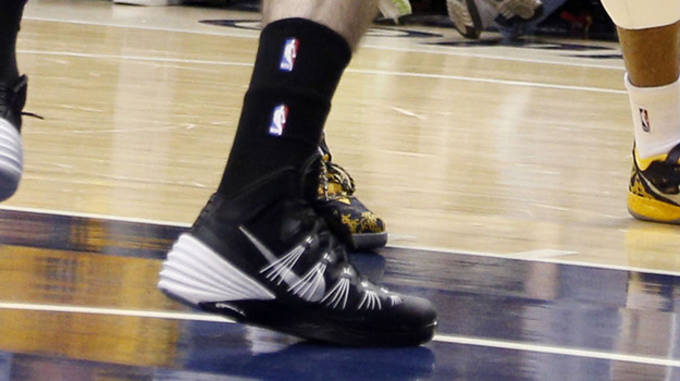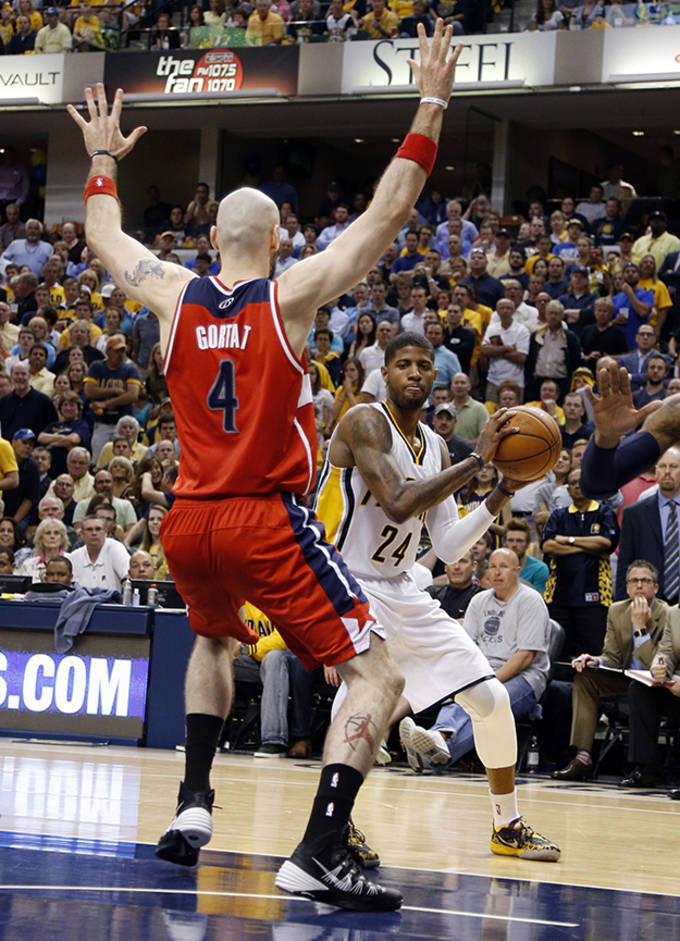 No. 8 - Bringing Down the Polish Hammer
Date: 5/7/2014
Game: Wizards @ Pacers, Game 2
Player: Marcin Gortat
Shoes worn: Nike Hyperdunk 2013
Ian Mahinmi of the Indiana Pacers probably won't be contesting many more dunks after Washington Wizards center Marcin Gortat dropped the hammer on him in Game 2 of the Pacers-Wizards series. Gortat had a sneaky good series against the Pacers. He finished with averages of 14.8 PPG and 10.1 RPG in the six game series and he's sure to make bank in free agency this offseason.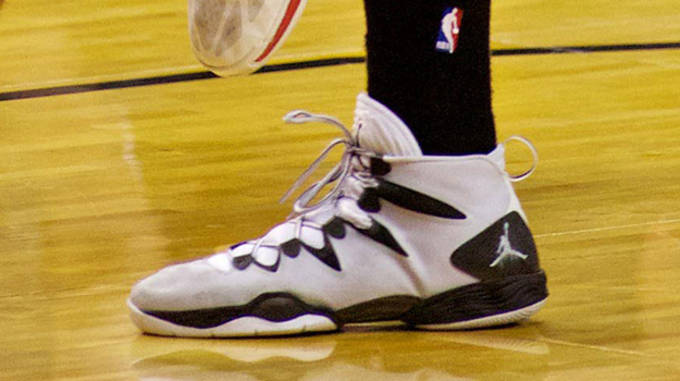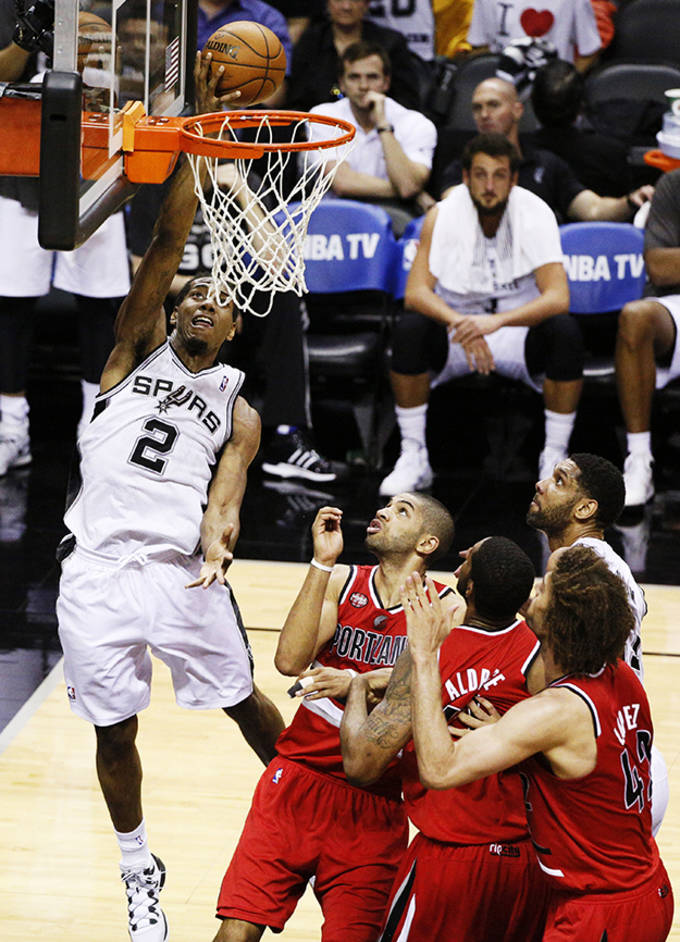 No. 7 - Kawhi So Serious?
Date: 5/14/2014
Game: Trail Blazers @ Spurs, Game 5
Player: Kawhi Leonard
Shoes worn: Jordan XX8 SE "Pure Platinum"
The future of the Washington Wizards is looking so bright and Kawhi Leonard is at the center of San Antonio's success. Leonard is great on both ends and he terrorized Portland throughout San Antonio's 4-1 series win. The third year forward averaged 17.0 PPG, 7.6 RPG, and 2.8 SPG in a dominant stretch that raised eyebrows around the league. Jordan Brand definitely picked a winner when they snapped up Leonard earlier this season.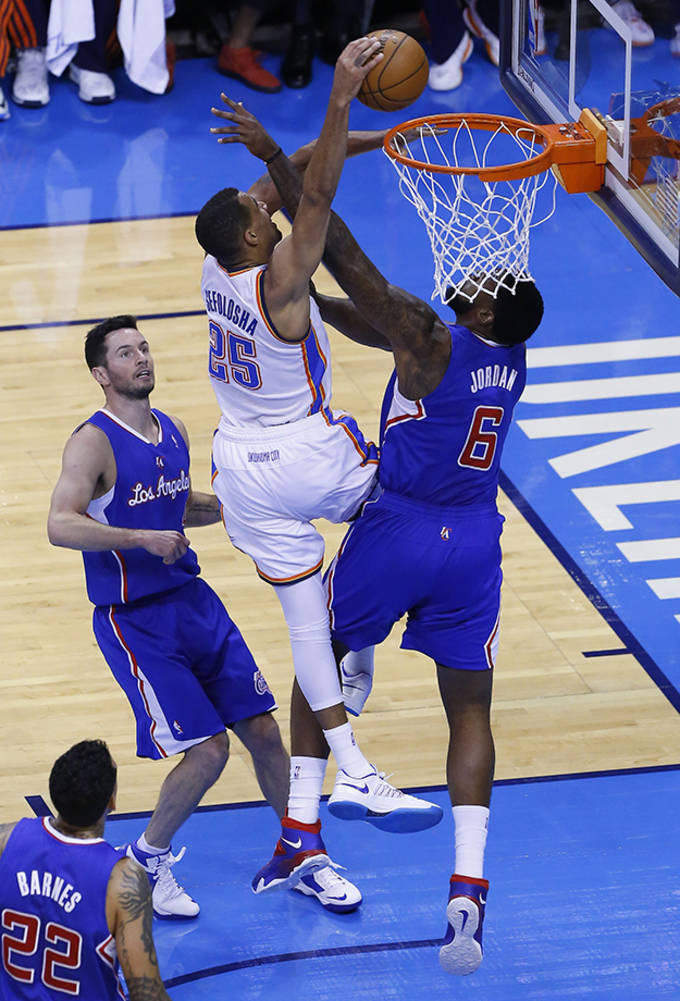 No. 6 - Bringing the Thunder to the Clippers
Date: 5/13/2014
Game: Clippers @ Thunder, Game 5
Player: Thabo Sefolosha
Shoes worn: Nike Hyperdunk 2012 Low PE
One of the more unexpected plays out of the entire second round was Thabo Sefolosha's posterization of DeAndre Jordan. Sefolosha managed a thunderous dunk that had the OKC fans excited early on in what would turn out to be a big 105-104 win by OKC in Game 5.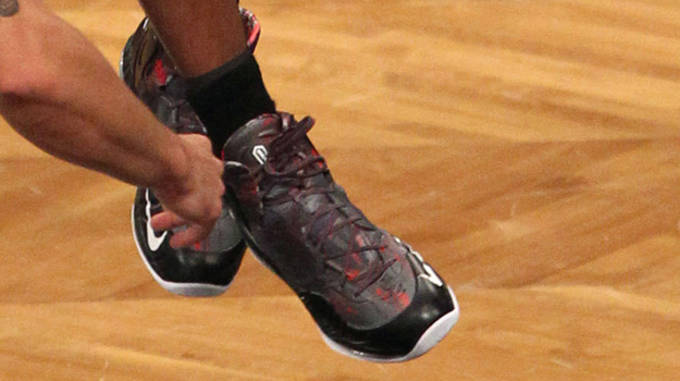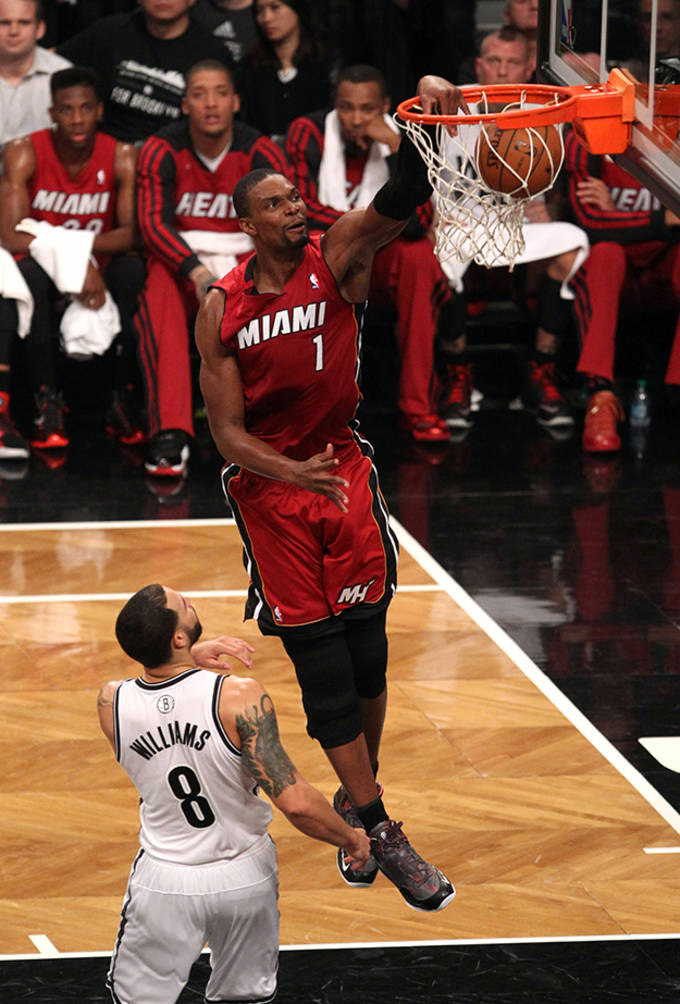 No. 5 - No Sleep In Brooklyn
Date: 5/12/2014
Game: Heat @ Nets, Game 4
Player: Chris Bosh
Shoes worn: Nike Air Max Hyperposite PE
Sometimes, Chris Bosh just doesn't get enough attention. LeBron James and Dwyane Wade are obviously important, but Bosh is really what makes this team firing on all cylinders. His ability to stretch out to the three-point line has definitely helped the Heat as evidenced by this key three that gave Miami a 3-1 lead against Brooklyn. Nets fans are still reeling from this shot.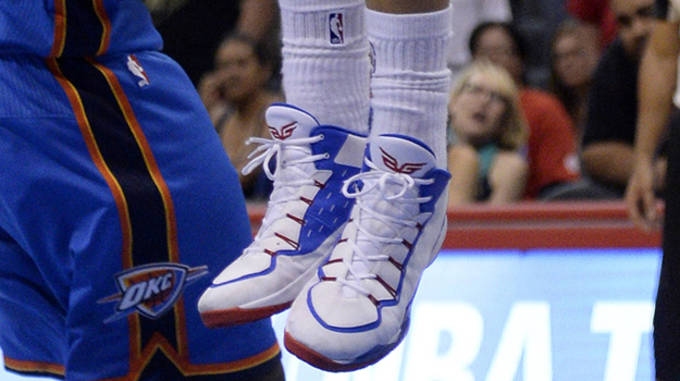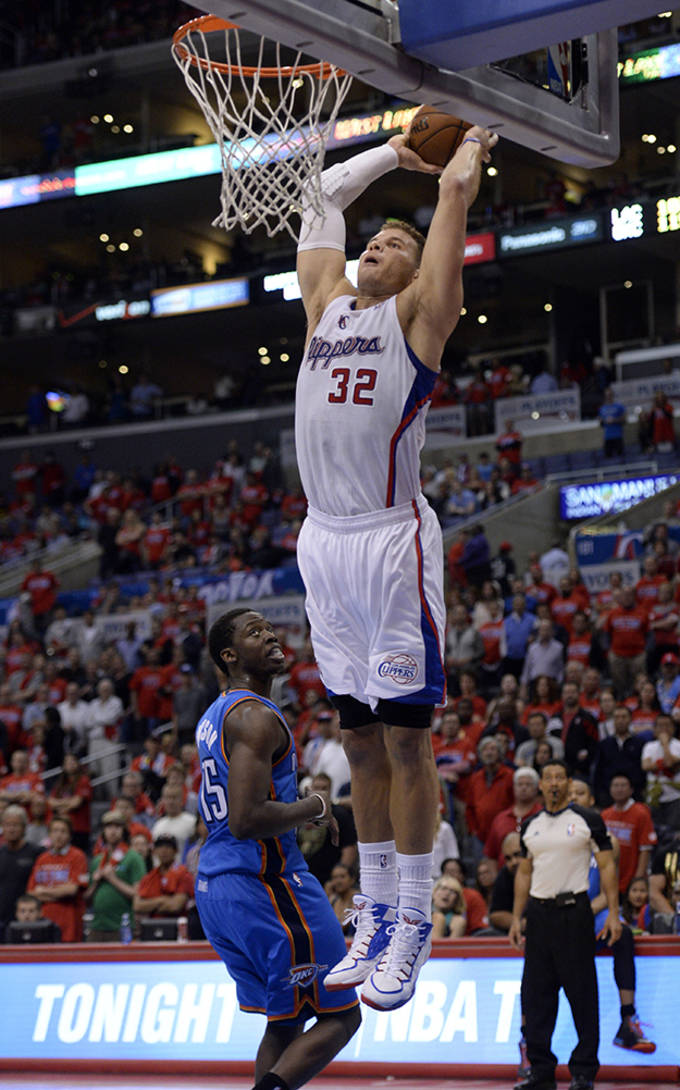 No. 4 - Do the Blake Face
Date: 5/9/2014
Game: Thunder @ Clippers, Game 3
Player: Blake Griffin
Shoes worn: Jordan Super.Fly 2 PO PE
If there's anyone who is going to have a say in best Playoff dunks, it's going to be Blake Griffin. The Clippers All-Star struggled to get off many exciting dunks due to the strength and size of the OKC front line, but he did manage this one in a Game 3 loss. Despite losing the series, Griffin is sure to be lighting up rims in the playoffs in the very near future.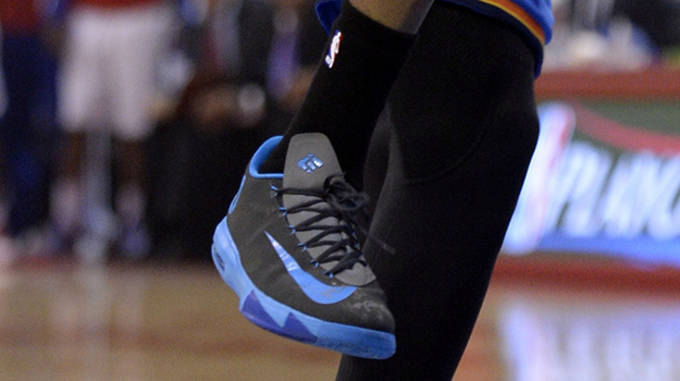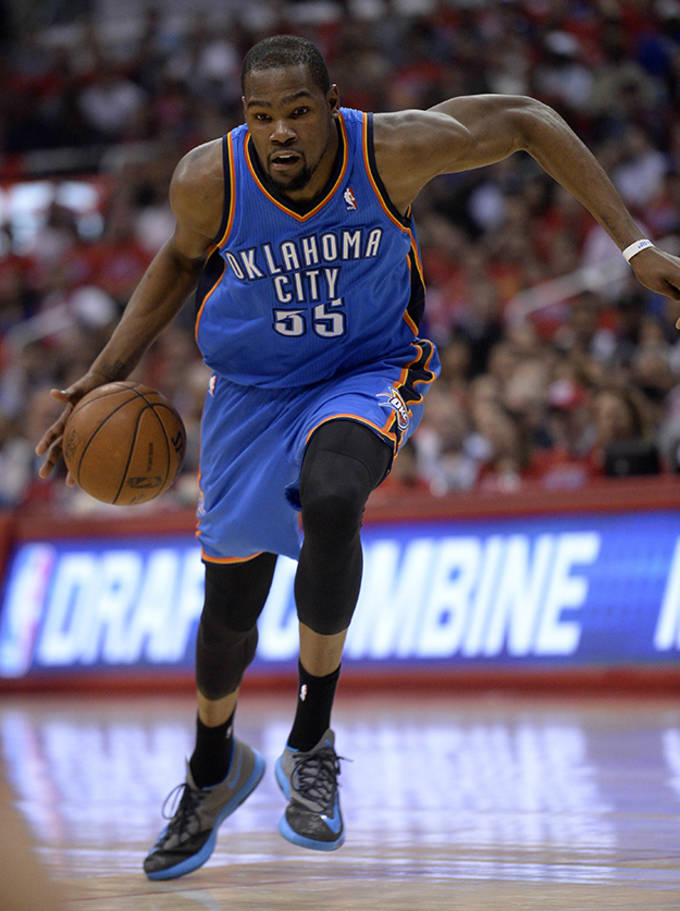 No. 3 - Killer Crossover
Date: 5/9/2014
Game: Thunder @ Clippers, Game 3
Player: Kevin Durant
Shoes worn: Nike Zoom KD VI PE
The past two weeks have been a special stretch for Kevin Durant. He accepted his MVP trophy and he managed to pull OKC out of an early 1-0 deficit to win their second round series with the Clippers 4-2. Durant was fooling defenders left and right throughout the series. he averaged 31.5 PPG in six games proving exactly why he's MVP of the NBA this season.
[CJ Zero]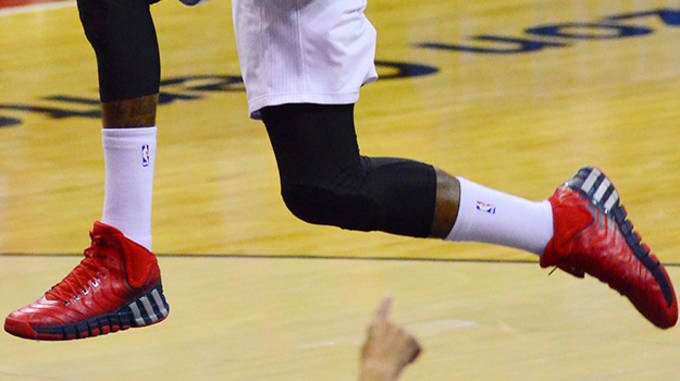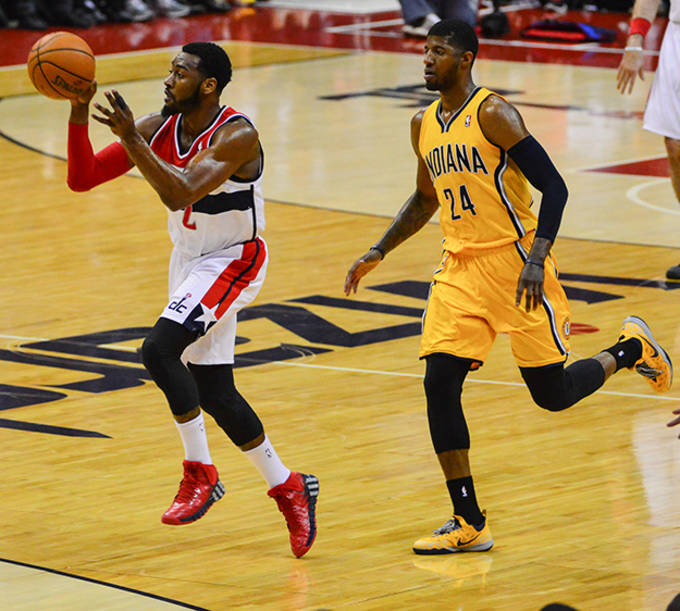 No. 2 - Behind the Back Wizardry
Date: 5/11/2014
Game: Pacers @ Wizards, Game 4
Player: John Wall
Shoes worn: adidas Crazyquick 2 PE
The Washington Wizards had a coming out party in the 2014 NBA Playoffs. After a surprising defeat of the Chicago Bulls in the First Round, the Wizards took the number one seeded Indiana Pacers to six games in a very physical series. John Wall struggled for parts of the series, but he did show some promise with plays like this. It should be exciting to see Wall make a return to postseason play next season with a signature shoe in tow.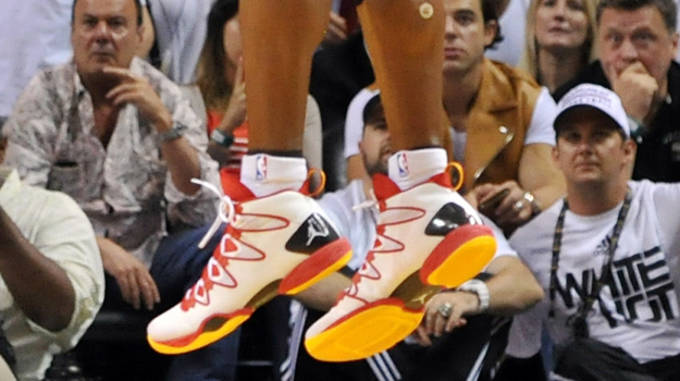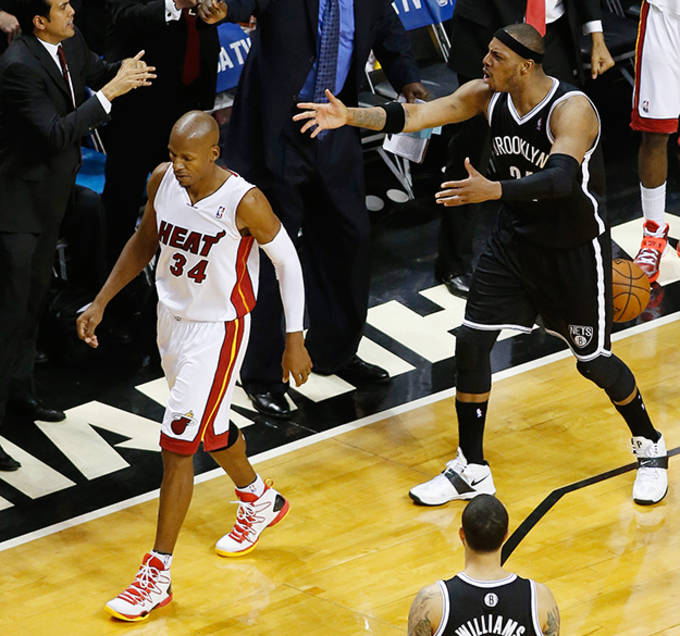 No. 1 - Jesus Shuttlesworth Steps Up
Date: 5/14/2014
Game: Nets @ Heat, Game 5
Player: Ray Allen
Shoes worn: Jordan XX8 SE PE
The Miami Heat-Brooklyn nets series simply came down to fourth quarter execution. Miami routinely made the right play, while the Nets wilted down the stretch. Miami closed out the five-game series with a dagger from Ray Allen late in the game that gave Miami a two-point lead after trailing for the majority of the game. Allen was made for moments like this and has continued to give the Heat the perfect floor spacer for their multi-faceted offensive attack.
Rafael Canton is a freelance writer from Queens, NY and contributor to Sneaker Report. Anytime there is a conversation about the NBA, music, or nutella, he can be found in the thick of the discussion. He can be found on Twitter @RafelitoC7.
RELATED: This Week on Instagram: NBA Postseason Prep
RELATED: The Shoes That Won Last Night: NBA Playoffs Tip Off