Full Name: Ivan Rakitić
Club: Sevilla
Country: Croatia
DOB: 10 March 1988
Height: 6' 0"
When you look at the stats of players in Spain's La Liga this season, one name that pops out near the top is Ivan Rakitić. The Croation has hit double figures in both goals and assists, only one of four players in the league to do so at this point. Having lost star players in Navas and Negredo this past summer, a large void needed to be filled and Rakitić is the player who has really elevated his performances to the next level.
His move to Sevilla in 2011 came under pretty unusual circumstances. For some odd reason, Schalke 04 failed to secure a new contract with Rakitić before the January transfer market, just six months before his contract with the club was set to expire. By June, he would have been available to leave for any other club on a Bosnan transfer (or for free). As a result, Felix Magath, the then Schalke boss, was forced to sell one of his prize assets for only $4 million to Sevilla. Needless to say, Sevilla scored an absolute bargain on one of the top up-and-coming midfield players in Europe.
In terms of playing style, Rakitić is a very flexible attacking mid with the ability to sit in a more central role when needed. During this season, Unai Emery has employed him as a #10 in a 4-5-1 while also sitting him in the center of a 4-4-2. In both roles, he has been extremely steady and shown a willingness to be work on both sides of the ball.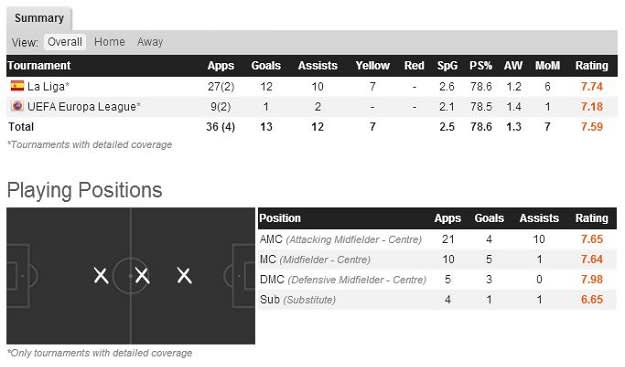 In key situations, his ability to hold his composure and make the right decisions has set him apart. Whether it is playing a through ball or knocking it long over the backline, he has continually shown an excellent eye for finding fellow players and tracking their runs. It takes a player that is in tune with his teammates to be able to create open opportunities for them. And with double digit goals to his name, it is easy to see he is also a consistent menace around the goal. From a central position in a 4-4-2, that dramatically increases his value and gives him an extra edge. To an extent, he is similar to Frank Lampard in his willingness to get into dangerous positions when the opportunity presents itself. With defenders busy tracking the front two, it creates open space just behind. A prime example of this was his goal in the 7-3 loss to Barcelona earlier this season.
Adding to all this, he is also something of a set-piece specialist and he has scored a few gems this season. Rather than drilling the ball in the fashion of Cristiano Ronaldo, Rakitić is all about finesse and finding the top corner. This is also true further out, where he has a Beckham like ability to really bend a ball into the box.
This is another player to watch for this summer in Brazil, where Rakitić is likely to team up with Luka Modric in the middle for Croatia. Their opening game with Brazil is the perfect stage for him to really prove his worth and leave a lasting impression!
Ivan Rakitić Wears adidas Predator LZ
Through his career, Rakitić has stuck with the adidas brand. In the past, he wore adiPures primarily but since his move to Sevilla, he has been wearing the Predator LZ. Since adidas modified the boot and added the five different "Lethal Zones" located on the boot, they have become something of a perfect accomplice to central players. Everything about them matches the requirements needed to run the game from the middle of the park.
Each of the five Lethal Zones on the boot has been strategically positioned and serves a different role. This gives the range more of a hybrid feel, fitting most playing styles. Rakitić has taken advantage of them in his attacking game, whether that is playing a timed long ball or striking a set-piece. He also has a very obvious level of composure on the ball, with the entire instep region providing the perfect zone for soaking in the impact of long passes.
There are other boots that would also suit his game, like the soon to be retired Nike CTR360 Maestri. But given his comfort with the brand, there would be no need for Rakitic to switch from something that quite clearly matches his style.