Nike and Ken Griffey Jr. had a longtime partnership that featured a host of signature cleats over the years, all given the Swingman name, given for Griffey's sweet swing. It's been a few years since any new Swingman models have surfaced as Griffey retired from baseball in 2010 after 22 incredible seasons. Today, we get a look at a potential new addition to the Swingman line, and surprise, surprise, the Oregon Ducks get their hands on them first.
The Oregon Ducks baseball team leaked a picture through the school's Instagram showcasing a special edition of the Nike Swingman 360 Pregame Turf. Featuring the traditional Oregon green and yellow, the turf shoes feature the same upper as the previously released Nike Swingman MVP 2, but includes special touches just for the Ducks including covert wings graphic, and the university's "O" logo on the back.
Just another addition to the laundry list of Nike exclusives for the Ducks, who are scheduled to hit the field with these in the near future. No word on when the Nike Swingman 360 Pregame Turf will hit shelves, but with baseball season in full effect, chances are it'll be sooner than later.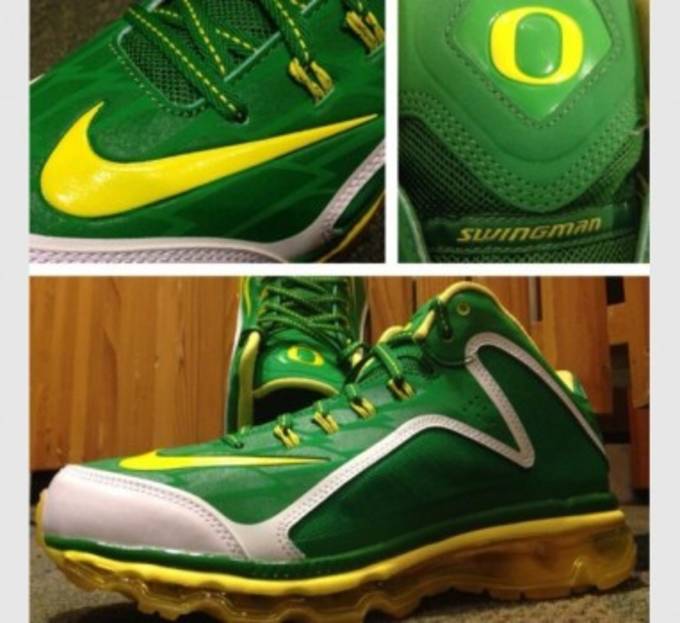 RELATED: Oregon Ducks Debut Breast Cancer Awareness Unis
RELATED: Tinker Hatfield Details the Concepts Behind Air Jordan Oregon PEs