Winning the Boston Marathon and completing over 40 television interviews in less that a week's time doesn't seem to phase Meb Keflezighi. The Olympic silver medalist was calm, content, and ready to talk about his most recent win when he sat down with us earlier this week. The Boston Marathon medal sits atop his jacket boasting his biggest sponsors, including Sketchers, Power Bar, ElliptiGO and others and he speaks at a consistent, disciplined clip.
It's clear that Keflezighi has a passion for all aspects of training. Read along as he talks about this daily routine with EllipitiGO, what he was thinking about during that Boston Marathon finish and what he plans to do next.
You've had quite a month.
Yes it's hard to believe it's only been a week and a half [since the Boston Marathon].
Have you had a chance to go home yet?
Definitely haven't had a chance to go home yet, I flew [to NYC] for six or seven hours, I did the first pitch of the Red Sox game, went to Kansas City, did a of couple days there, then came back for a race in Kingston and I've been here since Sunday.
So when will you find some time to rest and relax?
I haven't run yet, so… I've been doing lots of resting and recovering.
Speaking of not running, you're here with ElliptiGO today. How often do you use this tool in training vs. how much you will use during a month like this?
Well, I go back home on Sunday so I'll probably use it on Monday or Tuesday. I use it 3-4 times a week. Instead of doing a 30 minute run in the afternoon, I do my normal run (which is 10 miles) and instead of doing my second run, I'll just go on the EllipitiGO for 40 minutes.  I can go from 45 minutes to two hours becuase it's less impact on your body even though you get a good core workout, it can help you to stay healthy without taking the chance of spraining an ankle or Achillies of any tear muscles for the 30 minute run. Is it really worth it, a thirty minute run or any hour and a half to two hours on the Ellipitigo, which cardiovascularly is going to help you with the impact and also no chance of getting injured.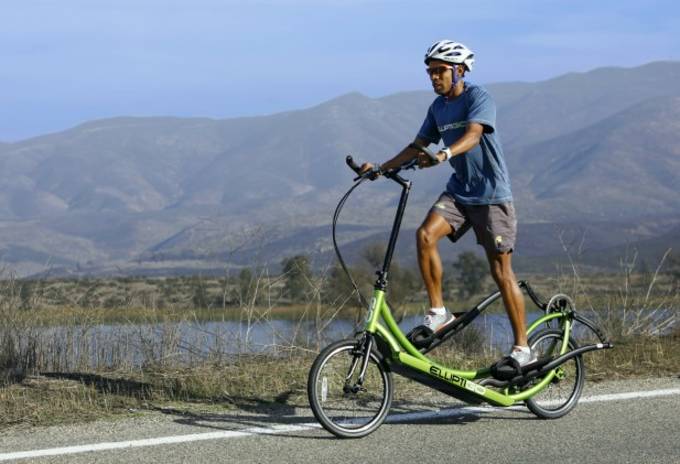 Do you wear different shoes when you're training on the ElliptiGO?
Yeah, when I'm running I wear lighter shoes but on the ElliptiGO I just wear the trainer, there's no specific shoes for that. You have a platform for it. I feel like I'm skiing.
It looks like that too.
I've never skied in my life but I feel like one. I always wanted to too, but I found this really pleasant because you don't have to put on a lot of gear, just a helmet and maybe a small vest. It's pretty easy, the only challenge if any is getting on it and finding your balance, but once you have the gear have a hold on the brakes you can shift it while you're standing or change direction. You can make it as easy as possible or you make it a harder workout, it's up to you.*
"But that's the great part about the ElliptiGO, you're outdoors and getting those endorphins in versus the gym stuff where you want to throw in the towel after thirty minutes."
Do you have a tip for beginners?
I think it's like a marathon where people are scared and fearful, but it's like riding a bike. It's just about balance and getting on it. It might be a little shaky at first but then you do it a couple times and one my very first ride I was able to go 10 miles. Give it a shot and you'll get it.
It's probally nice for you mentally to jump on something different every once in a while.
I feel taller! I've never been that tall before. I call it the skateboard for adults because you just have a good time and being outdoors.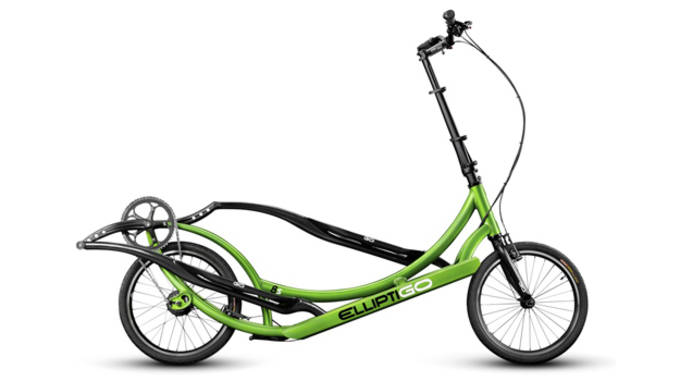 How far can you get in your 45 minute or 2 hour workouts?
In two hours you can get up to 26 to 27 miles. It depends on how hard you want to push and how many miles you want to get in, but sometimes I just go around the neighborhood for 35-45 minutes or I go from my house to a nearby bay which is like 16-17 miles. To Pacific Beach in San Diego and back is like 23-24 miles and then I end up going 'let's do a marathon' and going longer. But that's the great part about the ElliptiGO, you're outdoors and getting those endorphins in versus the gym stuff where you want to throw in the towel after thirty minutes. With this you want to see where the next turn is and it's always better to be outdoors.
How does training on this change your route?
Usually when I'm running I don't tend to take the scenic route because when I'm running, I focus on hard or soft surfaces like in Mission Bay Park or I'll opt to do dirt-only. On the Ellipitigo it's more fun to explore and you're less afraid of getting lost whereas with running you have to worry about that. Since you don't have to worry about the impact, you're more likely to explore. I also think it definitely helps with leg definition, because of the lack of impact.
So when you're training for an event like Boston, how many workouts do you squeeze into a week?
I usually do twelve times. Some where I run in the morning for a hard workout, then the EllipitGO, then if my body is feeling super, super good I squeeze in a thirty minute run but I'd rather take the conservative way because the whole point is to try and stay healthy.
Do you listen to music when you train?
Yes, I love listening to music. I have a Sony walkman that is just two wireless waterproof earbuds. If you charge for 3 minutes you get an hour and it holds about 200 to 300 songs. I listen to a lot of hip-hop, R&B, and a lot of drums that has a beat.
Any go-to artist?
I listen to a lot of Jay Z and Alicia Keys, especially when in New York. I listen to Eminem and you know, a variety. I love music.
Can you talk a bit about what Boston meant for you? I know that when you won New York if was all about you being the first American in so many years and now this is 31 years…
And the Olympics were 28 years… I mean, I do what I can everyday to be the best that I can be.
For me, to be an elite athlete was huge. To be a state champion was huge, to be a national champion for college was huge and the NCA title was huge. If you told me I was getting out of college and be winning New York I'd be like 'oh really, you're crazy' I wouldn't have believed it. To be an Olympian I'd be like 'maybe I have a chance' but to medalist was huge. Then to be at the Boston Marathon champion on the most important day of marathon history after what happened last year... When it happens you don't really know you want it to happen, but when it doesn't happen for you, you just ask 'what can I do to change this?'.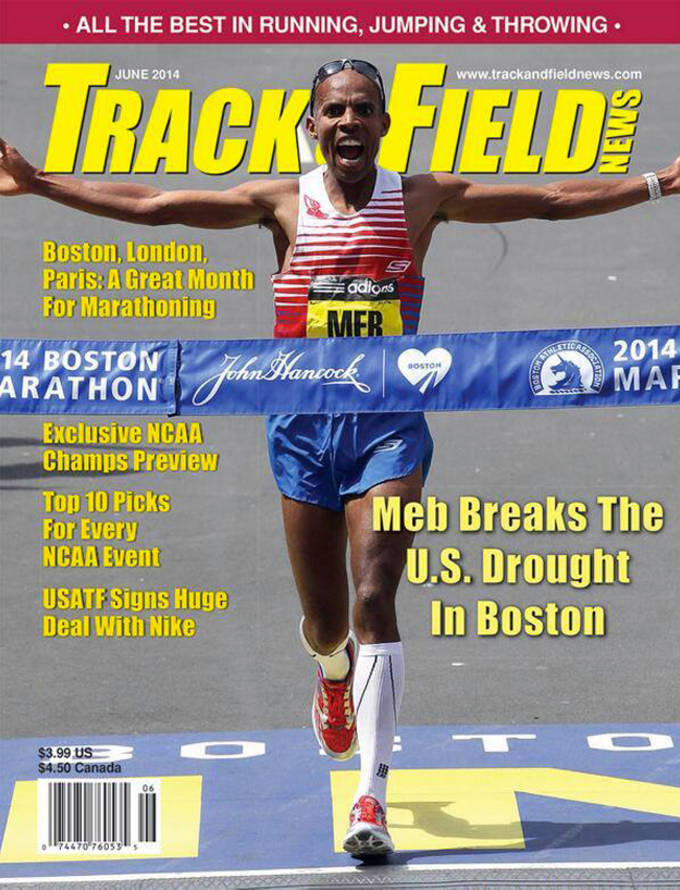 Last year at the Boston Marathon after the elite finished, I sent a text to Ryan Hall as we both were injured. It said, 'I think we can pull it off next year.' He replied something like 'we'll get after it' and he flew that day and I stayed watching the race, enjoying the moment and then the bomb went off.
I was like 'wow, wouldn't it be an awesome feeling to have an American win this race now.' I'll be honest, I didn't care if it was me or Shalane or Ryan, I just felt that's what the city deserved. I put anything and everything toward that goal and that's what 99.9% of my running career has been about fulfilling. I have three girls and sometimes people ask me if I wish we had a boy and I say no. It's sort of like Boston, maybe I'll not have a chance to win it because that was never something I wanted in my life but to make it happen with that crazy finish, it was an amazing experience. I feel honored and blessed to be able to come across and represent the United States when we needed it the most.
Well thank you, you provided such a moment for us when Shalane fell behind.
I was wondering that during the race, I was like 'how is Shalance doing' but it's not like I can ask anyone. I mean, it was crossing my mind because after she ran that amazing Rutger 15k I knew she had it in her. I wondered if it going to be both of us.
Your Track and Field cover (above) is amazing.
Yeah, well that's the feeling you get. I was huring pretty bad, at 22 miles I had a cramp at 24 miles. I felt like throwing up because I was exerting myself, that was the fastest I've ever ran for a marathon on tough course so I was like 'hold it together, hold it together' and a mile later I was at 24 mile marker and the others were coming and I was like should I let them catch up so I tried to maintain the lead and use the crowd's energy. I thought 'I've worked too hard for this and it's going to mean so much' so you're just like hold on, hold on, and I just kept fighting. That grimace... I was hurting.
So what's next for you?
Hopefully next fall here [in New York]. I feel like my career is fulfilled but why not win it again if you can? Then I'll try again for Boston and make it out the 2016 Olympics if I can (at the age of 41). If I do that, there's a chance I can be the flag bearer. I was nominated in 2004 but it ended up going to someone else, but I think if I make it there is a good chance I would get to be the flag bearer.
It would be an honor to represent my country like that, to make it to my fourth Olympics would be huge. Just to be an Olympian once is huge, three times with a medal is cool, but then fourth one is like... 'how is this happening to me?'
You have to pinch yourself. I've been blessed.
*The ElliptiGO Meb trains on has 8 speeds, which is one of three products, a 3 speed, 8 speed and a 10 speed.All of the high school,college and pro athletes that train with ElliptiGO use the 8 speed bike. It's the workhorse bike.