ASU is one of the most successful college baseball programs in the country, winning five national championships, the fourth most of any team. The Sun Devils have also produced a laundry list of MLB players including such superstars as Dustin Pedroia, Paul Lo Duca, Andre Ethier, Reggie Jackson, and Barry Bonds, to name a few. Paying homage to the tradition and heritage of the program, ASU leaked a picture of the their throwback jerseys which they will wear this weekend in their game rival USC.
Featuring a host of desert based colors including multiple shades of orange and brown, the ASU uniforms sway from their traditional maroon and gold colors. The jersey seem like a blend of the old Astros jerseys from back in the day with multiple color stripes going up the chest, with a little mix of the throwback Padres jerseys from the early Tony Gwynn days.
Let us know what you think of ASU's throwback look @SneakerReport and be sure to watch the Sun Devils bust out the uni's tomorrow night, 6:30 pm against USC.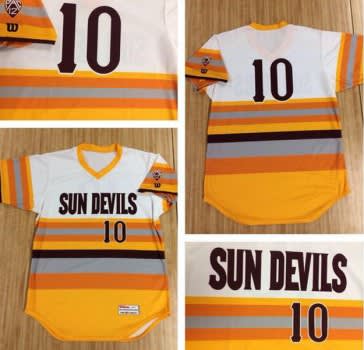 [ASU]
RELATED: The 25 Most Influential Uniforms in Baseball History
RELATED: Can't Wait For Baseball Season? Neither Can Dick's Sporting Goods