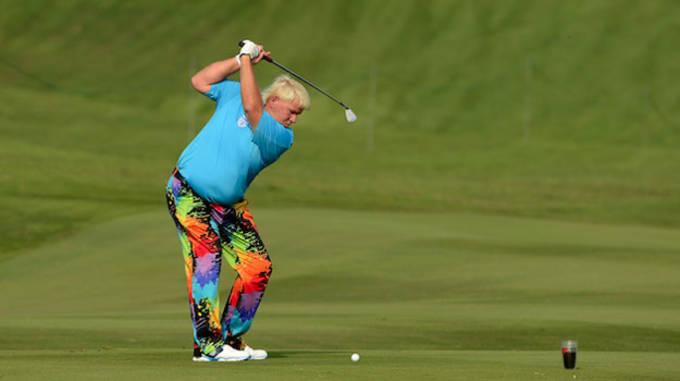 Golf is a much calculated game of risk. Take out the driver and go for the green? Or make the safe play and lay up? The risk in the game often goes well beyond play on the course as many players like to hit the links in a one of a kind outfit. Style in golf dates as far back as the game itself, back when you're great, great, great grandfather was rocking knickers with argyle socks. Ever since then, golfers have used the course as their own personal runway, showcasing some of the most ridiculous outfits the mind could conjure.
The 2014 Masters Tournament this weekend at Augusta National marks the first major event of the PGA season. There's always been a mystical allure to the Masters, as some of golf's greatest legends have made history there over the years. Due to tradition and respect, many golfers tone down their outfits while on golf's biggest stage at the Masters, but in honor of the years' first major, we compiled some of the worst looks to ever hit the course.
CLICK TO CONTINUE STORY
RELATED: Nike Golf Announces Latest Tiger Woods Signature, The TW '14
RELATED: Nike Golf Spring 2014 Collection
Danny Mitchell is a freelance writer from New York and contributor to Sneaker Report with an unwavering passion for the Knicks, sneakers, golf, and vintage 90's gear. Find him on Twitter @dmitch_23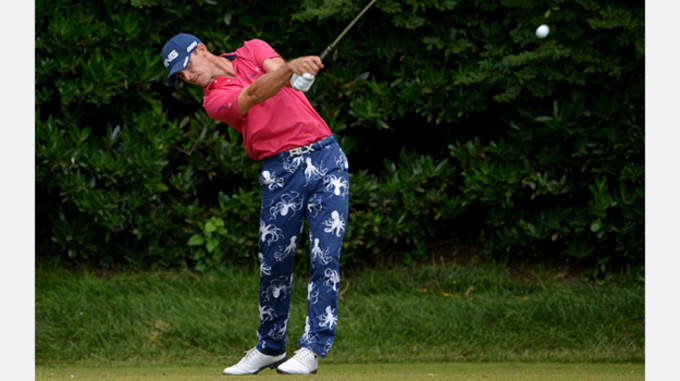 Billy Horshel
Sponsors: Ping, Titleist, Ralph Lauren, FootJoy
Horshel is a Ralph Lauren endorsed athlete, so if theres anything good that came out of these octopus pants he wore at the 2013 U.S Open it's that he probably gets the Kanye cosign.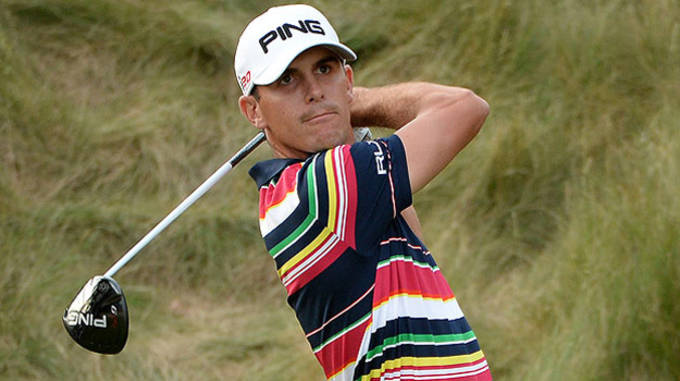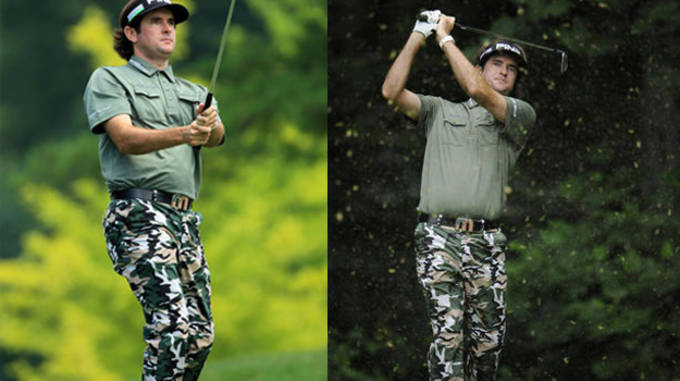 Bubba Watson
Sponsors: Ping, Titleist, Oakley, EA Sports
Bubba Watson is never scared to take risks as we saw with his miraculous shot out of the woods to secure his victory in the 2012 Masters Tournament. His risk-taking transcends his play on course as Bubba is never shy to express his style through his clothing whether it be camo pants, or suspenders. Unfortunately for Bubba, trying to keep up with trends hasn't worked out too well for him.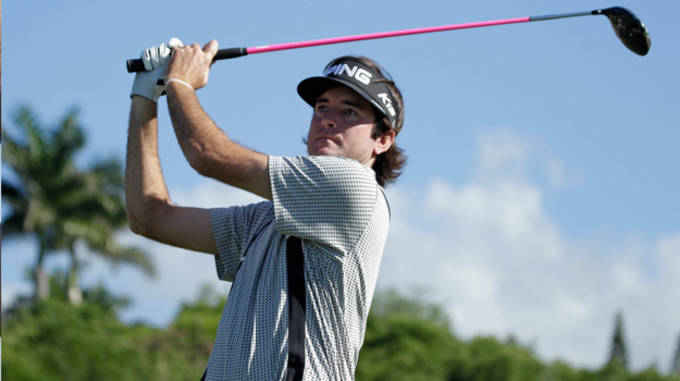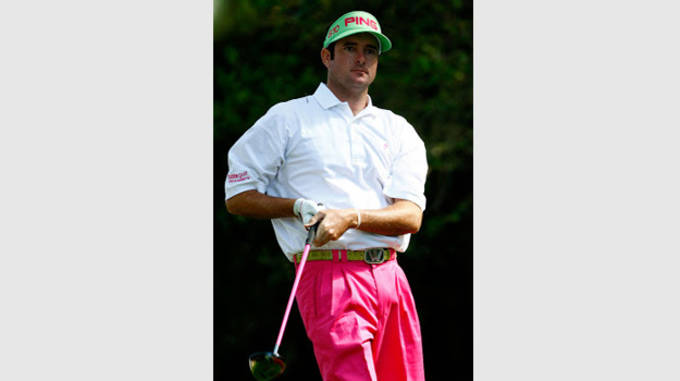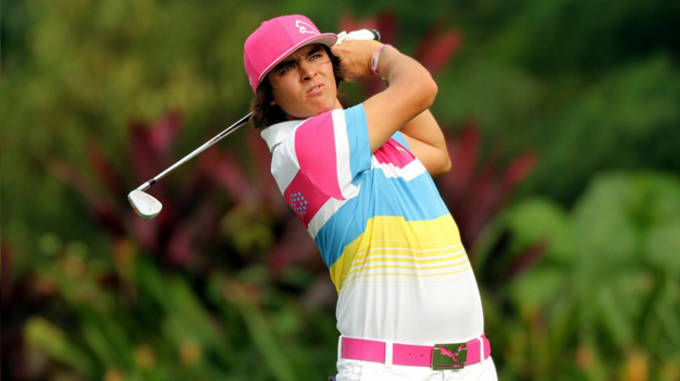 Rickie Fowler
Sponsors: Puma, Titleist, Cobra, Rolex
Known for his bright colored, eccentric outfits which often feature every color in the spectrum. We commemorate Fowler for picking his own lane, but it often distracts from his play on the course. Fowler is still searching for his first major win on the PGA tour after being named the Rookie of the Year back in 2010. With such great potential, Rickie may want to focus more on his game and less on closing his eyes while he picks out today's outfit.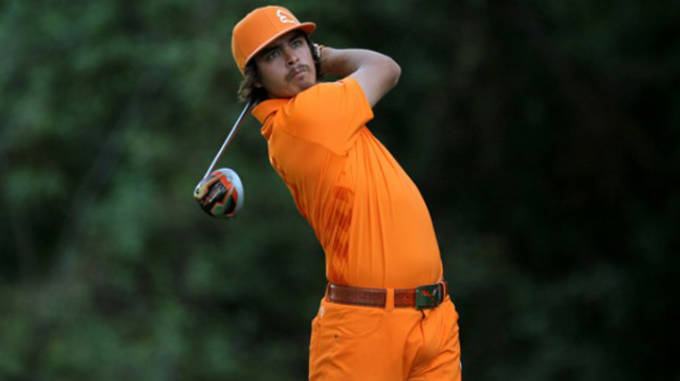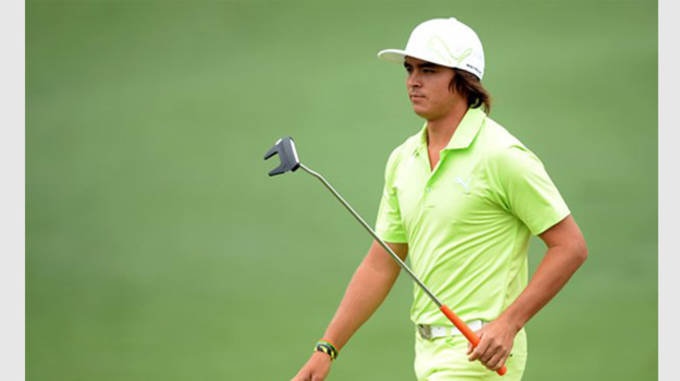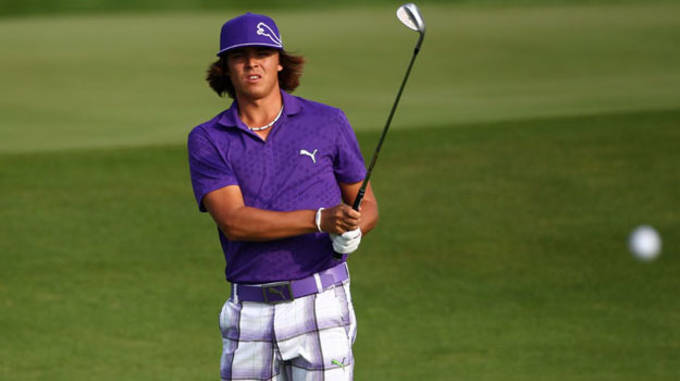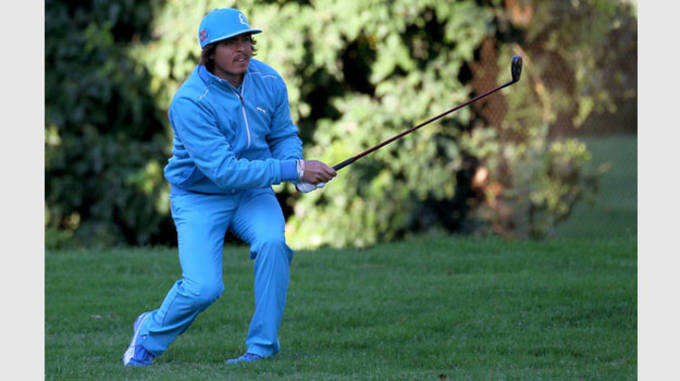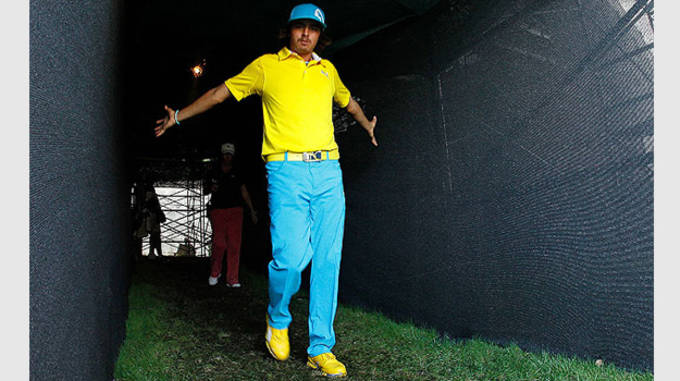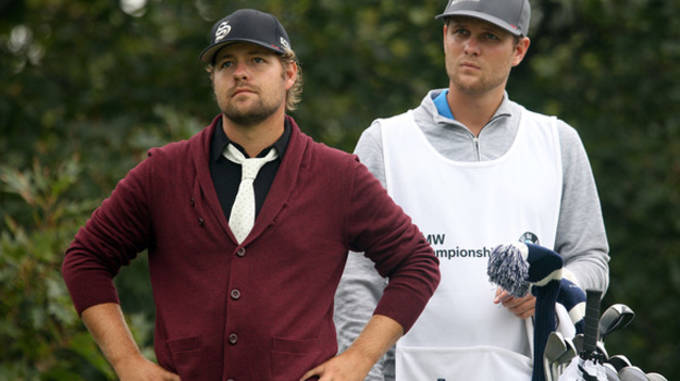 Ryan Moore
Sponsors: Adams Golf, Shift4
Many consider golf a game of class and sophistication so a button-up and tie doesn't sound like a bad outfit, but pair it with your run of the mill black fitted to take your outfit to a whole new low.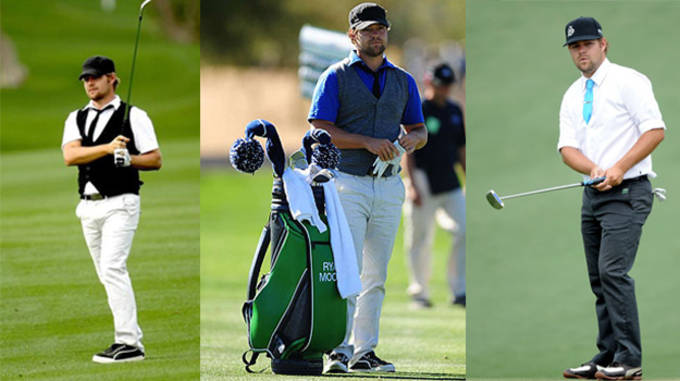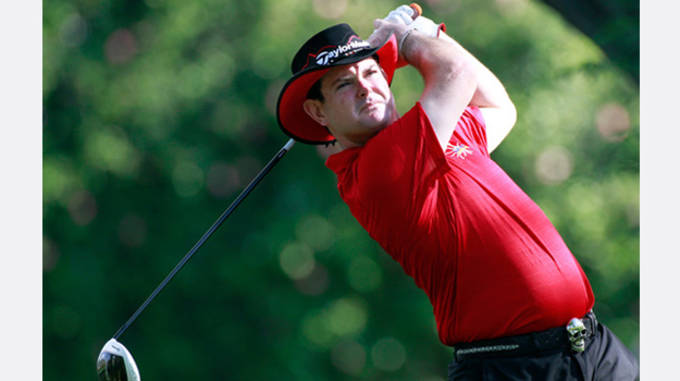 Rory Sabbatini
Sponsors: Taylor Made, adidas
Cowboy hats with a skull belt buckle might sound badass, unless you happen to be Rory Sabbatini. Granted, Sabbatini lives in Texas, so his fashion sense is kosher, but something doesn't translate when your playing the worlds most pristine golf courses. Oh, and one of his belts is sequin.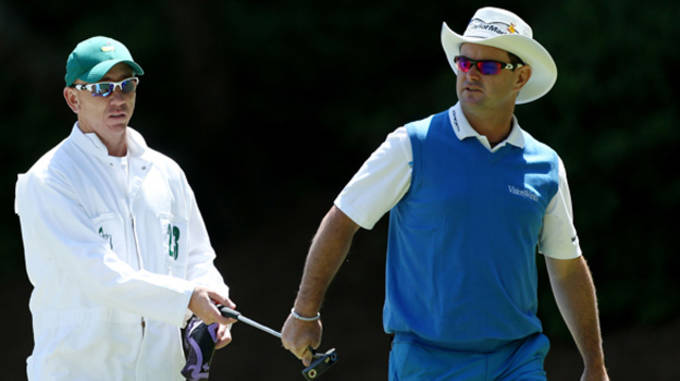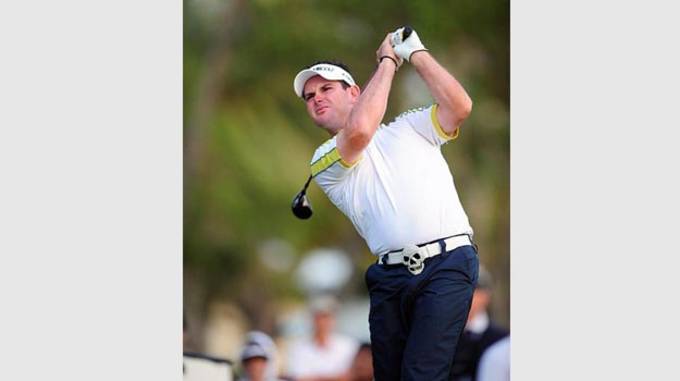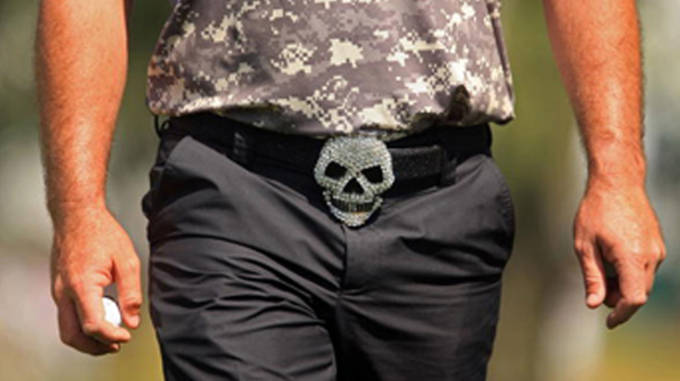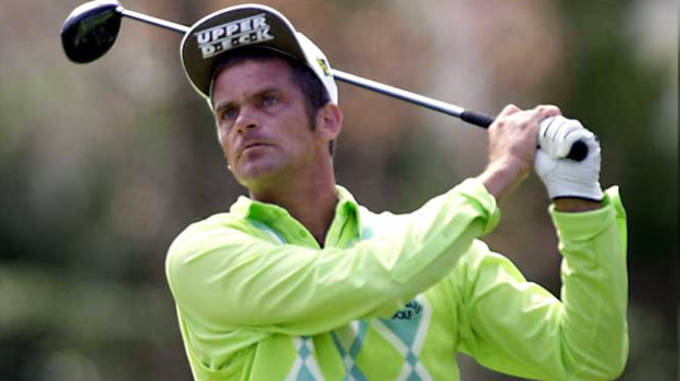 Jesper Parnevik
Sponsors: Cobra Puma Golf, Upper Deck
Jesper has always been known for his old school style that often looks like he just stepped out of a time machine. Sure, his hats are one of a kind and you'll never mistake Parnevik for anyone else on the course so he's got that much going, but an updated wardrobe could change his whole ora and propel him to his first major victory. On second thought.....you're 49 Jesper, keep doing your thing.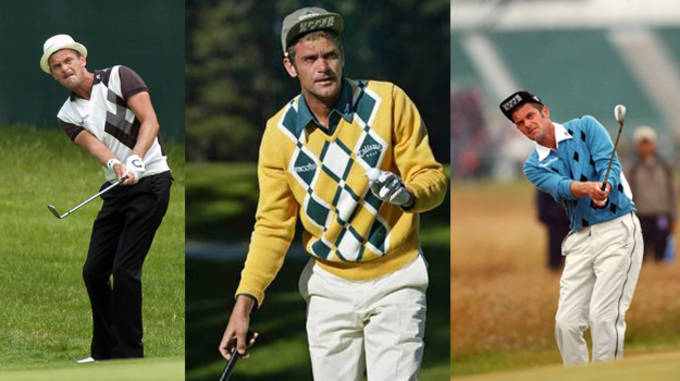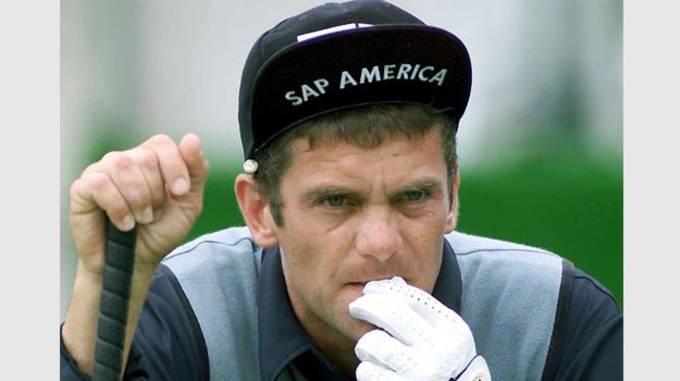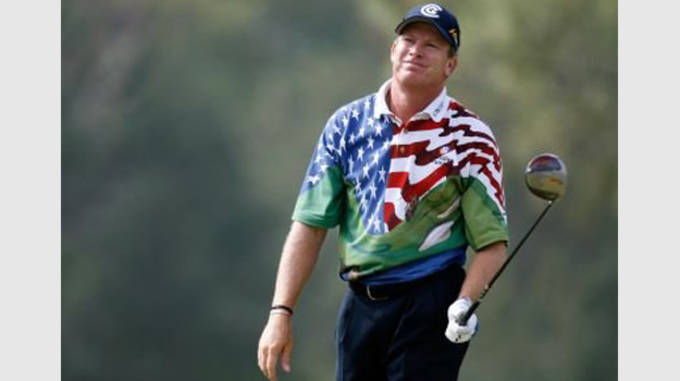 Woody Austin
Sponsors: N/A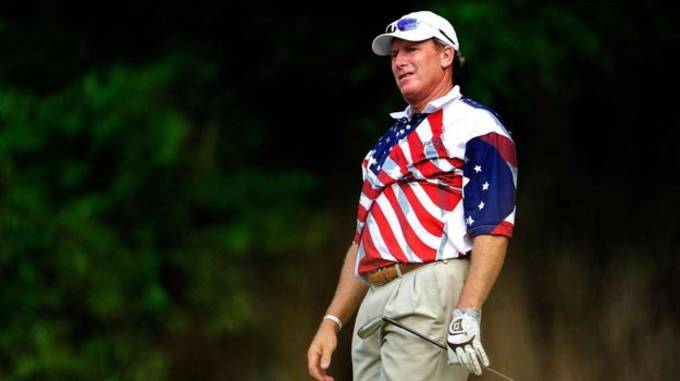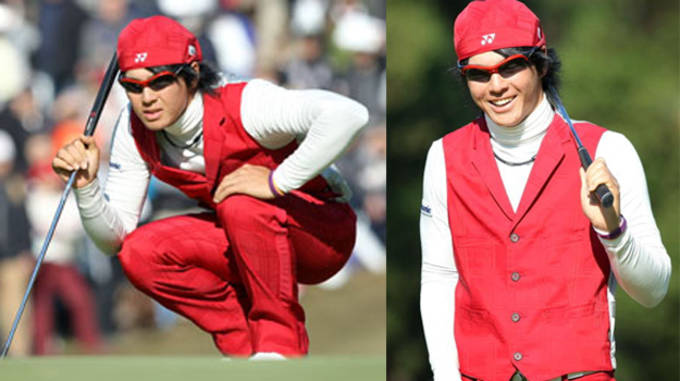 Ryo Ishikawa 
Sponsors: Callaway
Ryo Ishikawa came onto the PGA tour back in 2012 after several successful years on the Japanese Tour. Ishikawa's nickname is "Hanikami Ōji", which literally translates into "bashful prince". Someone should tell Ryo to stick a little more to his nickname as he sure wasn't bashful when he came dressed in his best frat outfit. Never before has a red vest, white turtleneck, backwards driver hat and sunglasses looked good.....never.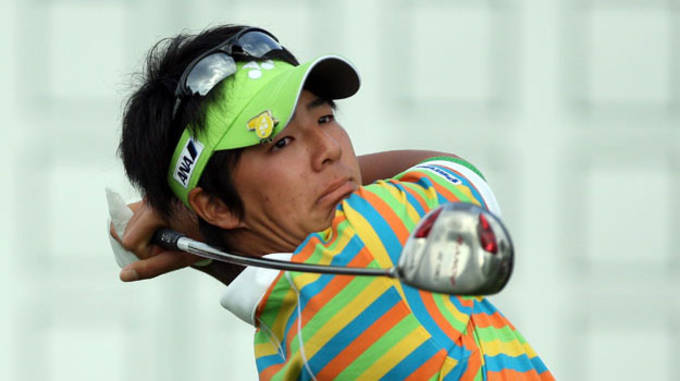 And that time he stole Bert's shirt.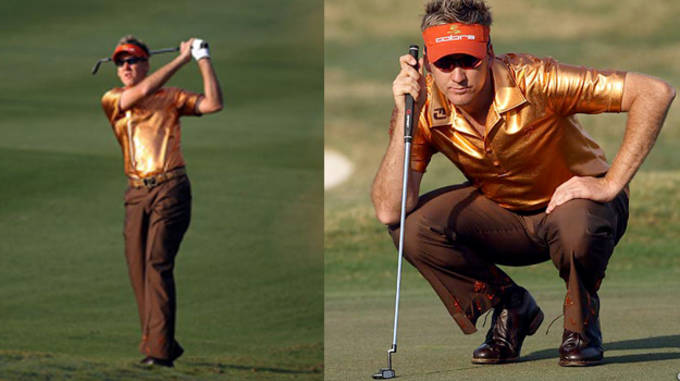 Ian Poulter
Sponsors: Titleist, Puma, Nikon, Oakley
Arguably the worst dressed golfer on tour, Poulter has to be applauded to an extent because when it come to fashion, he just doesn't give a shit. Doesn't matter the occasion, Ian is likely to pull out something absurd from his closet, but at least he's consistent in his poor style choices. For example, Poulter channeled his inner Trinidad James during the Johnnie Walker Classic in India 2008, and as you can see, failed miserably. #AllGoldEverything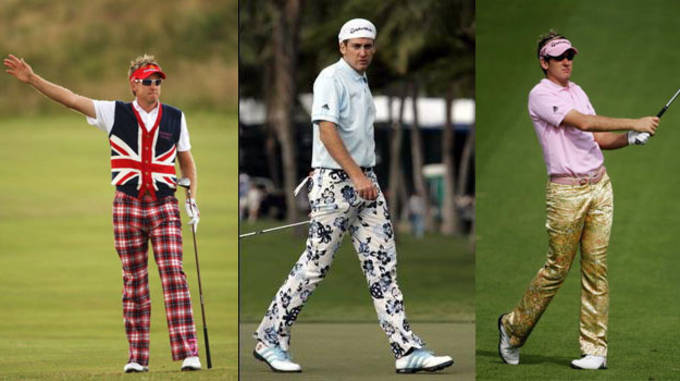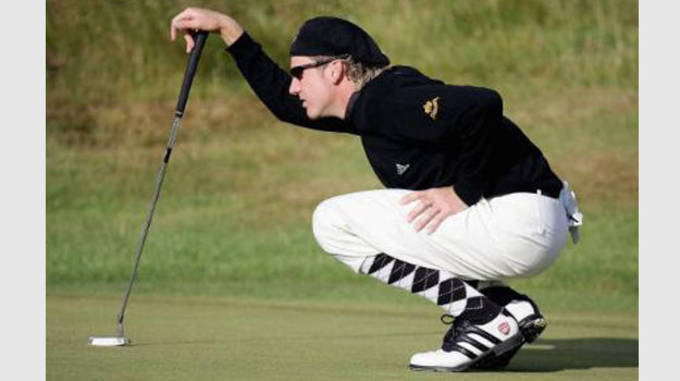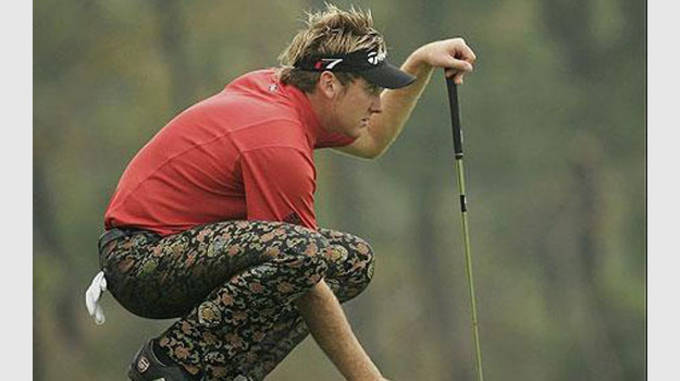 John Daly
Sponsors: Loudmouth Golf, The Grip Master, PinHigh Golf
John Daly has taken golf swag to a whole new level after launching his signature line Loudmouth Golf. Nothing can ever quite be more boss then having a mullet, smoking a cigarette and wearing paisley pants, oh and getting paid to do so. Bow to the king.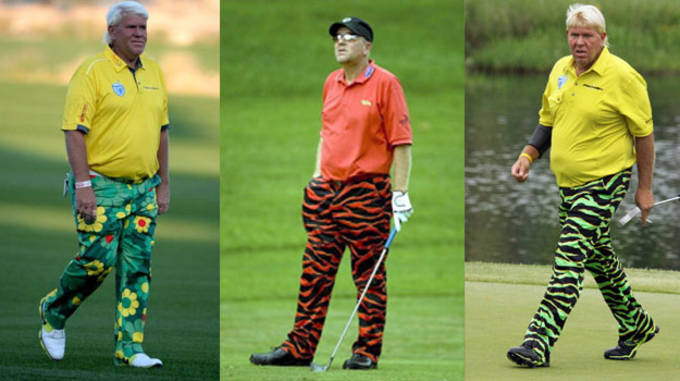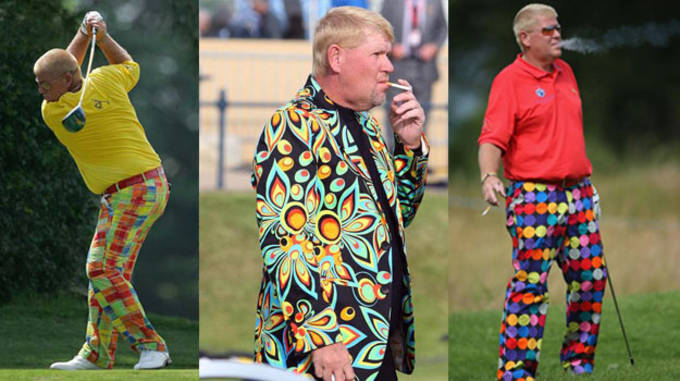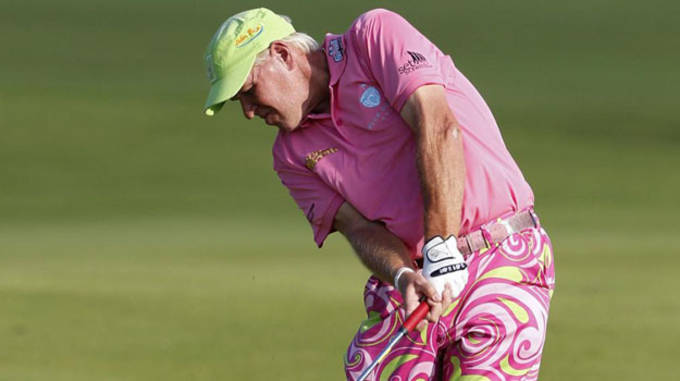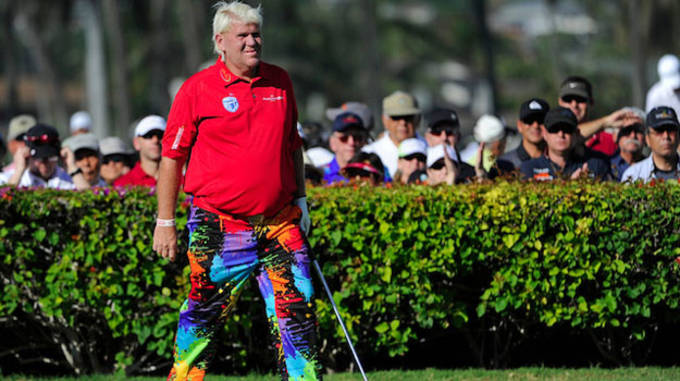 RELATED: Nike Golf Announces Latest Tiger Woods Signature, The TW '14
RELATED: Nike Golf Spring 2014 Collection
Danny Mitchell is a freelance writer from New York and contributor to Sneaker Report with an unwavering passion for the Knicks, sneakers, golf, and vintage 90's gear. Find him on Twitter @dmitch_23