Full Name: Luke Paul Shaw
Club: Southampton FC
Country: England
DOB: 12 July 1995 (age 18)
Height: 6'1"
Over the past few months, we have watched the emergence of a player who could be one of the best up and coming left backs in the current game. Luke Shaw is another player to come from the highly regarded Southampton Youth Academy and he is currently the starting left back at the club. He is also in strong contention to take a place in the England camp headed to Brazil this summer, although he faces stiff competition from Ashley Cole and Leighton Baines. Even so, his performances this season have been at a higher level and he is being backed to take a spot.
Whether he does or does not take a spot in the squad, he will still be part of wideapread media attention this summer. Manchester United and Chelsea are keen to sign him, with both clubs willing to spend big to land their man. At the ripe age of only 18, Shaw would make a perfect signing as he is set to improve with added experience.
Did you know? Shaw became a regular in the Southampton under-18 team from the age of 15.
Since his debut in August 2012, Shaw has made over 50 Premier League starts for the club and has had to continually pledge his allegiance to the club amid transfer speculation. It is testimant to the quality he possesses. His natural position is at left back, where he is a commanding figure at over 6"1". You won't find too many outside back with his height and natural strength, while also offering an ability to dribble down the line and swing in great crosses.
He also has a natural calmness about him, which is incredible considering his age. On the ball, he is confident and you will often spot him beat an outside mid before finding the right pass. Many young players have a tendency to rush in pressure situations or force the ball in order to look good. But, Shaw is ahead of the game and seems to have a very mature head on his shoulders. He is also exceptionally gifted at picking the right time to make direct, penetrating runs forward. Given the fact Southampton have a lean defense over the past 18 months and he has a reputation for being involved in attacking play, it illustrates the talent he has.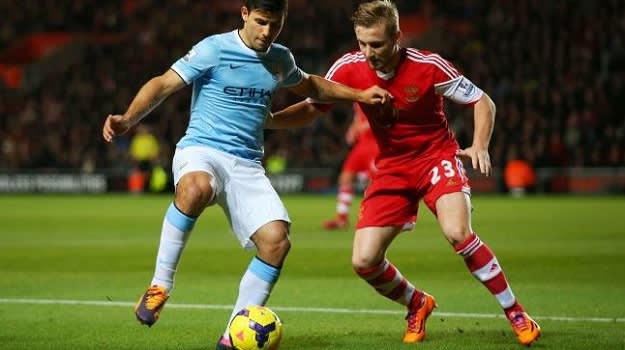 Luke Shaw Wears Adidas adiZero F50
On the feet of the talented left back is the same F50 adiZero boot worn by a similar predecessor currently at Real Madrid, Gareth Bale. Although not touted as being a defensive styled boot, the F50 adiZero does serve a valid purpose on the feet of Shaw. In similar fashion to Bale, who was once a left back, Shaw has an innate ability to break down the wing at high speed and cause havoc on the opposite defense. In the adiZero F50, he has a lightweight boot, built for attacking play that gives his the confidence to break forward when needed. And given his strong physique, having a lightweight boot provides another level of performance.
In Shaw, we have a prime example of a player that chooses to wear what feels right for him, rather than sticking with expectations. Given the fact we are sure to see and read a lot more about him as the summer approaches, don't be surprised if adidas place more focus on him as a featured player!