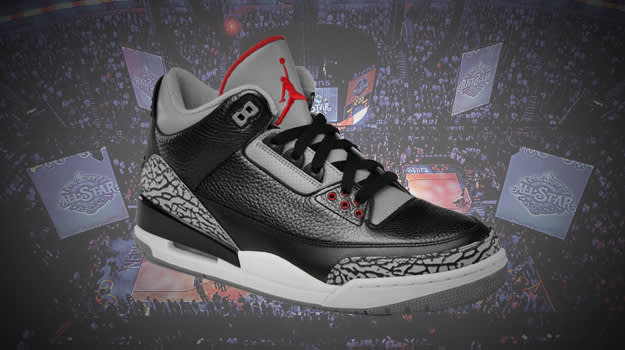 Once each season, the best players in the NBA descend upon the same court to showcase their incredible talents in the All-Star Game. While some editions of the game tend to be more entertaining than others, every now and then a moment comes along that exemplifies the true All-Star spirit.
With the 2014 iteration just hours away, join us as we take a look through the archives to break down some of the most memorable moments in All-Star Game history, as well as the sneakers worn for each.
RELATED: Every Sneaker To Expect at the 2014 NBA All-Star Weekend
RELATED: The Best and Brightest Show Out in the 2014 Rising Stars Challenge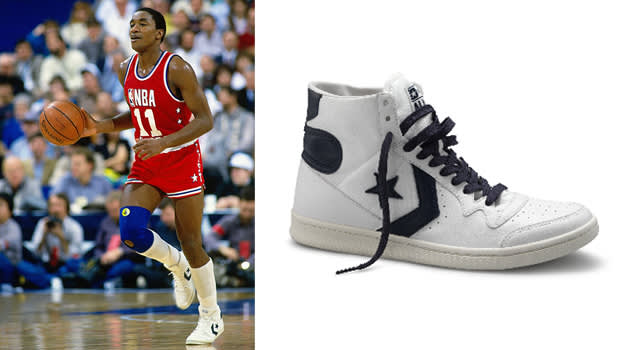 Isiah Thomas Becomes First Player To Go For 30 Points, 10 Assists
Year: 1986
Stats: 30 pts, 10 reb, 5 stl
Shoe: Converse Fastbreak Hi
The city of Dallas finally got its chance to host an NBA All-Star Game in 1986, though it was Detroit star Isiah Thomas who stole the spotlight in a game loaded with legendary players. With a pair of Converse Fastbreak Hi sneakers on his feet, Thomas once again showed his tenacious style of play by leading the East to a 139-132 come-from-behind victory against the likes of Kareem, Magic and Worthy. At the time, Zeke was the first player to go for 30 points, 10 rebounds in an All-Star Game. He added five steals and went on to garner MVP honors.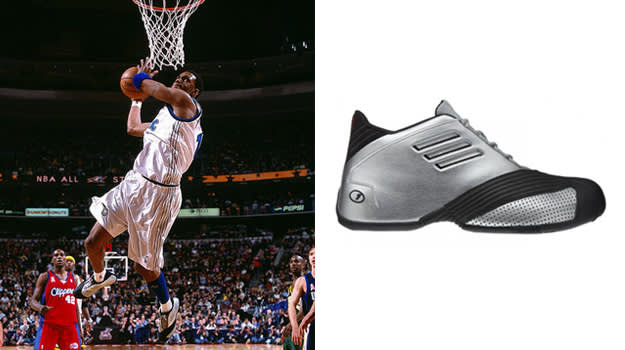 T-Mac Goes Off The Board To Himself
Year: 2002
Stats: 24 pts, 4 ast, 3 stl
Shoe: adidas T-MAC 1
Tracy McGrady's stat line for the 2002 All-Star Game wasn't anything we hadn't seen before, but the jaw-dropping alley-oop the then-Orlando Magic star threw to himself off the backboard (in traffic!) is by far one of the most memorable moments in All-Star Game history. McGrady showed off his freakish athletic abilities as he drove down the left wing and took flight over a backpedaling Dirk Nowitzki. As you can see in the image above—which features a pair of his first namesake signature shoe with adidas—T-Mac's sneaker game was on point too.
<!--nextpage-->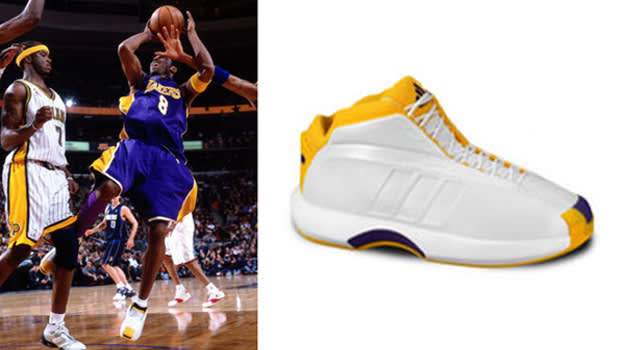 Kobe Heats Up In Philly
Year: 2002
Stats: 31 pts, 5 reb, 4 stl
Shoe: adidas Kobe 1
Philadelphia may be known as the City of Brotherly Love for the most part, but not when it comes to basketball—just ask Kobe Bryant. In 2002, Mamba returned to his birth city for the 51st edition of the NBA All-Star Game, where he would go on to lead the West to a 135-120 victory. Kobe's game-high 31 points proved to be enough to earn him his first career All-Star MVP award, although it didn't sit too well with Philly fans. As No. 8 continued to pour in buckets, the crowd poured in the boos from the stands. Why all the hate? Perhaps it had something to do with what Kobe had said a year earlier—something along the lines of he wanted to "rip the heart" out of Sixers fans during the 2001 NBA Finals. Nonetheless, laced in his first signature shoes from adidas, Kobe put in a show for the ages. Oh, by the way, Kobe did in fact rip the heart out of the Sixers in the '01 Finals.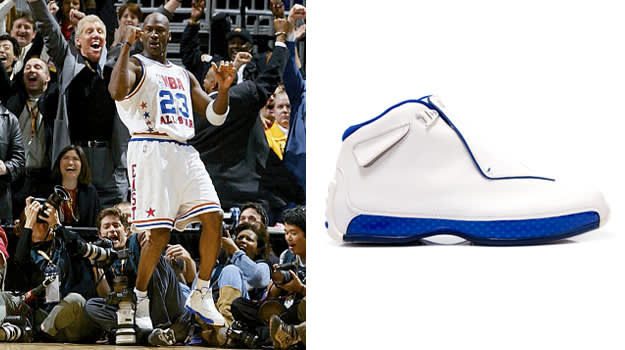 MJ's Final All-Star Game
Year: 2003
Stats: 20 pts, 5 reb, 2 stl
Shoe: Air Jordan XVIII
Kevin Garnett was named MVP of the 2003 All-Star Game, however his 37-point performance was overshadowed by the fact that it was the final All-Star Game of Michael Jordan's illustrious career. MJ started off slow, missing his first seven shots from the field, but he would go on to score 20 points, including a game-tying jumper in overtime over the outstretched arm of Shawn Marion. If it hadn't been for a dumb foul on Kobe by Jermaine O'Neal, the East would have walked away with a two-point win. Instead, Kobe tied the game up with two clutch free throw, sending the game into double overtime (where the West would go on to win 155-145). Still, Jordan was the man of the hour after the final buzzer. His Airness finished as the All-Star Game's all-time leader in points (262), field goals (110), field goal attempts (233) and steals (37) in 13 All-Star appearances (the second-most all time). And his Air Jordan XVIII's forever etched their name in the history books.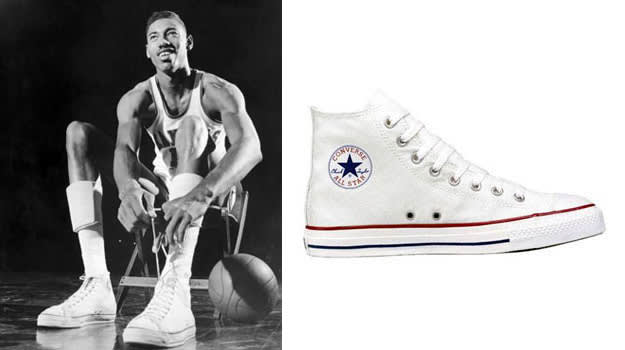 Wilt Chamberlain Fills Up The Stat Sheet
Year: 1962
Stats: 42 pts, 24 reb
Shoe: Converse Chuck Taylor All Star
Most of us never got a chance to actually see the great Wilt Chamberlain in action, but from what we've heard, he sure knew how to put on a show. Despite all the obvious differences in the game back then compared to now, Wilt was a force to be reckoned with every time he stepped out onto the hardwood. In the 1962 NBA All-Star Game (the same year he scored 100 points in a game), Chamberlain went for an astounding 42 points and 24 rebounds in a losing effort. His 42-point performance still stands as an All-Star Game record. Converse knew what it was doing when they put a pair of appropriately named Chuck Taylor All Star's on his feet.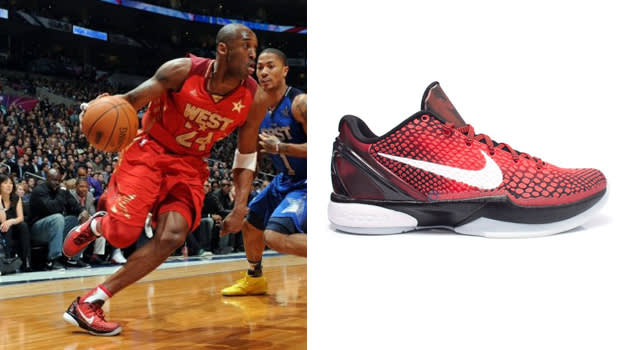 Kobe Wins Fourth Career All-Star MVP Award
Year: 2011
Stats: 37 pts, 14 reb, 3 stl, 3 ast
Shoe: Nike Zoom Kobe VI "Challenge Red"
Kobe has won All-Star MVP honors a record-tying four times in his career, however the last of the four was by far the most memorable. With the All-Star Game on his home court, he made sure to no disappoint L.A. natives. Despite a triple-double performance from opponent LeBron James, Kobe yet again took the MVP title thanks to his 37 points and 14 rebounds (10 of which were on the offensive end). Led by their star guard, the West held off a late rally by the East to win 148-143. For All-Star weekend, Nike hooked Mamba up with a pair of Zoom Kobe VI in a special "Challenge Red" colorway to match the West uniforms.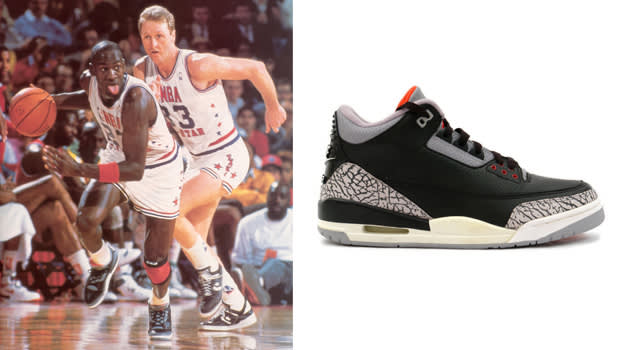 His Airness Drops 40
Year: 1988
Stats: 40 pts, 8 reb, 4 blk, 4 stl
Shoe: Air Jordan III "Black Cement"
Just 24 hours after he defeated Dominique Wilkins in the 1988 Slam Dunk Contest, Michael Jordan returned to the hardwood for the All Star Game, where he threw down yet another memorable performance. Strapped in the Air Jordan III "Black Cement," MJ dropped 40 points—16 of which he scored in the final 5:30 of the game—as the East beat the West 138-133. Jordan came within two points of tying Wilt Chamberlain's All-Star Game scoring record or 42. His epic performance that day continues to be one of the greatest All-Star Game moments. Similarly, the AJ III "Black Cement" continue to be a favorite amongst sneaker enthusiasts to this day.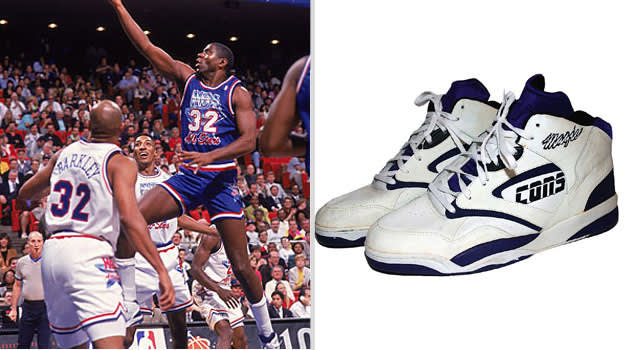 Magic's Unforgettable MVP Performance
Year: 1992
Stats: 25 pts, 9 ast, 5 reb
Shoe: Converse Cons
When Magic Johnson announced to the world that he was infected with HIV in November 1991, no one expected him to ever play basketball again, particularly not in an All-Star Game. However, after being voted as an All-Star started despite not having played a single game that season, he made a surprise return to the hardwood. Magic scored 25 points to lead the West to a 153-113 victory, including a rainbow three over Isiah Thomas with 15 seconds left in the game. By the end, the crowd was on its feet, players from both sides were hugging it out and Magic—who wore a pair of Converse Cons—was named All-Star MVP.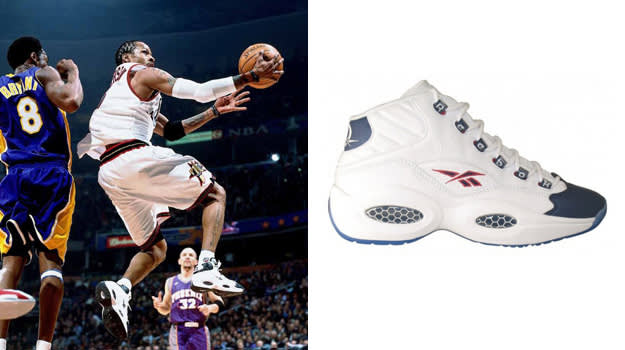 A.I. Leads East To Incredible Comeback Win
Year: 2001
Stats: 25 pts, 5 ast, 4 stl
Shoe: Reebok Question
As evident by this list, there have been numerous memorable moments in NBA All-Star Game history. However none greater than Allen Iverson's gutsy performance in 2001. The same year he led Philadelphia to the finals, A.I. propelled the East to an incredible come-from-behind win over the West in the All-Star Game. With a little help from teammate Stephon Marbury, Iverson helped the East erase a 21-point fourth quarter deficit in a comeback for the ages. Iverson scored 15 of his 25 points in the final quarter—enough for the East to turn a sure-loss into an improbable win, and enough to earn A.I. his first career All-Star Game MVP crown. Not only did Iverson hold it down for the Eastern Conference, he also held it down for Reebok with a pair of the iconic Question sneakers on his feet.
G is a NYC-based writer and weartester for Sneaker Report, and contributor to Complex Media. Follow him on @GurvinderSG for the latest in performance footwear and apparel.
RELATED: Every Sneaker To Expect at the 2014 NBA All-Star Weekend
RELATED: The Best and Brightest Show Out in the 2014 Rising Stars Challenge