In what has to be one of the weirdest shoe moments in the NBA this season, Manu Ginobili's left foot burst through the bottom of his Nike Air Max Closer IV shoe as he planted. This left Ginobili's shoe dangling from his ankle during the middle of a play. Spurs head coach Gregg Popovich had the Spurs call a timeout to make sure Ginobili was ready to go. A ball boy went to the locker room to get a replacement in time for Manu to return to the court in a timely manner.
It was all good for Ginobili who put in work with 16 points and 9 assists as his Spurs defeated the Pistons 120-110.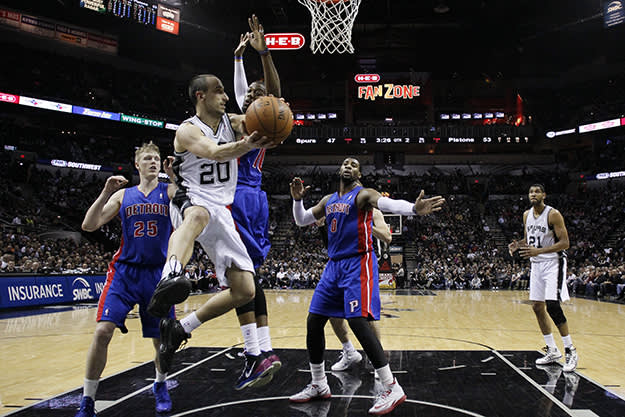 R.I.P. to Manu's shoes:
A close-up of @manuginobili's blowout from earlier tonight. #donedeal #kicksoncourt pic.twitter.com/IfxMQ73FXp

— George Kiel III (@geokthree) February 27, 2014
[H/T @_marcusd_]
Rafael Canton is a freelance writer from Queens, NY and contributor to Sneaker Report. Anytime there is a conversation about the NBA, music, or nutella, he can be found in the thick of the discussion. He can be found on Twitter @RafelitoC7.
RELATED: SPOTTED: Danny Green Leads Spurs Through First in the Nike Zoom Soldier VI
RELATED: The Best Sneakers Worn in Game 5 of the NBA Finals