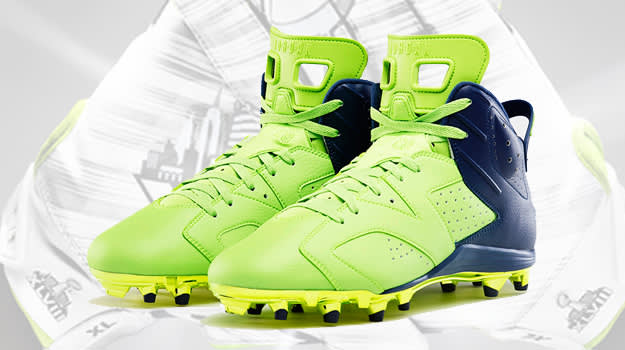 There has been a lot of Super Bowl history made over the decades, so you'd expect the history of custom Super Bowl-edition cleats to be just as rich. However, that's not necessarily the case.
While the footwear history of past Super Bowls has been well documented, the fact is that it wasn't until more recently that custom cleats for the big game became a thing. Nike—fueled by its takeover as official supplier of the NFL—in particular has put more emphasis on custom footwear for the Super Bowl in the past couple of years. This year, the Swoosh has gone all out with its Super Bowl Collection, which is inspired by none other than the same Vince Lombardi Trophy that the Broncos and Seahawks will be hoping to lift before the day's end.
With just hours left before Super Bowl XLVIII kicks off, let's take a moment to look back some of the most notable Super Bowl-edition football cleats to take center stage in one of the biggest sporting events in the world.
RELATED: Big Game, Big Shoes: The Cleats Worn by Every Super Bowl MVP
RELATED: Nike Football Unveils Silver Speed Collection for Super Bowl XLVIII
RELATED: The 10 Best Football Cleats Available Now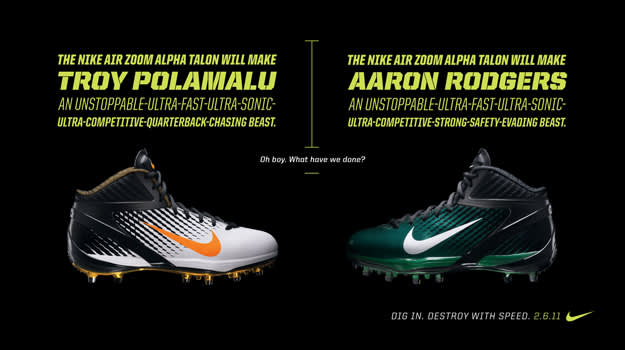 Nike Air Zoom Alpha Talon
Year: 2011
Matchup: Green Bay Packers vs. Pittsburgh Steelers
The Air Zoom Alpha Talon got a lot of hype after making its debut during the 2010-11 NFL season, however not even a custom Packers-edition of the cleats was enough to convince eventual Super Bowl MVP Aaron Rodgers to wear them for the big game. Instead, Rodgers opted for the more modest Nike Air Speed Nubby model (a shoe that retailed for just $80 at the time). Not even Steelers All-Pro safety Troy Palumalu wore the special edition cleats. Nonetheless, Nike was on point with its big game design.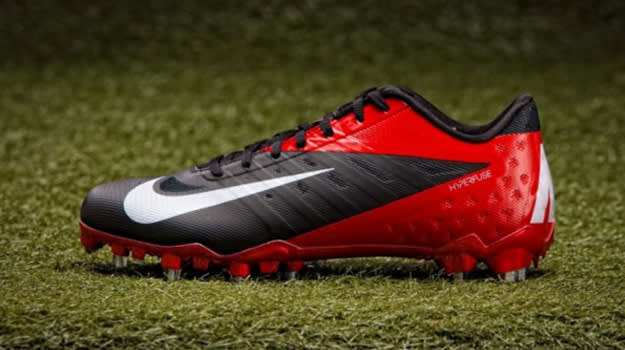 Nike Vapor Talon Elite Low
Year: 2012
Matchup: New York Giants vs New England Patriots
Super Bowl XLVI turned out to be one of the most entertaining games in NFL history, however Nike's footwear efforts for the big game were fairly amateur. Both the Giants and Patriots received the Vapor Talon Elite Low model in what was supposed to be team-inspired colorways. However, the Red/Black colorway rolled out for New York still has us scratching our heads.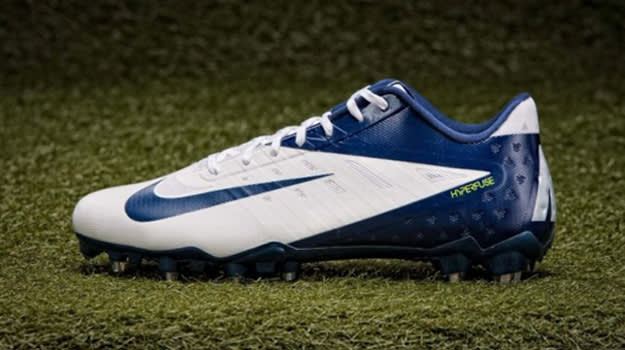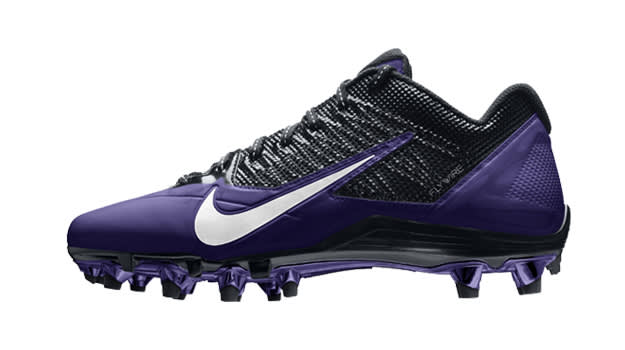 Nike Alpha Pro
Year: 2013
Matchup: Baltimore Ravens vs. San Francisco 49ers
For last year's Super Bowl XLVII matchup between the Ravens and 49ers, Nike gave each team a pair of custom Alpha Pro cleats. While the cleats weren't personalized with any particular Super Bowl branding, they gave both squads the chance to rock their team colors in style.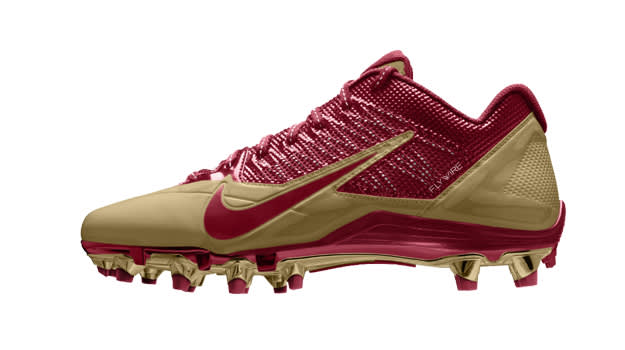 <!--nextpage-->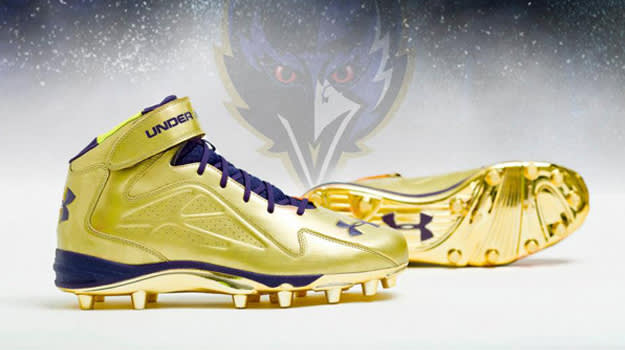 Under Armour Ray Lewis Collection
Year: 2013
Matchup: Baltimore Ravens vs. San Francisco 49ers
Nike wasn't the only brand to get in on the Super Bowl footwear festivities last year—Under Armour also rose to the challenge for the biggest game of the year. In fact, UA may have one-upped the Swoosh last season with its collection of fully custom cleats for Ray Lewis and other Ravens players in an apparent show of hometown love.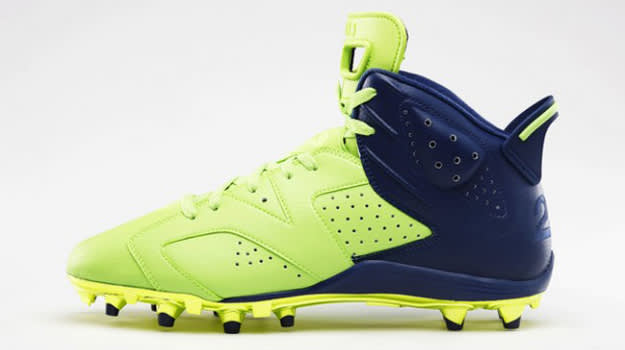 Air Jordan 6 Earl Thomas PE
Year: 2014
Matchup: Denver Broncos vs. Seattle Seahawks
Whether you're pulling for the Broncos or the Seahawks in Super Bowl XLVIII, let's all agree that Earl Thomas will have the best cleats for the big game. As it did for the NFC Championship game, Jordan Brand hooked the Seattle hard-hitting safety up with a pair of Air Jordan 6 cleats—this time in a vibrant Seahawks colorway that is sure to make the 12th man proud. Just like Michael Jordan in '91, Thomas will look to win his first championship in the AJ 6.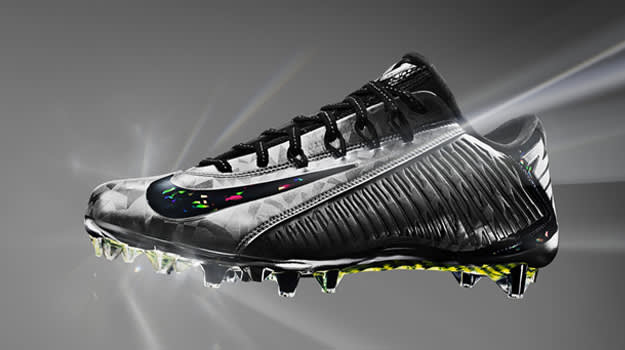 Nike Vapor Carbon 2014 Elite
Year: 2014
Matchup: Denver Broncos vs. Seattle Seahawks
While in years past Nike has rolled out Super Bowl cleats in team-edition colorways, this year the brand has opted to go with a "Championship Silver" theme inspired by the Vince Lombardi Trophy. Players on both squads will have the luxury of lacing up in a pair of the flashy new Vapor Carbon 2014 Elite, as they look to step it up on the game's biggest stage.
The Vapor Carbon 2014 Elite is the next generation of game day football cleats created using 3D printing technology. It is designed to promote top speed on the gridiron, making players faster than ever before.
RELATED: Big Game, Big Shoes: The Cleats Worn by Every Super Bowl MVP
RELATED: Nike Football Unveils Silver Speed Collection for Super Bowl XLVIII
RELATED: The 10 Best Football Cleats Available Now