An All-Star berth has to be in the cards for one Stephen Curry. The Golden State Warrior point guard has been great this season and he is keeping the good times rolling for Golden State in the midst of a seven-game winning streak. Golden State managed to knock off the Miami Heat 123-114 with Curry dominating throughout the course of the game. Curry managed 36 points, 12 assists, and 4 steals in the victory. The Heat had trouble containing Curry as he was able to get to his sweet spots all while hitting 8 treys on 15 attempts.
Curry's not blowing teams away with his shooting in the winning streak with a scoring average of just 19.3 PPG with a 39.8 percent shooting mark in the winning streak. What's been impressive is Curry's passing numbers (10.7 APG) over the streak.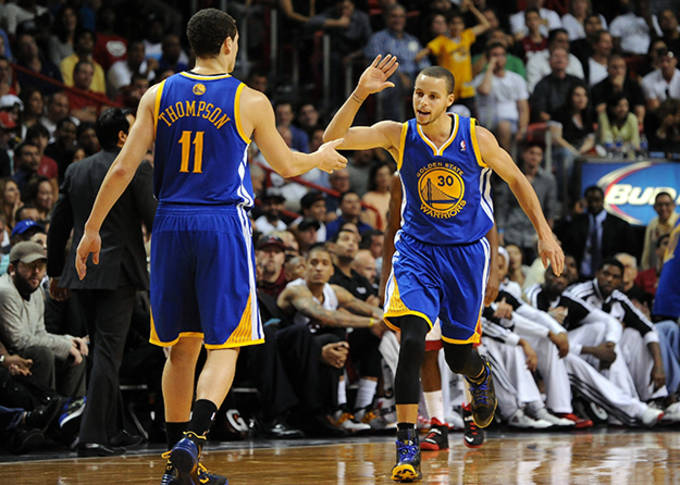 Curry has been wearing his own PE of the Under Armour Anatomix Spawn throughout the season and it's worked out for the previously injury-prone Curry so far.
The Anatomix Spawn has been designed with the foot in mind. Building it from the foot up Under Armour was able to cut elements that can potentially add bulk to the shoe in order to raise your game exponentially. With a huge emphasis on the shoes fit and materials they created a shoe that represented a shoe that is the true anatomy of the foot. The Anatomix Spawn has been given a partly mesh upper, improving the breathability of the shoe as well. Knowing Under Armour, the mesh will probably help with a secure lock down for you for no slippage as you elevate your basketball game.
Rafael Canton is a freelance writer from Queens, NY and contributor to Sneaker Report. Anytime there is a conversation about the NBA, music, or nutella, he can be found in the thick of the discussion. He can be found on Twitter @RafelitoC7.
RELATED: Detailed Look at Stephen Curry's UA Anatomix Spawn PE Away