Not many things can slow down top-ranked Rafael Nadal on the tennis court, however broken shoelaces might be an exception.
Nadal took a serious tumble during the second set of his fourth round Australian Open matchup against Kei Nishikori on Monday. Fortunately Rafa—who's had his fair share of knee troubles in the past—bounced right up onto his feet without injury. His right shoelace, which somehow managed to tear in half, thus prompting a brief stoppage of play, was not so lucky (see video below).
In my many years of following tennis, I can't remember ever seeing play stopped due to a "shoelace timeout." As strange as it is, perhaps what's even more noteworthy is that Rafa has been playing in the Air Max Courtballistec 4.3 sneakers, rather than the new Lunar Ballistec model Nike was hoping he'd adopt for the 2014 season.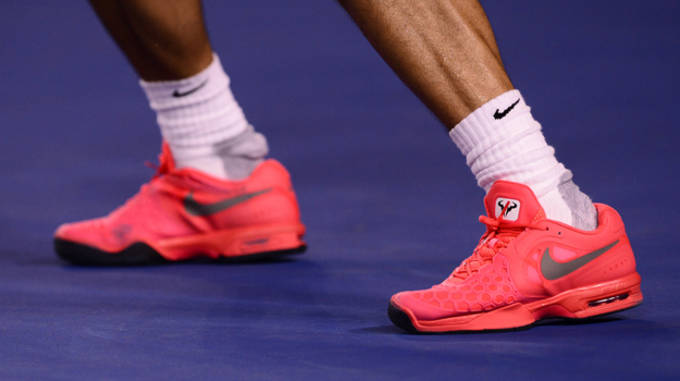 It's not uncommon for professional athletes to go with what they know. LeBron James, who continues to play in the LeBron X despite his latest shoe, the XI, being readily available, has done the same on the hardwood.
In Rafa's case, he's won 15 ATP single's titles—including three majors—in the Courtballistec 4.3 dating back to the beginning of 2012. So it's quite understandable why he's chosen the older Courtballistec over the redesigned Lunar Ballistec. There's a good chance Nadal will make the shoe switch at some point down the road. Though it's clear he's not willing to risk messing with a good thing for the first major tournament of the year.
<iframe width="625" height="350" frameborder="0" scrolling="no" src="http://www.snappytv.com/snap/rafa-down-and-breaks-a-shoelace-about-rla-first-show-on-rod-laver_u1?w=625&amp;h=350"></iframe>


[Images via AusOpen.com]
RELATED: REVIEW: Nike Air Max Courtballistec 4.3
RELATED: The Complete Sneaker History of Rafael Nadal at the French Open